Estimated read time: 1-2 minutes
This archived news story is available only for your personal, non-commercial use. Information in the story may be outdated or superseded by additional information. Reading or replaying the story in its archived form does not constitute a republication of the story.
Debbie Dujanovic Reporting In death, Lori Hacking leaves a legacy. A new scholarship was announced today in her honor. This morning Lori's mother presented a check at the University of Utah.
It was an emotional morning at the University of Utah. Lori Hacking's mother gave the School of Business $12,500 to start a scholarship fund in Lori's memory. Thelma Soares says the money came from all over the world, people donating to show the family support.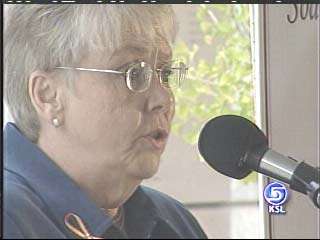 Wearing her daughter earrings, necklace and Lori's perfume, Thelma Soares kept her composure, handled herself gracefully, but of course when she talked about Lori she couldn't hold back.
Thelma Soares: "I'm sure Lori is looking down on this happy occasion with a dazzling smile because she knows her scholarship will help those in need."
Soares says this is a happy day for her, turning all her pain into something positive. But more than a month after Mark Hacking allegedly shot his wife and dumped her body there's still no sign of Lori. So today we asked Mrs. Soares if she's still hopeful officers will find Lori's remains.
Thelma Soares: "I'm smart enough to know they may not, even though police tell us they will search for her until they find her."
Thelma Soares hopes her daughter's death, and now this scholarship money, will offer hope to other women. The Business School says it will offer the money to women who are struggling financially or otherwise.
The initial check Lori's mom presented was for $12,500. In the hour the news conference ran, she collected an additional $1,200 from people at the news conference and around the campus.
×