Estimated read time: 4-5 minutes
This archived news story is available only for your personal, non-commercial use. Information in the story may be outdated or superseded by additional information. Reading or replaying the story in its archived form does not constitute a republication of the story.
(KSL News / AP) -- Mark Hacking appeared before a judge as his lawyers set a court date for the preliminary hearing. This is the first time Hacking was actually in the courtroom. Last week he appeared by way of video from the Salt Lake County jail.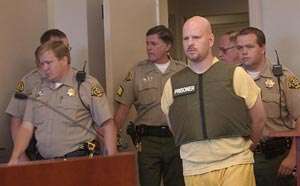 Mark Hacking entered the courtroom from a holding area, surrounded by deputies. He wore a yellow shirt and pants and a green bulletproof vest with the word "prisoner" on the front and back.
Gil Athay, Hacking's Attorney: "I think it's a precaution that is being taken in these kind of high-profile cases."
Attorney Gil Athay says to his knowledge, his client has not received death threats. He told us a bomb threat at the courthouse added to the higher security. Deputies later determined it was unrelated to the Hacking case.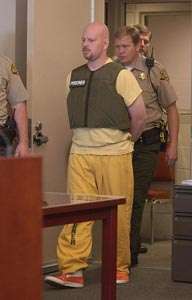 During the proceedings Mark Hacking did not speak. Before he left court in handcuffs, his lawyer patted his back three times.
Gil Athay, Hacking's Attorney: "It's just reassurance. A little human touch makes a lot of difference to people in these conditions."
At the hearing, Athay told the judge police were turning over to him the evidence needed to try the case. He says that will be an ongoing discovery.
Gil Athay: "There is so much, and it takes so long to put it together, that it will be coming in on almost a daily basis."
Mark Hacking has received support from his family and they have visited him in jail, but they were not present in court.
Gil Athay: "This is a proceeding where it's not essential for the family to be there. And it creates a bit of a distraction and I'm sure some heartache for them to go through it."
Robert L. Stott, Chief Deputy District Attorney: "We have talked with the family. We try to keep in touch with them. We try to keep them very well informed of what's going on."
Athay does not consider an alleged confession from Mark Hacking, and a letter police think was written by Lori, to be concrete evidence of anything.
Gil Athay: "Not only are you hearing one side of the story you are hearing an intrepretation of one side of the story."
Prosecutor Bob Stott says his team is confident in the evidence they have, even without a body, and both lawyers say no plea is in the works.
Robert L. Stott: "The only thing we've negotiated about is the date of the preliminary hearing."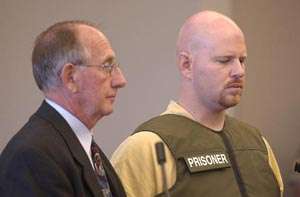 Gil Athay: "Let me try my case. Let me do it my way. I'm not going to do it someone else's way..right now plea bargain is not going on. It is not being discussed."
No body and no weapon, but detectives stay determined to keep sifting through garbage. The search of the Salt Lake Valley Landfill continues tonight. Police say they are now more than halfway through the huge pile of garbage. But still no sign of Lori Hacking's body.
Police will continue searching for the remains of Lori Hacking even if they have to go through every scrap of 4,600 tons of garbage deposited at a county landfill on the day she vanished, a police spokesman said Monday.
So is there a chance they're looking in the wrong place? Police say they're considering that. They're relying heavily on her husband's confession to his brothers, that he put her body in a trash bin behind his workplace.
Police accuse him of other lies -- could he be lying about that too?
Det. Dwayne Baird, Salt Lake City Police Dept.: "There's probably a chance of that -- we are going off of what he told his brothers, what he told them he did with her."
Police say they're making contingency plans in case they don't find Lori Hacking's body. What those are, they're not ready to reveal.
Detectives and cadaver dogs planned to return to the dump Monday night looking for the woman's body or .22-caliber firearm they believe was the murder weapon.
The landfill search is more than half complete with no sign of any evidence. Police at first said they were churning through 3,000 tons of compacted garbage, but Detective Dwayne Baird said Monday the amount of trash dumped on the day Lori Hacking vanished could add up to 4,600 tons.
"We'll be there until we find her, and nothing short of that," said Det. Dwayne Baird/Salt Lake City Police Dept. "With less than half the material to go, we think we'll be through in probably within three to four weeks."
(The Associated Press contributed to this story)
×
Most recent News stories