Estimated read time: 3-4 minutes
This archived news story is available only for your personal, non-commercial use. Information in the story may be outdated or superseded by additional information. Reading or replaying the story in its archived form does not constitute a republication of the story.
(AP/KSL News) -- Police search warrants released yesterday show a letter found on a shelf in the second bedroom at the Hacking home suggested marital trouble between Mark and Lori Hacking. Police have not confirmed that Lori wrote that the letter.
Dr. Mark Zelig, Forensic Psychologist: "It could mean that it was written a long time ago from before the current issue arose. It could be a year or two old for all we know. It could mean that the writer of this was anticipating working with her partner to resolve some problems."
Letter: "I want to grow old with you, but I can't do it under these conditions…I can't imagine life with you if things don't change."
These statements from a letter in the Hackings' apartment are just part of what that letter said. But we don't know the rest. Forensic Psychologist Dr. Mark Zelig says that makes it hard to speculate on what the writer, presumed to be Lori, wanted to convey.
Dr. Mark Zelig: "I think that the value of this paragraph in the affidavit is it would cause a reasonable person to believe there might be conflict in this marriage, that there might be motive towards taking aggression towards someone."
Right now, we don't know if Mark ever read this letter or when it was written. Police said in their affidavit that they wanted to seize the computer because it could contain a file where the letter was found. That could produce the date and time it was written.
Dr. Mark Zelig: "When people write out letters that have a lot of importance to them, it's not uncommon to compose it first on the computer and then decide to make it more personal and commit it to handwriting."
Dr. Zelig also talked to us about people who lie. He said from his experience on the cases he's worked with, people don't just lie about one thing. He says it's usually a pattern of lies that takes a lot of work to pull off. And that also can create a lot of marital stress.
The other significant part of the search affidavit is about the mattress Mark bought the morning of Lori's disappearance.
On July 19th, at 10:25, Mark Hacking bought a new mattress.
According to search warrant papers, Mark told police he bought the mattress because blood from Lori's menstrual cycle was on the old one. But the family says she was five weeks pregnant.
Witnesses who talked to police are also coming forward. Amy Bagwell says she saw a suspicious looking man in a car the morning Lori went missing.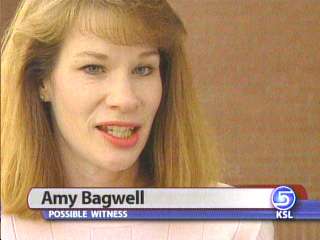 Amy Bagwell/ Possible witness: "Between like 6:00 and 6:05 there was a man parked in a light grey or light blue four door economy size car." "He just looked upset, frustrated, angry and I just kind of got a bad feeling about the whole scenario."
Bagwell says she is not certain this was Mark, but she gave the information to police.
Other people on the witness list include some of Lori's co-workers, and the owner of Bradley's Sleep Center.
Mark Hacking's parents, brothers, and his sister who lives in the same apartment complex are also listed as witnesses.
Mark Hacking is in jail on one million dollars bail charged with his wife's murder.
Police and cadaver dogs will return to the Salt Lake County landfill tonight to search for the body of Lori Hacking.
Tonight's search will be the tenth day of sifting through the three-thousand tons of garbage. So far, police say they've gone through about half of it.
(The Associated Press contributed to this story)
×
Most recent News stories