Estimated read time: 5-6 minutes
This archived news story is available only for your personal, non-commercial use. Information in the story may be outdated or superseded by additional information. Reading or replaying the story in its archived form does not constitute a republication of the story.
KSL News ReportingFirst degree murder charges and some unexpected facts as the case against Mark Hacking goes public.
It turns out Mark Hacking did not use a knife to allegedly kill his wife. Today the District Attorney revealed more about Mark's confession to his brothers Lance and Scott Hacking.
Dave Yocom, Salt Lake County District Attorney: "The defendant stated that in the early morning hours of July 19th, he walked into the bedroom where his wife slept and shot her in the head with a 22-caliber rifle. He further stated that he wrapped Lori's body in garbage bags, placed Lori's body in a dumpster at approximately 2 a.m., and then he further stated that he disposed of the gun in another dumpster."
Police do not have that gun in custody, but they do have the Hackings' mattress, which a police sergeant found on July 19th in a church parking lot dumpster near the couple's home. That mattress was missing the pillow-top. That's where the knife comes in. The District Attorney and police believe Mark used it to cut up the mattress.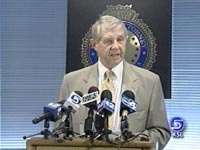 Dave Yocom: "We think he rolled her in that and then put all of that -- including the bedding, pillows, anything containing blood -- in garbage sacks around that and that's what he deposited in the dumpster. And that's hopefully what we'll find at the landfill."
Police believe Mark threw Lori's body in a dumpster at the University of Utah. They received information from a confidential source about a dumping, and early on police started searching the landfill. We still don't know who that confidential source is.
The DA said Mark's confession to his brothers has been corroborated by the finding of the mattress, the knife and blood that matches Lori's that was found on parts of the bed and in her car.
So what was the motive? The state does not have to prove that in their case, but they believe there was a fight over all the lies.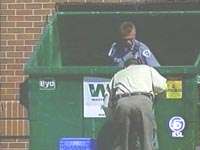 Dave Yocom: "I think there was obviously a dispute about that, whether or not he should come forward, and I think he killed her not to be discovered with regard to his lies."
Mark Hacking doesn't have to wait long to face the murder and obstruction of justice charges. He will face his initial court date tomorrow morning. 9:30 a.m. is the time set aside when he will be arraigned on those Murder and obstruction of justice charges. That will be the first time Hacking will have a chance to face these charges in a public setting -- even though it will be through a video arraignment.
While Hacking's defense team works to diminish the state's case against him, police are in the process of handing over everything they've collected on the case -- evidence from the Hacking's apartment and statements witnesses are giving them, keeping in mind that some of those witnesses are telling tales of Hacking trying to dispose of the mattress, the body, and the gun.
Robert Stott, Hacking Case Prosecutor: "What we need to do is get some of the information from the police. You know in a case like this there's just reams of information and paperwork, and now days it's on CD's and we need to collect that information and organize it."
A major missing link in the case, of course, is the recovery of Lori Hacking's body. Today, District Attorney David Yocom told us the search for the body will continue in the near future. That search won't resume for a few days in order to give those involved in it a break from the grueling work.
Yocom says there is plenty to prosecute right now, but again recovering the body would give them an even stronger case and could allow them to pursue more the serious charge of aggravated murder, and the death penalty.
Phone Call
Was it a phone call between Lori Hacking and an official at the University of North Carolina medical school that set the stage for her murder?
With today's charges, we now know the specifics of the phone call in which Lori Hacking unwittingly uncovered her husband's big lie-- the medical school where Mark Hacking said he applied had never heard of him.
July 16th Lori called the University of North Carolina medical school. Randee Alston, a worker in the Admissions Office, told police Lori asked about Mark's financial aid.
Alston checked several databases, finding Hacking was not registered and had not even applied to medical school.
That day, Lori's friends reported she made a tearful exit from work.
Melissa Sugden/ Lori's Co-Worker & Friend/July 27: "I said, 'Hey, that's Lori.' She came out and I said, 'Hey Lori, what's up?' She said, 'Nothing.' She started walking away. I said,'Are you sure?' She said 'Yeah' and then she got in her car and zoomed right past me."
Mark later told his brothers that he and Lori argued late Sunday night right after Mark told her he lied about medical school.
Lori went to bed and Mark played Nintendo for about an hour, and then allegedly shot his sleeping wife.
Hacking's brother Lance says Mark told him: "Lori's dead and I killed her."
On Monday, the UNC official Lori talked to Friday discovered Lori left a message late that day, saying Mark told Lori he personally called Ms. Alston and learned the problem was a computer malfunction, and he straigthened things out. But the UNC official said she'd never spoken to Mark.
Later that day Mark Hacking told reporters he'd called Lori at work at 10 am to see how she was doing.
Mark Hacking/ Accused of Murder/July 19: "They told me she never made it in this morning."
Of course we now know that by the time that UNC medical school offical, Ms. Randee Alston, got that message from Lori Hacking that Monday morning, Lori Hacking was already dead.
×