Estimated read time: 9-10 minutes
This archived news story is available only for your personal, non-commercial use. Information in the story may be outdated or superseded by additional information. Reading or replaying the story in its archived form does not constitute a republication of the story.
SALT LAKE CITY (AP/KSL News) -- Mark Hacking confessed to two older brothers that he killed his wife as she slept and then put the body in a trash bin, their father said Thursday.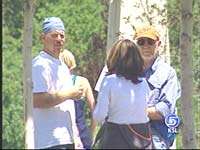 Hacking, confronted with evidence he had something to do with his wife's disappearance, and overwhelmed by the volunteer effort to find her, made the confession when his brothers Scott and Lance visited him at a psychiatric ward July 24, the father, Douglas Hacking, said.
"He decided the time was right -- he had better let authorities know what happened," Douglas Hacking said.
Douglas Hacking thinks that his son Mark "just snapped" and killed his wife after she learned he had been lying for years about his education and career plans, his father believes.
"If he did this, then I think it's clear that this whole house of cards he had built, all this deception, had come to an end. He had been found out. His wife discovered his deception and confronted him with it, and I just think he just saw his whole world collapsing and broke down," the father, Douglas Hacking, told The Associated Press on Thursday.
"He just snapped, and did something there's no explanation for. That's the only way I can envision it," he said.
Hacking said he based his beliefs in part on news reports that Lori Hacking left work stunned and sobbing Friday, July 16, three days before her husband reported missing. Her colleagues at a Wells Fargo brokerage house told the AP that she had been making some arrangements at a North Carolina medical school, and that they believe an administrator was calling back to say Mark Hacking wasn't enrolled there.
Early on, Douglas Hacking said he looked his son in the eyes and asked if he had anything to do with Lori Hacking's July 19 disappearance.
He said Mark denied it, then revealed to his brothers Scott and Lance Hacking July 24 at a psychiatric ward that he had killed his wife in bed while she slept and threw her body in a trash bin.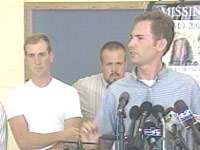 The brothers confronted Hacking with evidence suggesting he had something to do with his wife's disappearance, and Mark felt responsible for a volunteer search effort to find his wife, the father said.
Initially, neither brother goes to police -- why? Because they say -- Mark had given detectives information.
Lance Hacking: "Scott and I were under the impression the police had the information that Mark had made that available through another means."
And it appears Mark did give police something. Two days after the confession to his brothers, July 26th detectives start combing the Salt Lake County Landfill for Lori's body.
Then, finally, last Saturday night, July 31st, police interview one of the brothers at police headquarters. By Monday morning Mark Hacking is arrested in connection with his wife's murder.
Police won't talk about the confession. Prosecutors have told detectives not to say anything unless it has to do with the search of the landfill. Read the Full Statement Here
The details of the confession were disclosed Thursday in an interview of Scott Hacking in The Salt Lake Tribune, and a interview with Lance Hacking by KSL Newsradio.
Lance Hacking says it was the hardest thing he and his brother Scott have ever had to do: ask Mark if he killed Lori.
"It certainly was difficult to approach a brother you love and pose questions which you never thought you'd every have to ask somebody at all," Lance Hacking told KSL Newradio.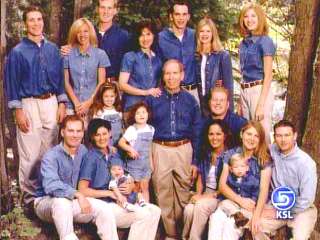 Lance says he believes he and Scott are the 'reliable citizen witness' referred to in police reports. In an interview with KSL NewsRadio Lance said they never once considered not cooperating with police.
"We realized of course the implications, that what we use could be potentially used against my brother, and that was hard to deal with, but there was never any questions that we were trying to do what was right, and we felt what was right was the best thing for Mark as well," Lance said.
"My brother and I sat and hugged him for about an hour, and then we went home," Scott Hacking told The Salt Lake Tribune in a copyright story.
The information was relayed to police through an intermediary July 25.
Douglas Hacking, a pediatrician, has said he was "completely blind-sided" by Mark's history of deception. Now the father is trying to reconstruct his son's life. He hasn't spoken lately to Mark Hacking, who was jailed Monday on suspicion of murder.
"I've never seen him (Scott) hurting so much as that night, struggling with having to make that decision," said Douglas Hacking. "When it was all done, he said, 'I never felt as relieved or miserable at the same time.' It's a terrible dilemma for him to be in."
He said he believed Mark Hacking had a psychological breakdown because his wife apparently learned of his lie about having been accepted to medical school. Both Scott and Douglas are physicians, and the father said Mark probably felt pressure by the achievements of his relatives.
Mark Hacking, 28, called police July 19 and said his wife had failed to show up for work after going for an early morning jog.
He was arrested Monday on suspicion of murder as he was about to be released from the psychiatric ward where he'd been since being found naked outside a hotel July 20.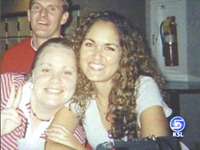 Police believe that three days before she vanished, Lori Hacking discovered that her husband had not been enrolled in a North Carolina medical school where the couple was packing to move. It also was discovered that he had lied about graduating from the University of Utah.
Scott Hacking, 33, said he was aware that his brother, if convicted, could face execution.
"I certainly worried about that," he told the newspaper. "My family believes in the justice system. If those consequences are the ones he has to face, then again, we will support him through that point, though I hope he does not have to face that consequence."
He said he hopes the information resolves the case.
"My family started this entire process with two goals in mind," he said. "One was to bring Lori back and the other was to discover the truth. And we were determined to do both of those things.
"No brother wants to offer information about his own brother," he said.
But whatever happens, the family will stick by Mark's side.
"It's hard to fathom what has happened and of course we're grieving for Lori, and we feel bad Mark's going through all of this, but that doesn't change the fact that he's our brother, brother-in-law, son, and we love him unconditionally," said Lance.
And despite rumors there was a break-up in the family, Lance says that's not true. He says the Hacking and Soares families remain close, talking frequently.
Prosecutors say they need more time to build their case before filing murder charges against Mark Hacking. Now they'll have until Monday.
Mark Hacking has been in jail since he was released from the hospital on Monday. Prosecutors had 72 hours from the time of his arrest to file charges. But this extension allows the jail to hold Hacking until Monday, when formal charges are now expected to be filed.
Greg Skordas: "I believe that the reason the district attorney's office asked for the extension is to give the police a couple more days at the landfill, not that it will make a big difference in this case, but make the investigation final. It will make the investigation conclusive."
A judge today granted an extension requested by the Salt Lake County District Attorney's Office. Court documents cite this reason: the Salt Lake City Police Department 'needs additional time to complete their investigation.'
The document goes on to say, 'detectives just returned to Utah from interviewing a witness who lives in Texas, are in the process of compiling transcripts of witness interviews, and are awaiting additional test results from the crime lab.'
Mark Hacking remains in the Salt Lake County Jail, on a $500,000 cash bail. Prosecutors say he told a reliable citizen witness that he killed Lori while she was asleep in bed, and disposed of her body in a dumpster. Authorities also found human blood on a knife, on a headboard and bedrail, during a search of the Hacking's apartment.
Former Salt Lake County Attorney Chief Deputy, Greg Skordas, says prosecutors have enough probable cause to charge Hacking with murder, even if Lori's body has not been found. He believes Hacking will be charged with murder, a first-degree felony that would spare Hacking the death penalty.
Greg Skordas: "The more compelling reason why this is probably not an aggravated murder case is, I don't think the victim's family wants this case to proceed as an aggravated murder. It doesn't sound like, if you listen to them, they still seem very sympathetic to Mark, and I think the district attorney's office is very sensitive to victims."
A murder charge carries a penalty of five years to life, with the possibility of parole. Skordas says if Lori's body is found and if she was indeed pregnant, prosecutors could charge Mark Hacking with two homicides.
He does not believe the DA will not need to request another extension. The DA's office declined to comment today.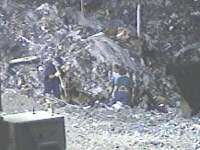 Lori Hacking, a 27-year-old stockbroker's assistant, is feared dead, and police are certain her body will turn up in a municipal landfill, where they planned to return Thursday night with a team of cadaver dogs.
It could take a month for police and dogs to plow through 3,000 tons of compacted garbage buried 20 feet deep over an area of two football fields, but "luck is going to play in this whole thing," Detective Phil Eslinger said Thursday.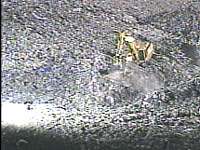 "If it ends tonight, it will be because of our diligence and because luck just happened to be on our side. You look at cases that involve landfills, they have a history of being long affairs," he said.
Family members are trying to understand why Mark Hacking, a 28-year-old hospital orderly with no known criminal history, would kill his wife.
"Nobody can answer that question, but there were some things leading up to why Mark may have had a complete psychological collapse," said Douglas Hacking.
(Copyright 2004 by The Associated Press. All Rights Reserved.)
×