Estimated read time: 7-8 minutes
This archived news story is available only for your personal, non-commercial use. Information in the story may be outdated or superseded by additional information. Reading or replaying the story in its archived form does not constitute a republication of the story.
John Daley ReportingCritical new information tonight in the murder of Lori Hacking. In court papers police and prosecutors lay out their case. Evidence apparently includes blood in the couple's apartment and in Lori Hacking's car, and an apparent confession from Mark Hacking.
In the probable cause statement police list five points--five pieces of information that have led them to believe that Mark Hacking killed his wife with a knife while she was sleeping.
From day one in the missing person case of Lori Hacking, we now know Salt Lake City police were zeroing in on one person -- her husband Mark.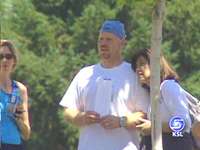 Dwayne Baird, Salt Lake City Police: "In any case that you have, there's always clues. And in this case we had clues early on."
In a probable cause statement filed today police spell out those clues, showing five days after she went missing Mark Hacking confessed to a cold-blooded killing of his wife as she slept, and that police believe they have the blood evidence to prove it.
Police laid out five key pieces of information:
--ONE: 10:07 AM, July 19--Mark Hacking reports his wife missing.
--TWO: Mark Hacking goes to a furniture store to buy a mattress at 10:23.
--THREE: During a search police locate human blood on a knife that was found in the bedroom, on the headboard of the bed, and on the bedrail. Police also obtain a search warrant for Lori Hacking's car. The crime lab finds blood flakes and swipes in Lori's car that match the blood found in the apartment.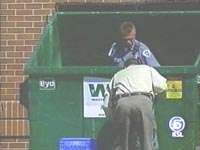 --FOUR: Police find a mattress in a dumpster in the Hacking's apartment. The manufacturer's numbers on the mattress match those on the box spring still located in the Hacking's apartment.
--And FIVE: Police personally interview a reliable citizen witness who spoke to Mark Hacking on July 24 at the University of Utah Medical Center Psychiatric Unit. Mark Hacking told this reliable citizen witness that he killed Lori while she was asleep in bed and disposed of her body in a dumpster.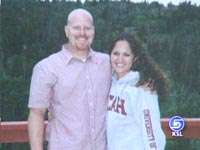 Just hours after he allegedly disposed of her body, he told reporters he had no idea where Lori was.
Mark Hacking, July 19: "And then I called her at about ten o'clock to just say hi and see how she was doing, and they told me she, 'sorry, she never made it in this morning.'"
The District Attorney explained at a press conference this afternoon that police filed this probable cause statement in order to hold Mark Hacking in jail. A judge deemed an earlier statement insufficient for holding Mark Hacking--that's why we got this amended statement today with the new details.
One of the questions left is, who is this witness? It's very possible it's the same person revealed last night as a "confidential informant." We talked with a former prosecutor with the DA's office today and he offered his opinion.
Greg Skordas, Former Prosecutor: "I think that the suspect has talked to some family members and has disclosed what happened here to family members. Police, if you listen to them say, he has not confessed to police. I think that's a careful way of saying he has confessed to someone else."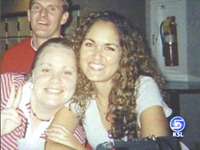 This witness again has been called a "reliable citizen witness." That basically means this person is not a paid informant. It's someone who has come forward of his or her own volition and offered information.
We know that family members have been talking with police in the hospital and they called off the search for Lori after information Mark gave out, most likely to someone in the family.
The district attorney's office has also been reviewing all the police evidence. They say so far they've only seen a brief summary of the evidence. They've asked police to gather additional information, including witness interviews.
Dave Yocum, District Attorney: "What we've asked them to do is transcribe statements, do reports, get scientific evidence gathered, do the things you'd normally do before a case is screened."
Police say they want to make a thorough review of the case before they decide what charges to file. They're supposed to file within 72 hours. If they're not ready, they say they could file an extension.
We also learned today that Mark Hacking's bail has been set at half a million dollars. It is cash only.
Surveillance Video Shows Mark and Lori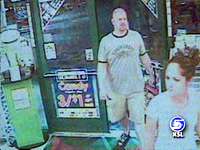 On July 18th, Lori and Mark Hacking were in the Maverick store, located at 310 S. 900 East, for just a few minutes. The clerk says they came in to buy sodas.
The two were captured on surveillance video, and they may be the last images of Lori.
Hours later, the cameras captured Mark as he returned alone to buy soda and cigarettes.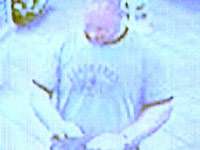 The video shows Mark at the counter, checking his hands as he pays for his purchase. He then returns to get the change he forgot, then leaves in Lori's car.
While Mark may appear to be preoccupied, the clerk working that night told employees, Mark seemed normal.
More information and images on the surveillance video story
Lori's Brother Speaks Out
The news of Lori's death and Mark's arrest is, of course, hitting both the Hacking and Soares families, painfully hard.
Lori Hacking's brother says her death and the circumstances surrounding it are unimaginable. Paul Soares calls her murder a "shock", saying, "you just don't know what someone is capable of."
Soares feels sorry for the Hackings because, "they are a wonderful family." And he saw no warning signs leading up to his sister's death.
Search Volunteers: We Would Do it Again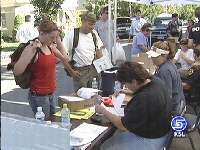 This community saw a huge outpouring of support as hundreds of volunteers combed the hillsides looking for Lori. But it leaves many wondering why the police didn't call off the search earlier if they indeed knew from the beginning that Lori was not alive.
Even in light of all the speculation that surrounded Mark's deception early on in this case, hundreds of volunteers still showed up to continue looking for Lori and some of those volunteers say they'd do it again for another missing person.
Sherri Paquet and Wendy Olsen were dedicated to searching for Lori. Even though they say they suspected Mark's guilt early on, they still showed up to help look for her because they say they identified with the family's pain.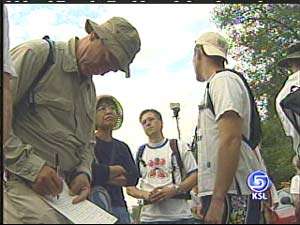 Wendy Olsen, Orem: "Him telling me how much he wanted to find his daughter no matter what. To bring her home, to give her a safe place, and that just broke my heart, so of course, we wanted to try and help find her."
But many are wondering why the police didn't call off the volunteer search if they believed early on that Mark had killed his wife.
If police believed early in the investigation that Lori Hacking may have been a victim of a crime, and her husband may have been responsible, do you think the police should have announced that the search efforts were unnecessary? In an exclusive KSL Survey USA poll, when asked whether people thought police should have announced that search efforts were unnecessary 23% believed that they should have, while 71% agreed with police not sharing the information.
Sherri Paquet: "If that's what it took to do their job and they needed to keep it confidential, then no I don't, it doesn't bother me at all."
But by not informing the searchers early on, did police harm their chances of having another large volunteer turn out to search in the future for more missing people? 62% of the 500 people polled say withholding the information will make no difference in volunteer turnouts in the future.
And 58% of the people polled say people in Utah are more likely to donate personal time to searching for missing people compared with any other state.
Wendy Olsen: "The people here are very family oriented. I think they would give the shirt off their backs in this town. They did it for Elizabeth Smart. And they did it for Lori, and I think they'll do it again."
Landfill Search to Continue Wednesday Night
But sadly, the search for Lori's body is now taking place at the Salt Lake County landfill. That search will start again Wednesday night.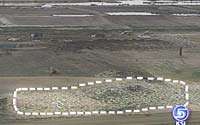 Cadaver dogs will sniff through trash in an area roughly the size of two football fields, about 40-feet deep.
If the dogs do find Lori's body, they're trained not to bark, but to sit down.
"Nancy Hawchmeister/Rocky Mountain Rescue Dogs: It's a passive alert, like for bombs, they don't want anything disturbed, especially in a crime scene you don"t want the dog to dig, you want the dog to sit so you can dig down and preserve the crime scene."
Trainers say at the landfill, the dogs will be bombarded with smells, and the human scent will be everywhere, so the search will be intense.
×
Most recent News stories