Estimated read time: 14-15 minutes
This archived news story is available only for your personal, non-commercial use. Information in the story may be outdated or superseded by additional information. Reading or replaying the story in its archived form does not constitute a republication of the story.
Mark Hacking Arrested on Suspicion of MurderThe man who reported his wife missing two weeks ago, tonight faces aggravated murder charges in her disappearance and death.
Salt Lake City police chief Rick Dinse says there's enough evidence to charge Mark Hacking with murder in the death of his missing pregnant wife.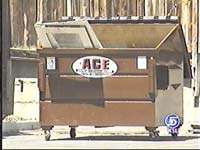 Chief Dinse says his detectives are confident Lori Hacking was a victim of a homicide. And they believe the crime took place at the couple's home, and that key evidence taken from Lori Hacking's vehicle, the apartment and a trash dumpster point to her husband Mark.
Also, new information is developing tonight about how police built their case. There is now evidence that there's a confidential informant in the case.
Police also believe her body is at the Salt Lake County Landfill where exhaustive searches, using cadaver dogs have come up empty.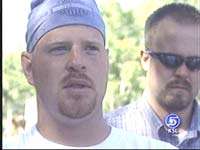 Mark Hacking is being held without bail. He's on suicide watch at the Salt Lake County Jail. Mark Hacking has been in the hospital for almost two weeks. Recently the police department learned Mark would be released today. They notified his attorney and arrested Mark at the hospital around 11:00.
The first day of Lori Hacking's disappearance, her husband Mark searched the canyon with family and friends. But while Mark was giving his account of what happened to police, detectives were turning their attention to him.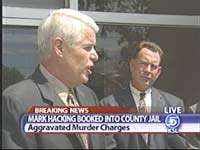 Chief Rick Dinse, Salt Lake City Police Dept.: "Very early on in the investigation in this case, detectives developed information that led them to believe Mark may have more knowledge of her whereabouts than first alleged. I'll tell you, we focused on him the very first day."
All the while, police were gathering evidence that indicated Lori was the victim of a homicide and her husband was the man responsible.
Chief Rick Dinse: "Detectives obtained substantial additional evidence from witnesses, from Lori Hacking's vehicle, from her apartment and from a trash dumpster nearby the apartment."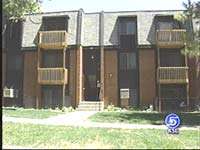 Police say they believe they know what the murder weapon was and have a potential motive. Though they won't say what they are, they will say they believe Lori was killed in her apartment. One thing is evident: during the last two weeks, police have been building their case.
Chief Rick Dinse: "We had actually been ready to make the arrest, probably we could have made it sooner had he been released from the hospital sooner. But this afforded us more opportunity for us to conduct the investigation and develop more information, yes."
Police say they were waiting on evidence from the lab to move forward, and they're still waiting on some of that evidence. They also said today Mark did not make any kind of admission to police during his arrest. He is under suicide watch at the jail.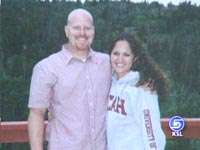 Chief Rick Dinse: "The evidence gathered strongly indicated Lori Hacking was the victim of a homicide and that her husband, Mark Hacking is the individual responsible."
A legal document filed when Hacking was booked into the Salt Lake County Jail says evidence from the couple's apartment, and information from a confidential informant leads police to believe Hacking killed his wife.
The informant apparently is a witness who's quietly helped police build their murder case against Mark Hacking.
Just who that informant is remains a mystery. But police often use secret witnesses --someone who saw or heard something -- to build stronger cases.
Could prosecutors seek the death penalty for Mark Hacking, and what's next for the murder suspect?
The charge he faces, aggravated murder, can lead to the death penalty or life in prison without the possibility of parole. But what about the baby? Family members say Lori was five-weeks pregnant. Now, police say they need to find Lori's body to prove that part of a murder charge.
Mark Hacking is now behind bars, booked into jail on suspicion of aggravated murder -- which means police believe there are aggravated circumstances surrounding Lori's death and are laying the ground work to ask for the death penalty.
In this case, those aggravated circumstances that make this a capital case, could include committing a murder in a heinous manner and hiding the body, doing it for personal gain -- in this case perhaps to hide a lie, or killing two or more people, including an unborn baby. Right now police say the fetus isn't part of their case.
Chief Rick Dinse: "At this point in time the pregnancy has not had anything to do with those charges."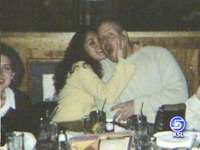 Family members say Lori's home pregnancy test came back positive, that she was five-weeks pregnant. But their word might not be enough for police
Det. Dwayne Baird, Salt Lake City Police Department: "There wasn't any medical testing. It's just what her family and friends say, was the EPT thing."
But police say if they find Lori's body and can prove she was pregnant, the death of her unborn baby could become the aggravating circumstance,
Chief Rick Dinse: "We would have to establish that she was in fact pregnant, which we don't have a body at this point, so that might be problematic."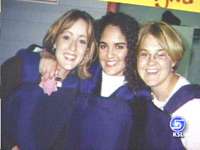 But police do have some time to continue building their case. They have three days from the time a suspect is booked into jail to meet with prosecutors and file charges in criminal court.
There has been talk about Mark Hacking using insanity as a defense if he is charged. To do that he'd have to prove he had no idea that what he allegedly did was wrong. Even though he ended up in the psychiatric ward for days, that's not enough.
Allegedly buying a mattress 30-minutes before reporting his wife missing may be all prosecutors need to shatter an insanity defense.
---
Mark Hacking's Attorney: Insanity Defense Difficult to Prove Mark Hacking's defense attorney, Gil Athay, says an insanity plea is not out of the question, but very difficult to prove.
Gil Athay: "It certainly is a possibility. Is it something that we're ultimately going to rely upon? I don't know."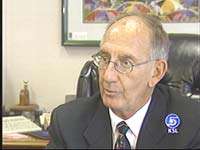 "You basically have to prove that the person perceives that he or she is killing something other than a human being."
Athay also says if police don't recover a body, it doesn't automatically help the defense.
Gil Athay: "What is a strong case? I don't know. I have not had access to their evidence. I will be getting that once charges have been filed."
Athay says mental illness defenses in Utah have been very limited in past years, but he says he's been one of the few lawyers who has had some success with that kind of defense.
More of interview with Defense Attorney Gil Athay
---
Mark Hacking's Psychiatric CareMark Hacking is under close observation in what is called the Mental Health unit of the Salt Lake County jail's Adult Detention Center. While it may look like a jail cell much like the other inmates are in, this one is different.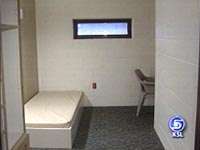 Much like a forensic room at the State Hospital, the jail cell is void of anything the inmate might try to use to hurt himself or take his own life. Everything except the basic furniture is removed. In the room at the State Hospital, fixtures are either tamperproof or covered. A room not far away has a camera in the corner in case someone needs a 24 hour watch.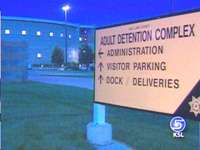 In the case of the Mental Health unit at the jail, someone checks on the occupant every fifteen minutes. The food served in the unit is the same for any other inmate unless modified under orders from a doctor.
Dr. Frank Rees at the State Hospital says once someone is taken to jail and the reality of a crime hits home, the suicide rate dramatically increases - especially if the emotional stability of that individual is already compromised.
Dr. Frank Rees, Psychology Director, State Hospital: "Statistically, when people are first admitted to jail or first admitted to prison, there is a much higher likelihood of a suicide attempt at that point than at any other point in their incarceration."
Jail personnel are also equipped to handle inmates with special psychiatric conditions. And experts say it would be difficult for Mark Hacking, or anyone else, to fake a mental condition.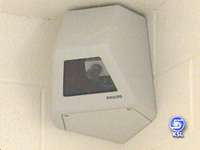 Depending on what the court outcome is for Hacking, he, like many others have, could end up here at the State Hospital for more mental evaluations.
Dr. Rees says those 24 hour observations are thorough, designed to identify individuals who are really impaired versus those masquerading psychotic behavior.
Dr. Frank Rees, Psychology Director, State Hospital: "Trained, professional staff who are seasoned in looking for mental illnes versus malingering, which is the feigning of mental illness to obtain secondary gain."
The State Hospital also uses specific testing instruments to help diagnose the real from the unreal.
---
Landfill Search Continues
The search for Lori Hacking's body will resume Wednesday night at the place where police have believed it is almost from the beginning -- The Salt Lake County Landfill.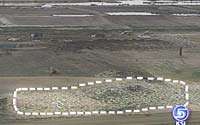 Police seem quite sure the body is there. They won't say precisely why. It will be tough to find, but given enough time and manpower, it seems like a manageable problem. The landfill is a huge haystack to find a needle in. But police only have to search a small part of the haystack.
From the few clues released by police, it appears they suspect Mark Hacking placed Lori's body in a trash container, which was then emptied into a garbage truck.
Chief Rick Dinse: "The fact that we have to go to a landfill to look for a body is not something that makes all of us comfortable. The thought that her last resting place is a landfill is not a pleasant thought."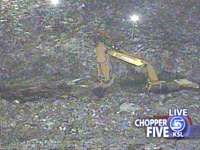 All the trucks that dumped their loads that first day and early the next morning, did it in one specific part of the landfill known as the "tipping face." The search area appears to be less than the area of a football field. In nighttime searches over the last week, that's where police and dogs have concentrated their effort.
Dwayne Baird, Salt Lake City Police Dept.: "We do feel we have it isolated. They actually cordoned that material off with the GPS System, so they know exactly where to go back to it."
The search might well have become impossible, except that police called out there the morning after Lori disappeared, and got the dumping stopped in that particular location.
Jill Fletcher, Salt Lake County Landfill: "We have changed the location of the Tipping Face so that we're dumping garbage in a separate location, leaving the evidence area isolated."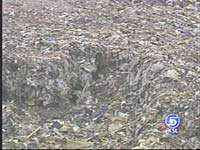 Not to oversimplify a difficult, unpleasant task, but it's basically a matter of moving garbage until you find what you're looking for. But the garbage is so densely compacted it has to be unpacked with mechanized equipment.
Dwayne Baird: "We're talking about 3000 tons of material. We've gone through about 500 tons of it."
But no one is talking about giving up.
Chief Rick Dinse: "It is a terrible job to do. They have done it. They have volunteered to do it. They're all committed to try and locate Lori."
Yesterday, police said they wouldn't resume the search until next Friday night because the cadaver dogs wouldn't be available until then. Today it was obvious there was some confusion about that. Today, they said the search will resume Wednesday.
---
Family Reaction to Mark's Arrest
Deep down they may have known the worst had happened to Lori. But her family and the family of Mark Hacking were probably hoping somehow it wasn't true.
Monday those fears were realized.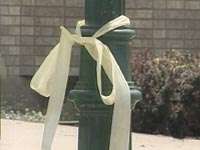 Both families in this case, Lori's mother and Mark's parents, live in Orem, and yellow ribbons still mark both homes Monday afternoon, and a banner of support is up for the Hacking family.
The Soares and Hacking families sent out a fax Saturday night, which acknowledged Mark Hacking knew of Lori's fate, and volunteer searching was no longer needed, so it's clear that by then both families were aware of the circumstances.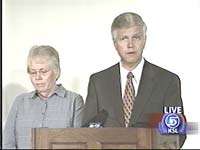 On the day of her son-in-law's arrest for the murder of her daughter, Thelma Soares stood in silence. But her words were heard. Her tears were felt, as a spokesman read a family statement.
Scott Dunaway/Family Spokesperson: "Our lives will never be the same, and we will grieve for her and miss her until the day we die."
Nothing was said of Mark Hacking, the man Thelma and Herald Soares once entrusted their daughter to.
Instead, a remarkable show of support for his family and the relationship they have shared since their children were married.
Scott Dunaway: "To the wonderful Hacking family who has shared this tragedy with us, may the Heavenly Father strengthen you in the difficult days ahead. You know of our love for you."
On July 24th, both Lori's and Mark's mothers spoke to Eyewitness News about the growing suspicion that Mark was involved in Lori's disappearance.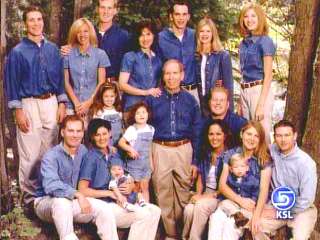 Janet Hacking, Mark's Mother, July 24: "I have been so shocked by what came out, because of knowing the goodness of Mark, and I have worried and gone over in my mind what could have happened."
Thelma Soares, Lori's Mom, July 24: "If worse comes to worse concerning the speculation, and we're certainly aware of it, I will still love him. I have loved him for a long time."
Of course for everyone who knows Mark Hacking, his family, friends and neighbors, the reality of his arrest is a huge blow, along with learning they've been deceived about his education and his involvement in Lori's disappearance.
---
Friends' Reactions to Mark's Arrest
Friends who know both Mark and Lori are expressing sadness and say they are shocked by Mark's arrest.
At the apartment where Mark and Lori Hacking lived, nothing stands out except the "missing" poster taped to the window by the front door.
Neighbors and friends, to a person, describe Mark as a nice, friendly guy with no signs of trouble.
We spoke with one neighbor who attended the same LDS ward as Mark and Lori. She expressed sentiments she said she's been hearing from a lot of the friends, that they just can't believe what's happened in this case.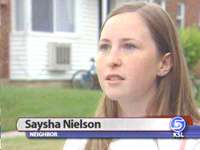 Saysha Nielson, Mark & Lori's Neighbor: "It's not really surprising with all of the developments that have come lately, but it's definitely heartbreaking. It's heartbreaking not only for her family, but for his family, for all the friends involved on both sides, for the volunteers – you know there's thousands of volunteers that have spent thousands of hours looking and everything, and really all along he knew.
"And it's just heartbreaking I think for everyone. I did have to work with him in my calling and I saw her all the time in relief society, and it was honestly normal. You know, they were just normal happy people. She was so beautiful and it's so sad how this is all turning out. But you absolutely never would have thought anything."
Saysha, whose husband is currently applying to medical school, is particularly surprised about Hacking's med school lies.
Saysha Nielson: "It's a long, drawn out, grueling process to apply to medical school, and you really would have to be a genius to make all of that up."
Mark Hacking managed the couple's apartment complex.
Another neighbor who dealt with Mark in that capacity says Mark was the "go-to guy," always very responsible.
Vasilios Maniatis, a transplanted Chicagoan, wonders if Mark Hacking's struggles to keep up with Utah standards led to a life of lies.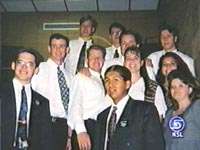 We've also been in touch via email with some of Mark Hacking's former missionary friends. He served a mission in Winnipeg, Canada in the mid-90's. One of them said, "I am in shock… a great guy when I knew him. Have things changed that much in five years? I have more questions than answers. How do I deal with this…did I miss something…was there anything in my life that I could have done to recognize this or prevented it?"
That seems to be the sentiment from all of Mark's friends. He has always been described as a happy, loving, friendly outgoing guy. His friends overall seem to be in shock at the way things are going in this case.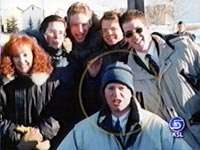 More on Reaction from Neighbors and Friends
×
Most recent News stories