Estimated read time: 2-3 minutes
This archived news story is available only for your personal, non-commercial use. Information in the story may be outdated or superseded by additional information. Reading or replaying the story in its archived form does not constitute a republication of the story.
John Daley ReportingEfforts to save water are gaining momentum at one of the state's largest institutions--the University of Utah.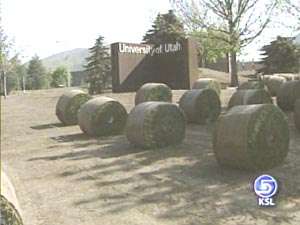 The clearest sign of it is along one of the most visible routes at the U where the light rail track was installed last fall, you can see a variety of new landscapes--including water-wise gardens and new water-wise lawn.
Driven by drought, water-wise landscapes are popping up like spring flowers. But consider the challenge for a big institution. At the University of Utah--with 600 acres of landscape converting vast swaths of thirsty lawn--just doesn't happen overnight.
Pete van der Have, Director of Plant Operations: "It is a very cost intensive and labor intensive effort. So you eat the elephant one bite at a time."
That's what the U is doing, changing out what was lawn along the TRAX line for native plants, trees and mulch.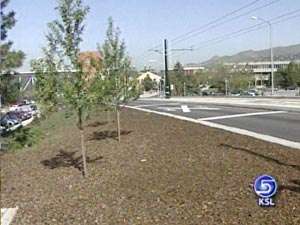 Pete van der Have, Director of Plant Operations: "I think with the drought, there's been a lot of sensitivity on people's parts. They're starting to do it at home, we're starting to get a lot of support, if not pressure, to do more on campus."
Pressure has come from the Faculty Senate, calling for a 30% conversion to water-wise plants over the next decade. One watchdog group labeled the U a big "water waster". But that's about to change."
Erica Thoen, Utah Rivers Council: "Now we really applaud the steps that they are taking to really reduce water use. These are real steps that will produce real water savings."
Replacing old sprinklers, eliminating grass and adding new plants is not cheap. Roughly six acres cost $300-thousand --about $40,000 dollars an acre.
On this section of land, the u is putting in some new grass. We should call it new and improved, because it's a water-wise variety brought in from Idaho.
Water consumption on campus over the past five years is down 10% overall--water used for irrigation is down nearly 30 percent.
The goal now is to be a model of the water-wise approach.
Pete van der Have, Director of Plant Operations: "A few years ago, if we had tried to do this people would have said, 'What the heck are you doing?' But right now most people are saying, 'Way to go.'"
State agencies may soon be responding to that kind of criticism. Last week Governor Olene Walker signed an Executive Order requiring each agency to come up with a water conservation plan.
×