Estimated read time: 5-6 minutes
This archived news story is available only for your personal, non-commercial use. Information in the story may be outdated or superseded by additional information. Reading or replaying the story in its archived form does not constitute a republication of the story.
BAGHDAD, Iraq (AP) -- The U.S. military displayed the bodies of Saddam Hussein's sons on Friday, the faces reconstructed to appear as lifelike as possible after still photographs failed to convince many Iraqis the brothers were really dead.
Meanwhile, a U.S. general said American troops acting on an Iraqi tip captured five to 10 people believed to be Saddam's bodyguards in raid outside Tikrit, a sign forces were closing in on Saddam himself.
"We continue to tighten the noose," said Maj. Gen. Ray Odierno, commander of the Army's 4th Infantry Division, speaking Friday to reporters at the Pentagon via video hookup from Tikrit, Saddam's hometown and a source of continuing support for his deposed regime.
The images of Odai and Qusai Hussein published Thursday had raised criticism by showing only the brothers' faces and upper chests -- the faces obscured by heavy beards, blood and gashes -- and giving no indication of height.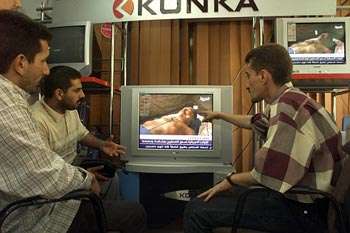 By contrast, the military showed journalists including an Associated Press reporter the autopsied bodies covered only by sheets and presented identifying evidence, including dental records and a rod from Odai's leg.
Odai's beard had been trimmed to the length he had worn it in life. Qusai's beard was shaved off and he had only a mustache, his trademark. The faces appeared waxy and heavily made up.
Morticians removed a large gash that had cut across the middle of Odai's face. Odai's abdomen had been riddled with bullets, and the torsos of both brothers bore large Y-shaped incisions.
Autopsy incisions were also visible on Odai's left leg, where doctors removed the 8-inch long bar inserted after a 1996 assassination attempt. A piece of leg bone taken out with the bar was wrapped in plastic and lying next to his body on the gurney.
Odai, 39, and Qusai, 37, were killed Tuesday in a gunbattle with U.S. troops, who raided a villa in the northern city of Mosul, directed there by an Iraqi tipster. Two other Iraqis in the house also were killed, believed to be a bodyguard and Qusai's teenage son Mustafa.
The U.S. military had offered a $15 million reward for information leading to the capture or death of the brothers -- two of the most feared men in Iraq and Nos. 2 and 3 on the American list of most-wanted Iraqis.
Odai was believed to have died from a head injury caused by a blunt object. Qusai had two bullet wounds to his head, in and just behind his right ear, doctors and medical officials said. They said they did not think the wounds were self-inflicted. A final report on the brothers' deaths was expected within six weeks.
Saddam's sons responded to U.S. soldiers' demand to surrender with a hail of gunfire, so there was no way they could have been captured alive, Defense Secretary Donald H. Rumsfeld said Thursday in Washington.
Some Iraqis say they would have preferred that the sons were captured and put on trial, but Rumsfeld said there was no reason to second-guess the actions of the 101st Airborne Division troops who carried out the quick-reaction mission in Mosul.
"Given the amount of gunfire that came from that building ... it is I think obvious that there was no chance of taking them alive," the defense secretary said.
Speaking from Tikrit, Odierno said the deaths of Odai and Qusai have prompted more tips from Iraqis such as the ones that led to the capture Thursday of Saddam's bodyguards. "We've shown them no one of the old regime is going to survive," the general said.
U.S. officials said the bodies would be stored in a refrigerated tent at Baghdad International Airport until a family member came forward to claim them.
The U.S. civil administration in Iraq was talking to the country's Governing Council about how to preserve the bodies according to Islamic custom, which calls for burial as soon as possible. Usually, Muslims are buried before nightfall the day they die.
However, the reconstruction -- a common funeral practice in the West -- could raise doubts and anger among Iraqis, since Muslims have no tradition of embalming bodies.
Before burial, the bodies of Muslims are washed and wrapped in white cotton cloth, but they are not otherwise treated. If a Muslim falls in battle, then he or she are declared a martyr and buried without their bodies washed.
The extensive plastic surgery also could fuel Iraqi suspicions that the Americans tampered with bodies to make them resemble the brothers.
U.S. officials said they treated the bodies with the same respect given any corpse, and that making the brothers look lifelike was standard military procedure.
But the reconstruction was significant because of the doubt about the still photographs. Surgeons showed reporters dental X-rays and said serial and model numbers on the rod from Odai's leg matched data they had about it.
The photographs released Thursday were widely viewed on television around the world, including in Iraq. Among the complaints was that the photographs did not show the sons' full bodies, giving no way to judge their height.
Most papers in the capital, Baghdad, did not publish Friday, a Muslim day of prayer and rest. The Al Ray Al-Am ran a story about the pictures, but did not show them, opting instead to show an older color photo of Odai wearing an Arab headdress, his faced crossed out with a red "X."
The photos seemed to have had little effect on Iraqi opinion.
"This is a U.S. ploy to try to break the spirit of the resistance," said Jassim al-Robai, a computer engineer, who said the photographs did not convince him the brothers were killed.
Two U.S. military photos showed a man identified as Qusai with bruises and blood spots around his eyes. That face was far more intact than the other, identified as Odai.
The face of what appeared to be Odai was severely bloodied. A gash ran from his left eye to the right corner of his mouth, and bruises and blood covered his forehead.
Both men were heavily bearded, which left some Iraqis speculating that they may have been trying to mask their identities. They had been on the run since the regime collapsed April 9.
(Copyright 2003 by The Associated Press. All Rights Reserved.)
×
Most recent News stories