Estimated read time: 5-6 minutes
This archived news story is available only for your personal, non-commercial use. Information in the story may be outdated or superseded by additional information. Reading or replaying the story in its archived form does not constitute a republication of the story.
BAGHDAD, Iraq (AP) -- Gunmen killed an American soldier and wounded another in a hit-and-run shooting at a Baghdad propane gas station Wednesday. U.S. troops also opened fire on a demonstration outside coalition headquarters in the capital, killing two protesters.
The violence came as the U.S. military announced the capture of one of Saddam Hussein's closest aides -- his personal secretary, Abid Hamid Mahmud al-Tikriti, one of the highest figures seized by the Americans. Also, in a major raid in Saddam's hometown, Tikrit, troops captured a Saddam bodyguard, 50 other Iraqis thought close to his security forces and millions of dollars in cash and jewelry.
U.S. forces have continued hunting for Saddam's inner circle even as they launched in the past week a heavy crackdown against Saddam loyalists thought to be leading resistance against the U.S.-British occupation of Iraq. Small-scale attacks on American soldiers have escalated in the past month.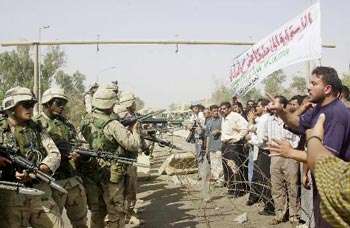 In the latest attack, gunmen walked up to a squad of troops guarding the gas station and opened fire at close range before fleeing in a waiting car, witnesses told Capt. David Gercken, a spokesman for the Army's 1st Armored Division. The slain soldier, whose name was not immediately released, was the second American killed this week in Baghdad.
Attacks and accidents have killed about 50 American troops -- including about a dozen from hostile fire -- since major combat was officially declared over on May 1. Between March 20, when the war started, and May 1, 138 Americans died from accidents or hostile fire.
Hours before Wednesday's shooting, two Iraqis were killed by American gunfire during a demonstration by former Iraqi army soldiers seeking jobs and back pay outside the Republican Palace, Saddam Hussein's former presidential compound that is now the headquarters of the U.S.-led administration.
The U.S. Central Command said the soldiers fired in self-defense when the demonstration turned violent and protesters started throwing rocks.
"One demonstrator pulled out a weapon and began shooting. U.S. Forces responded, killing two of the demonstrators," said the Army statement.
U.S. forces evacuated the Iraqis to a military aid station, but both died of their wounds, military spokesman Maj. Sean Gibson said.
Witnesses described a tense scene with about 40 soldiers holding back the crowd with bayonet-mounted rifles behind concertina wire, in temperatures soaring toward 113 degrees.
Accounts of how the violence began varied. Maj. John Washburn of the 1st Armored Division said a convoy came under a barrage of stones as it tried to enter the compound, and a soldier in one of the vehicles opened fire.
An Associated Press photographer who witnessed the incident said the convoy tried to edge through the crowd and enter the main gate, but gave up and drove to another entrance. He said the shooting came later in response to a few stones from demonstrators across the street.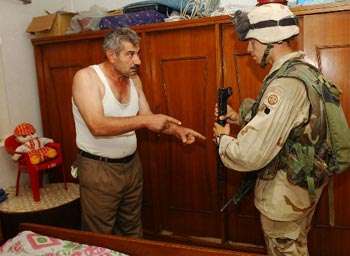 Demonstrations outside the Republican Palace have been frequent since coalition forces captured the Iraqi capital in April, usually over the issue of unpaid wages by civil servants and the army.
On Tuesday, New York-based Human Rights Watch alleged that troops used excessive force in the town of Fallujah, west of Baghdad, when they shot and killed 20 protesters and wounded nearly 90 in two incidents on April 28 and 30.
The group said its investigators found no evidence to support assertions by U.S. commanders that gunmen in the crowd fired first, prompting the Americans to shoot.
A U.S. Central Command spokesman in Tampa, Fla., said Wednesday that military officials were still considering whether to respond to the New York-based group's report.
Capt. John Morgan, a U.S. military spokesman in Baghdad, said the Army would "take appropriate measures" based on the results of its own investigation, which he said was under way.
The demonstration outside the Republican Palace on Wednesday occurred as U.S. troops intensified their searches in the capital for illegal weapons and supporters of Saddam's regime.
Before dawn Wednesday, troops sealed several streets of Baghdad's Karrada neighborhood and called residents from their beds to stand in the street as they searched their homes. Soldiers took one man away with his hands bound behind his back.
In Tikrit, north of Baghdad, U.S. forces raided two farmhouses and found $8.5 million in American cash, 300 million to 400 million Iraqi dinars -- worth about $200,000 to $300,000 at the current rate -- and an undetermined amount of British pounds and euros, said Maj. Gen. Ray Odierno, commander of the Army's 4th Infantry Division. The troops also found more than $1 million worth of gems and jewels, he said.
The troops captured one of Saddam's bodyguards and up to 50 other people believed to be tied to Saddam's security or intelligence forces or paramilitary groups, Odierno told Pentagon reporters.
Odierno said he did not know whether the cash was meant to pay bounties for attacks on American troops or to provide the Saddam loyalists with luxuries while they were in hiding.
It was not clear if the capture of Saddam's personal secretary was related to the raid. The military announced that Mahmoud was arrested in Iraq but gave no further details.
During Saddam's rule, Mahmud controlled access to the Iraqi leader and was one of the few people he is said to have trusted completely, a U.S. official said on condition of anonymity. A distant cousin of Saddam, Mahmud is also the ace of diamonds on the U.S. deck of cards portraying leaders of Saddam's regime.
(Copyright 2003 by The Associated Press. All Rights Reserved.)
×
Most recent News stories