Estimated read time: 1-2 minutes
This archived news story is available only for your personal, non-commercial use. Information in the story may be outdated or superseded by additional information. Reading or replaying the story in its archived form does not constitute a republication of the story.
TIKRIT, Iraq (AP) -- The northern city of Mosul took a small step toward controlling its destiny Monday, naming a cross-section of residents to run the city alongside the American military until elections can be held, a U.S. military official and news reports said.
Mosul, Iraq's third-largest city, is largely Arab but ethnically mixed, and remains tense weeks after Saddam Hussein's regime was overthrown. In late April, 18 people died in confrontations between the U.S. military and crowds in Mosul.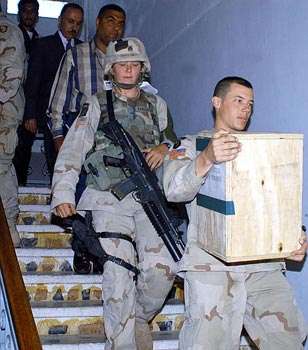 More than 200 representatives of the city's tribal and ethnic groups chose a mayor and city council. Retired army Gen. Ghanim al-Boso, an Arab, was selected as mayor, CNN reported.
Lt. Col. Ryan Gonsalves, a U.S. military commander in Tikrit, said the council would be a "representation from the entire city of Mosul." He said people with expertise in various areas such as public works would be part of the council.
The move comes as the United States works to bring representatives of various groups together in Baghdad to form a national government that is representative of Iraq's ethnicities and various interests. The United States says it hopes to have an interim national government in place sometime next month.
Al-Jazeera, the Arab satellite television network, characterized the action in Mosul as an election and said the council had been sworn in. The network showed footage of council members pledging allegiance to Iraq.
It said the council included seven Arabs, three Kurds, a Christian and a Turkman, or ethnic Turk, among others.
(Copyright 2003 by The Associated Press. All Rights Reserved.)
×
Most recent News stories