Estimated read time: 4-5 minutes
This archived news story is available only for your personal, non-commercial use. Information in the story may be outdated or superseded by additional information. Reading or replaying the story in its archived form does not constitute a republication of the story.
BAGHDAD, Iraq (AP) -- The U.S. Army took the war to Saddam Hussein on Monday -- to the heart of his capital city, to the dusty remains of his opulent palace, to his hot tubs and barbecue pit.
With little organized resistance, the Army's 3rd Infantry Division rolled through Baghdad, taking over major roads and settling into the New Presidential Palace. There, they found gold-painted faux French furniture, fabulous views of the Tigris River and a television in every room.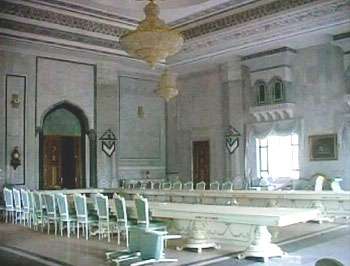 #dinner_table
Homey, it's not. "This used to be a nice place, they should make it like a Six Flags, or something," said Spc. Robert Blake, 20, of State College, Pa., and the 3rd Battalion, 7th Infantry Regiment.
Saddam has many palaces, and the Americans visited two on Sunday, including another about two miles away.
This one, constructed recently near his Baath Party headquarters, apparently was built as a residence and for entertainment, though it is unclear how much time the Iraqi president spent there. Troops found no personal effects, no "to-do lists" on the refrigerators, no needlepoint pillows on the beds.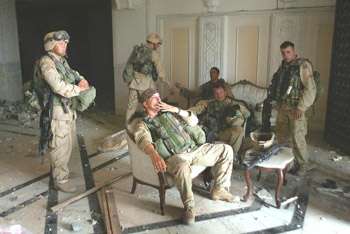 #saddams_chair
What they found, instead, was a building that had all the ambiance of a luxury, five-star conference center. And they immediately put it to use as a mobile command center, setting up a prisoner of war collection point in the palace compound.
As Iraqis were captured in street fighting outside, they were brought to the palace for processing before being sent behind U.S. lines.
Gen. Richard Myers, chairman of the Joint Chiefs of Staff, said troops were looking for intelligence -- leads to other regime targets, documentation of weapons of mass destruction.
He said there were no immediate reports that such material was found.
But he gave at least one other reason why the palace was captured: to send a message that "we're in there ... that this regime is gone."
They left no doubt that they were "in there." Soldiers used Saddam's toilets (for many the first indoor plumbing they'd seen in four months), rifled through documents, helped themselves to ashtrays, pillows, gold-painted Arab glassware and other souvenirs.
At sundown, some troops plugged one of Saddam's televisions into a portable generator and watched a state-run broadcast. They scoffed at a segment on an old man, wearing a turban and clutching an assault rifle.
"That looks awfully like the Taliban to me," said one soldier.
Occasionally, some Iraqis would approach the walls of the compound. The Americans would fire warning shots, and the Iraqis would run away.
"I do believe this city is freakin' ours," boasted Capt. Chris Carter of Watkinsville, Ga.
The main building, of sand-colored brick, is topped with a dome of blue-and-gold ceramic tile, now covered with cement dust. There are two huge holes in the roof and the front of the building from U.S. cruise missiles or laser-guided bombs in the past; the blasts knocked off the facade, collapsed floors and scorched walls.
Where fire had not destroyed the interior, plaster trimming and false ceiling had collapsed. Shards of hundreds of glass chandeliers and mirrors lay on the ground, crunching under the boots of American soldiers.
On the top floor, there once was an indoor pool, with windows looking out on three sides of the building. What was left of an elaborate, mosaic ceiling littered what was left of the bottom of the pool -- the water drained into basement and first floors, which were flooded.
Much of the building seemed like an empty hotel, never occupied.
The bedrooms, all large, each had bathroom with a Jacuzzi-like tub. There were hotel-quality beds and tables; most of the shelves and drawers were empty. A lone children's room had four beds.
In the industrial kitchen, everything had been put away and carefully cleaned. There was no food in the refrigerators or pantries.
The building boasted a sophisticated audio-video system, with several music channels and a closed-circuit television channel.
In one cabinet was an assortment of pirated movies, some with the titles in English. Saddam, or his guests, had a choice of movies like "Hanoi Hilton," "The Assassination of Trotsky," "Les Miserables" from the many Arab titles in the collection.
There were several copies of the Quran, with dozens of commentaries on its meaning, all in Arabic. There were also audio cassettes of the Quran and of Egyptian pop music.
Outside, curtains from the building were strewn across the lawn, along with decorative, wrought-iron gates that had covered bulletproof glass.
Behind the building, by the Tigris, there was a grill and an elaborate water garden with man-made pools and babbling brooks.
If not for the distant sound of tank and machine-gun fire, you could almost say it was idyllic.
(Copyright 2003 by The Associated Press. All Rights Reserved.)
×
Most recent News stories