Estimated read time: 6-7 minutes
This archived news story is available only for your personal, non-commercial use. Information in the story may be outdated or superseded by additional information. Reading or replaying the story in its archived form does not constitute a republication of the story.
(AP) Some 2,000 to 3,000 Iraqi fighters were killed in a show-of-force foray into Baghdad by American armored vehicles, and the Iraqi capital is now encircled, U.S. military leaders said Sunday.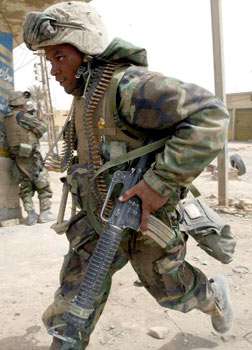 The command also said it was investigating a report of a friendly fire incident in northern Iraq. According to Kurdish officials, at least 17 Kurds were killed and 45 wounded when a U.S. warplane bombed a convoy carrying Kurdish fighters and U.S. special forces.
In southern Iraq, British forces made their deepest push yet into Basra, with a column of 40 armored personnel carriers rolling into the country's second-biggest city after a series of strikes on Saddam Hussein's loyalist defenders.
Though Saturday's 25-mile incursion through an industrial section of southern Baghdad was brief, it inflicted a heavy toll, command spokesman Jim Wilkinson said. More than three dozen tanks and armored vehicles were involved; U.S. casualties were described as light.
The blitz took two task forces of the 3rd Infantry Division from the southern outskirts of the city past Baghdad University and near the banks of the Tigris River, then back to the western outskirts of the city to the airport, which is under U.S. control.
The U.S. Central Command said the estimated toll of 2,000 to 3,000 deaths referred to fighters only. Later, asked at a news briefing to explain how the number was calculated, Brig. Gen. Vincent Brooks gave no specifics but said it was a reasonable estimate based on the resistance met by the U.S. column and the weaponry fired in response.
Brooks used the figure 2,000, saying the toll could have been a bit less or more.
"We know it was a considerable amount of destruction," he said. "In virtually every engagement we have, it's very one-sided."
U.S. officials made clear that forays into Baghdad would continue. Footage of a second one Sunday was shown on CNN.
"It's important to do so to secure the area; it's also important that we do that for psychological reasons," Wilkinson said. "Frankly we've had to prove to the civilians in the north and the south that we're there to stay. Once they know we're there to stay, they celebrate."
U.S. forces have formed a loose circle around Baghdad, seeking to isolate it and block movement of Iraqi troops in and out. Gen. Peter Pace, vice chairman of the Join Chiefs of Staff, described the strategy Sunday on ABC's "This Week."
"Baghdad, as you know, is about 15 miles or more east to west and about 15 miles north to south, so to say that you have an impenetrable cordon around the city would be a misstatement," Pace said.
"It is certainly true that we have huge amounts of combat power around the city right now, and that we have over a thousand planes in the air every day. So if it moves on the ground and it takes aggressive action, it's going to get killed."
U.S. pressure in and around Baghdad intensified Sunday. A Marine battalion overran a Republican Guard headquarters and seized one of Saddam's palaces south of the city. Overhead, U.S. warplanes were flying around the clock, coordinating precision strikes in support of upcoming ground attacks.
Iraqi state television showed brief footage of a smiling Saddam in military uniform presiding at a meeting it said was held Sunday with his top aides.
Separately, TV quoted Saddam as saying anyone who destroys a coalition tank, armored personnel carrier or artillery will receive a $5,000 reward. TV also broadcast a statement attributed to Saddam urging soldiers separated from their regular units to join up with any unit they can find.
As night fell in Baghdad, artillery shelling could be heard to the south at a much more frequent pace than earlier in the day.
In northern Iraq, U.S. aircraft mistakenly bombed allies when Kurdish fighters and U.S. special forces called in airstrikes while fighting with Iraqi troops at a crossroads south of Irbil, Kurdish officials said.
Hoshyar Zebari, a senior member of the Kurdistan Democratic Party, said two or three Americans may have been wounded, but he didn't think any were killed. Among the wounded were three KDP military commanders and Wajy Barzani, younger brother of KDP leader Massoud Barzani, who controls the western sector of the Kurdish autonomous enclave.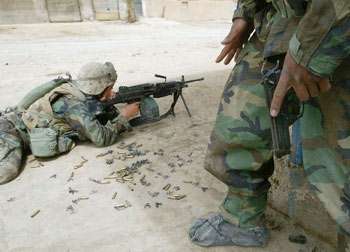 #street_fighting_onground
In Basra, British forces have set up checkpoints in the city for the first time. Until now, they had stayed on the outskirts, hoping the predominantly Shiite Muslim populace of Basra would turn against the pro-Saddam militiamen defending Iraq's second-biggest city.
"We are aggressively patrolling, we're moving into the city now," said Group Capt. Al Lockwood, spokesman for British forces.
On Saturday, coalition aircraft struck the Basra home of Ali Hassan al-Majid, the Iraqi general known as "Chemical Ali" for ordering a poison gas attack that killed thousands of Kurds in 1988. Allied officials said the general -- Saddam's cousin -- was believed to be home at the time, but it was not known whether he was killed or wounded.
On Sunday, coalition forces positively identified the body of the general's bodyguard, Wilkinson said. "They're still sifting through the rubble down there to see if Chemical Ali was dead," he said.
Wilkinson said hundreds of people in the neighborhood began cheering after the strike.
Capitalizing on their dominance of the skies, U.S. commanders began deploying planes over Baghdad 24 hours a day, ready to direct strike aircraft to ground targets. The strike planes use precision bombs that are considered effective against fixed targets while minimizing risk to nearby civilian structures.
Iraqi authorities took Baghdad-based journalists to the city's southern outskirts Sunday to show them a U.S. tank destroyed in the recent fighting. A commander said four more tanks also were destroyed but had been towed away to clear the road.
Along the Tigris River, 20 miles southeast of Baghdad, Marines of the 3rd Battalion, 7th Marines overran the headquarters of the Republican Guard's Second Corps, seized one of Saddam's numerous palaces and destroyed what U.S. intelligence reports depicted as a terrorist training camp.
The nighttime attack was mounted in the town of Salman Pak, which military officials said contained a suspected weapons of mass destruction site dating back to 1991.
Before the battle, Marines had estimated there were between 500 and 2,000 Iraqi soldiers in Salman Pak. At least 13 were killed, the Americans said; others fled from trenches and sandbagged positions on rooftops.
It was unclear what the Marines found at the training camp, which contains an airstrip the Bush administration says was used in terrorist training provided to Islamic militants from other countries.
In Moscow, the Kremlin said a convoy of Russian Embassy diplomats came under fire Sunday, and four or five were wounded, as they were evacuating from Baghdad and driving toward Syria.
The U.S. Central Command said that the attack occurred in territory controlled by the Iraqi government and that no coalition forces were operating in the area.
(Copyright 2003 by The Associated Press. All Rights Reserved.)
×
Most recent News stories