Estimated read time: 5-6 minutes
This archived news story is available only for your personal, non-commercial use. Information in the story may be outdated or superseded by additional information. Reading or replaying the story in its archived form does not constitute a republication of the story.
(AP) -- Army tanks and infantry, joined by elements of the 101st Airborne Division, defended the international airport outside Baghdad on Friday, newly seized as an American base on the fringe of Saddam Hussein's capital. Thousands of Iraqis fled the city, fearing urban warfare.
With U.S. commandos already inside Baghdad, columns of Army and Marine armored vehicles advanced on the city from the south. They met occasionally stiff resistance, battling Iraqi tanks as well as army, Republican Guard and Fedayeen forces.
With American forces closing in, Iraqi Information Minister Mohammed Saeed al-Sahhaf threatened "very new, creative" martyrdom operations" -- often a euphemism for suicide attacks -- but denied weapons of mass destruction would be involved.
Saddam appeared on television -- seemingly debunking American-fed speculation that he was dead -- and urged his country to "strike them (advancing troops) forcefully."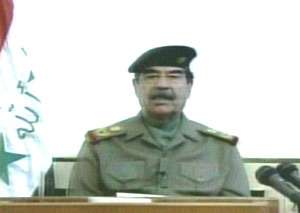 But the Marines reported the surrender of 2,500 members of the Republican Guard during the day, American and British warplanes bombed targets virtually at will for the 16th straight day, and the administration projected increasing confidence.
"We are almost in control of their country, and we'll be in complete control soon," Secretary of State Colin Powell said in Washington, as President Bush met with Iraqi exiles to discuss a postwar administration.
The White House also announced that Bush and British Prime Minister Tony Blair would meet next week in Northern Ireland, the third meeting of war allies since the fighting began.
More than two weeks into Operation Iraqi Freedom, there were fresh setbacks for the Americans, and no shortage of scares.
A car bomb killed three uniformed personnel at a checkpoint when a pregnant woman jumped from the vehicle screaming for help. Iraqi television reported two women had carried out a a suicide attack, apparently a reference to the same incident.
And troops south of Baghdad found thousands of boxes of suspicious white powder, nerve agent antidote and Arabic documents detailing procedures for chemical warfare. Initial testing showed the powder to be explosives rather than weapons of mass destruction, according to one senior U.S. official, although additional investigation was planned.
There was continued American bombing in several areas of the country.
In the north, air attacks cleared the way for Kurdish forces to seize a key bridge at Khazer, near the major city of Mosul.
In the southern of city of Basra, where Iraqis have held out for days, Saddam's forces shelled British troops.
But increasingly, the focus was on the fighting around Baghdad.
Inside the airport after an all-night tank and infantry battle, American troops swiftly renamed it. Saddam International Airport no longer, it is now Baghdad International Airport.
American troops moved through its underground tunnels to clear them of danger.
One brigade of the 101st Airborne Division, helicopters included, arrived to use the grounds as a base of operation close to the capital. The 101st is high trained in urban warfare.
"We are fighting in urban terrain now, and to be effective, in this terrain you need light infantry forces. This is their forte," said Col. John Peabody of the 3rd Infantry Division.
A few miles to the east, in a city largely blacked out since Thursday, Iraqis fled northward to avoid advancing American troops. Vehicles of every description loaded with men, women, children and their possessions clogged exit routes in backups that stretched for miles.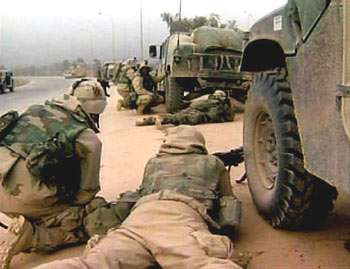 At the same time, thousands of army troops and militiamen dug more trenches and foxholes.
American commanders were close-mouthed about the next part of the battle plan for Baghdad, although Brig. Gen. Vincent Brooks told reporters that American commandos were "in key locations" in the capital.
Thousands more troops were on the way. "I could see columns of the U.S. Army and Marines moving forward," said Cmdr. Brian Corey, who flew a bombing mission over Baghdad on Thursday. "That was an impressive sight."
Marines advanced from the southeast, rolling through villages and towns past now familiar sites of discarded Iraqi military uniforms. Crowds sometimes lined the roads, and some Iraqis voiced their hopes in a blend of English and Arabic.
"Thank you. Thank you. Baghdad, Baghdad. Yallah (Go). Yallah," they said.
Marine commanders reported the surrender of about 2,500 members of the Republican Guard along the road between Kut and Baghdad. Some told their interrogators they had been told by leaders of Saddam's Baath Party that Americans would burn and pillage Iraq and take no prisoners.
Army troops advanced on Baghdad, as well, and tank units intercepted a battalion of Republican Guard armor about 25 miles outside the city. The Americans called in air cover, and reported the destruction of 10 Iraqi tanks.
"I think we're in a mad dash to destroy as much of their military as possible," said Capt. Chris Carter of Watkinsville, Ga.
Despite American battlefield successes, the war claimed the life of an American journalist for the first time. Michael Kelly, editor-at-large for The Atlantic Monthly, died Thursday along with a U.S. soldier when their Humvee went into a canal.
Flag-draped coffins carrying Americans killed in action were received at Dover Air Force Base in Delaware, along with nine sets of remains found buried outside an Iraqi hospital where a U.S. prisoner of war was rescued earlier in the week. Military officials said the unidentified remains were believed to be those of U.S. soldiers.
The Pentagon lists seven remaining POWs, and the International Red Cross said during the day it had not yet received permission from Iraq to visit them. By contrast, the IRC said it has seen more than 3,000 Iraqi prisoners. in U.S. and British hands.
Iraqi television provided the strongest indication to date that Saddam survived an attack on an Iraqi leadership compound on March 19. The Iraqi leader appeared in a broadcast urging Iraqis to fight the Americans, and referring to a U.S. helicopter that went down four days after the missile attack.
Later, state-run television also showed scenes of a man said to be Saddam walking among adoring Iraqis.
(Copyright 2003 by The Associated Press. All Rights Reserved.)
×
Most recent News stories