Estimated read time: 2-3 minutes
This archived news story is available only for your personal, non-commercial use. Information in the story may be outdated or superseded by additional information. Reading or replaying the story in its archived form does not constitute a republication of the story.
BAGHDAD, Iraq (AP) -- In an unannounced television broadcast Friday designed to rally his people, President Saddam Hussein called on Iraqis to strike at the U.S.-led coalition. Iraq TV also showed a man identified as Saddam being cheered by a crowd.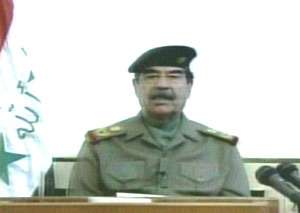 The speech made only one topical reference -- to the capture of an Apache helicopter March 23, which Iraqi officials have said was brought down by farmers in central Iraq.
"Perhaps you remember the valiant Iraqi peasant and how he shot down an American Apache with an old weapon," Saddam said in the brief speech.
U.S. and British have expressed doubt about whether the Iraqi leader was alive since the opening day of the war, when cruise missiles hit a compound in Baghdad where Saddam was believed to be hiding.
Also Friday, Arab television networks aired footage of a man they said was Saddam walking among excited crowds cheering, "With our blood and souls we redeem you Saddam."
The man identified as Saddam was dressed in a green-olive military uniform with a beret. He smiled, appeared relaxed and shook hands, kissed a baby and waved.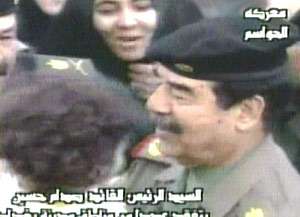 #saddam_streets
Al-Jazeera said the tape was made Friday. It was taken in daylight, but not broadcast until after nightfall.
Saddam's reference to the Apache attack suggests his message, if taped, was made after the strike aimed at killing him on the opening day of war, a U.S. intelligence official said Friday. The message was some of the strongest evidence yet that Saddam survived the March 20 attack.
The official stopped short of saying the video message, which was broadcast on Iraqi television, provided conclusive proof he was still alive and in command.
Saddam also said the U.S.-led forces had "bypassed your (Iraqi) armed defenses" in the battlefield and urged his followers to "strike them forcefully, strike them."
The grim-faced Saddam appeared in a military uniform and beret, with an Iraqi flag over his right shoulder. He paused occasionally to turn the pages of a notebook as he spoke.
Saddam began by saying coalition forces had failed to shake the steadfastness of the Iraqi people. He called on Baghdad's people to resist and to stick to "your principles, your patriotism and the honor of men and women."
(Copyright 2003 by The Associated Press. All Rights Reserved.)
×
Most recent News stories