Estimated read time: 4-5 minutes
This archived news story is available only for your personal, non-commercial use. Information in the story may be outdated or superseded by additional information. Reading or replaying the story in its archived form does not constitute a republication of the story.
(AP) Thousands of Iraqis fled Baghdad on Friday as U.S. forces seized the international airport on the city's western edge and armored convoys pressed in from the south. Marines claimed the surrender of 2,500 troops of the now-shredded Republican Guard.
With the Iraqi military reeling from American blows, Saddam Hussein appeared on television to rally the remnants of his army.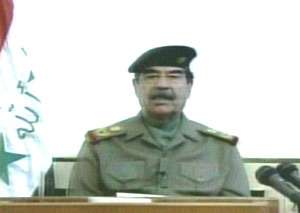 And Information Minister Mohammed Saeed al-Sahhaf vowed "very new, creative" martyrdom operations -- often a euphemism for suicide attacks -- to annihilate the invaders.
Inside the airport after an all-night tank and infantry battle, American troops swiftly renamed it to delete a reference to Saddam and began the dangerous work of exploring its subterranean tunnels for Iraqi defenders.
A few miles to the east, in a city largely blacked out for more than 24 hours, Iraqis fled northward to avoid advancing American troops. Vehicles of every description loaded with men, women, children and their possessions clogged exit routes in backups that stretched for miles.
More than two weeks into Operation Iraqi Freedom, there were fresh setbacks for the Americans, and no shortage of scares. A car bomb killed three uniformed personnel at a checkpoint when a pregnant woman jumped from the vehicle screaming for help.
And troops south of Baghdad found thousands of boxes of suspicious white powder, nerve agent antidote and Arabic documents detailing procedures for chemical warfare. Initial testing showed the powder to be explosives rather than weapons of mass destruction, according to one senior U.S. official, although additional investigation was planned.
With troops advancing steadily, President Bush and British Prime Minister Tony Blair announced plans to meet next Monday and Tuesday in Northern Ireland, their second summit since the fighting began.
American commanders were close-mouthed about the next part of the battle plan for Baghdad.
Still, units of the 101st Airborne Division arrived at the newly renamed Baghdad International Airport during the day, and Brig. Gen. Vincent Brooks told reporters that American commandos were already in the capital.
Other units were on the way by several accounts, one of them provided by Cmdr. Brian Corey. "I could see columns of the U.S. Army and Marines moving forward," said Corey, who flew a bombing mission over Baghdad on Thursday. "That was an impressive sight."
Marines advanced from the southeast, rolling through villages and towns past now familiar sites of discarded Iraqi military uniforms. Crowds sometimes lined the roads, and some Iraqis voiced their hopes in a blend of English and Arabic."
"Thank you. Thank you. Baghdad, Baghdad. Yallah (Go). Yallah," they said.
About 40 miles south of the capital, military barracks were still burning and a metal sculpture of Saddam had been shorn of its head, evidence that other units had rolled through not long before.
Marine commanders reported the surrender of about 2,500 members of the Republican Guard along the road between Kut and Baghdad. Some told their interrogators they had been told by leaders of Saddam's Baath Party that Americans would burn and pillage Iraq and take no prisoners.
Army troops were advancing on Baghdad, as well, and tank units intercepted a battalion of Republican Guard armor about 25 miles outside the city. The Americans called in air cover, and reported the destruction of 10 Iraqi tanks.
"I think we're in a mad dash to destroy as much of their military as possible," said Capt. Chris Carter of Watkinsville, Ga.
Despite American battlefield successes, the claimed the life of an American journalist for the first time. Michael Kelly, editor-at-large for The Atlantic Monthly, died Thursday along with a U.S. soldier when their Humvee went into a canal.
Iraqi television provided the strongest indication to date that Saddam survived an attack on a leadership compound on March 19. The Iraqi leader appeared in a broadcast urging Iraqis to fight the Americans, and referring to a U.S. helicopter that went down four days after the missile attack.
Later, state-run television also showed scenes of a man said to be Saddam walking among adoring throngs of Iraqis.
U.S. forces seized the airport after an all-night tank and infantry operation. Tanks punched through a perimeter wall, rolling past a towering portrait of Saddam. Soldiers went building to building looking for Iraqi troops, and the airport entrance closest to the capital was sealed off.
Of more military significance than the name change, units of the 101st Airborne Division arrived, with plans to base its helicopters at the newly seized site.
"We are fighting in urban terrain now, and to be effective, in this terrain you need light infantry forces. This is their forte," said Col. John Peabody of the 3rd Infantry Division.
Addressing reporters at U.S. Central Command's wartime headquarters in Qatar, Brooks said the capture of the airport prevents Iraqi leaders from fleeing and allows U.S. and British forces to use it.
Americans backed up their steady ground advances with fresh air strikes on targets in Baghdad and elsewhere in the country of 23 million.
Brooks also said U.S. commandos were "in key locations" inside the capital. Special forces can point lasers at targets that laser-guided bombs lock onto and destroy.
In the north, bombing cleared the way for Kurdish forces to seize a key bridge at Khazer, near the major city of Mosul.
(Copyright 2003 by The Associated Press. All Rights Reserved.)
×
Most recent News stories