Estimated read time: 5-6 minutes
This archived news story is available only for your personal, non-commercial use. Information in the story may be outdated or superseded by additional information. Reading or replaying the story in its archived form does not constitute a republication of the story.
American ground troops surged to within 25 miles of Baghdad in a two-pronged attack from the south on Wednesday, smashing Republican Guard units in their path. The discovery of 11 bodies, Americans likely among them, tempered the joy over a POW's rescue.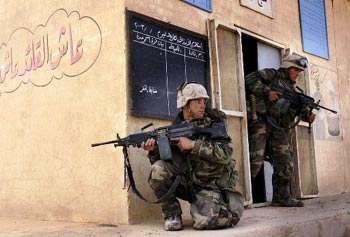 "The dagger is clearly pointed at the heart of (the) regime right now," Brig Gen. Vincent Brooks said as American convoys rolled toward Saddam Hussein's seat of power. Commanders said two elite Republican Guard divisions were no longer credible fighting forces.
The American advances brought thousands of troops within the red zone -- an imaginary line on the map where Iraqi use of weapons of mass destruction is most feared. Troops in some lead Army units donned chemical protection suits, and Marine helicopter pilots were ordered to be prepared to do so.
The prisoner of war freed in a daring nighttime raid, 19-year-old Pfc. Jessica Lynch, of Palestine, W.Va., was flown to a military hospital in Germany for treatment.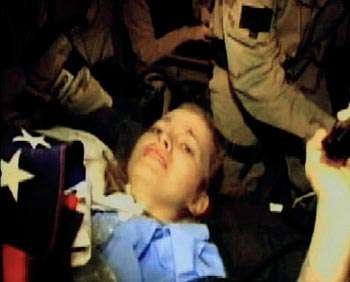 Military officials said the special forces troops that rescued her from a hospital bed in Nasiriyah also brought out 11 bodies found in and around the facility. "We have reason to believe some of them were Americans," said Navy Capt. Frank Thorp.
Increasingly, there were signs that Iraqi civilians were warming to the presence of invading forces. Some smiled and waved as Marines rolled by in tanks and other vehicles. Others offered Iraqi cigarettes for sale.
There were moments of humanity, as well, in the 2-week-old war. In Nasiriyah, American snipers summoned help for an Iraqi woman in labor in a pickup truck. Navy Hospitalman First Class Kyle Morris delivered a healthy baby and named her "America."
The Iraqi regime insisted the war was going its way. "Victory is ours," Saddam said in a statement issued in his name.
But that was increasingly at odds with the accounts offered by American military commanders as well as reporters covering front-line Army and Marine forces inside Iraq.
Days of heavy airstrikes, artillery barrages and skirmishes weakened the Republican Guard's ability to fight.
Army units swept toward Baghdad from the southwest, past battered Republican Guard forces near Karbala. The troops moved through a gap west of the city. Special forces earlier seized control of a nearby dam, erasing fears that Iraqis would blow it up and cause a flood that could have been a disaster for the American forces.
Advancing Army forces captured a bridge over the Euphrates River at Mussayib after defusing explosives left by retreating Iraqis. There was little resistance.
Near the city of Kut southeast of Baghdad, Marines took a key bridge over the Tigris River as they advanced. Brooks told reporters that the Baghdad Division of the Republican Guard, which was positioned near Kut, "has been destroyed."
The Marines set an evening curfew in Numaniyah and sent out patrols to find Baath Party supporters, police and other defenders of the regime. "There are weapons caches all throughout the city," said Lt. Michael Belcher. One Iraqi was seized as he tore off his uniform in an attempt to hide his identity.
Despite the American success on the battlefield, officials stressed that difficult fighting may lie ahead.
"We are not expecting to drive into Baghdad suddenly and seize it" easily, Maj. Gen. Stanley McChrystal said at the Pentagon.
It was an odd departure from recent days, when Iraqi troops were hitting American supply lines, forward U.S. units were stopped in place and former generals were openly questioning the American battle plan. Then, reporters were peppering Defense Secretary H. Donald Rumsfeld with questions about the effectiveness of the invasion.
Lynch's hometown celebrated her release -- special forces had to fight their way into and out of the hospital -- as she was airlifted to Germany. An American flag was folded across her chest as her stretcher was loaded for the flight. Officials who spoke on condition of anonymity said she was suffering from broken legs, a broken arm and at least one gunshot wound.
As for the bodies recovered, Thorp said: "We don't yet know the identity of those people.
Two of the bodies were found in a morgue in the hospital, while the nine others were buried outside the building, Brooks said. He said U.S. forces were led to the graves by someone who had been taken into custody.
While most of the day's military action was south of Baghdad, there was fresh bombing around Mosul, in the northern part of Iraq.
And a contingent of U.S. troops set up at a large airstrip in nearby Irbil, a facility that has not been used for more than a decade.
Special forces troops have been working openly with Kurdish troops opposed to Saddam, and the Iraqi leader issued a clear warning to them during the day.
"I advise you not to rush and do something that you'll regret," it said.
In Najaf, American commanders said Iraqi forces had taken up positions inside the Ali Mosque, one of the world's most important Shiite shrines. Brooks said American and British forces had declared holy sites as "no targets" to be fired on only in self defense.
The U.S. Central Command also said it was investigating reports that warplanes had bombed a Red Crescent maternity hospital in Baghdad.
While the combat continued, questions of a post-war Iraq seemed to take on a new immediacy.
British Prime Minister Tony Blair said invading forces should hand over power to a new Iraqi government as soon as possible after Saddam's regime is overthrown.
"Iraq at the end should not be run by the Americans, should not be run by the British, should not be run by any outside force or power," he told the House of Commons.
(Copyright 2003 by The Associated Press. All Rights Reserved.)
×
Most recent News stories