Estimated read time: 5-6 minutes
This archived news story is available only for your personal, non-commercial use. Information in the story may be outdated or superseded by additional information. Reading or replaying the story in its archived form does not constitute a republication of the story.
(AP) U.S-led forces battled and bombed Iraqi troops across a large arc south of Baghdad on Tuesday in anticipation of a move against the capital. "The circle is closing" on Saddam Hussein, said Defense Secretary Donald H. Rumsfeld.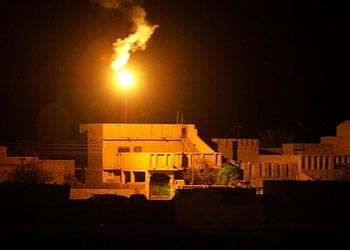 Warplanes unleashed a thunderous nighttime barrage against Republican Guard units positioned around Karbala, about 50 miles from the capital. On the outskirts of Nasiriyah, scene of fierce fighting in recent days, an armored Marine unit rolled up to a huge walled police compound -- and found it abandoned by Iraqis.
And in Basra, a city of 1.3 million people near the Kuwait border, warplanes dropped 500-pound and 1,000-pound laser-guided bombs on an Iraqi intelligence complex in an effort to dislodge die-hard defenders who have kept British forces at bay for days.
After nearly two weeks of war, the Iraqi regime showed nothing but defiance. Responding to a suggestion from a Saudi official that Saddam step down to spare his country, Iraqi Vice President Taha Yassin Ramadan replied: "Go to hell."
Still, American and British commanders said there were increasing signs that Iraqi civilians were shedding their initial reluctance to assist forces fighting Saddam's regime.
Lights went on for the first time in months in the port city of Umm Qasr, firmly under British control, and some British forces in southern Iraq were wearing berets in public, shedding their more warlike helmets in areas deemed safe. Fresh water also began flowing into Umm Qasr from a pipeline in neighboring in Kuwait.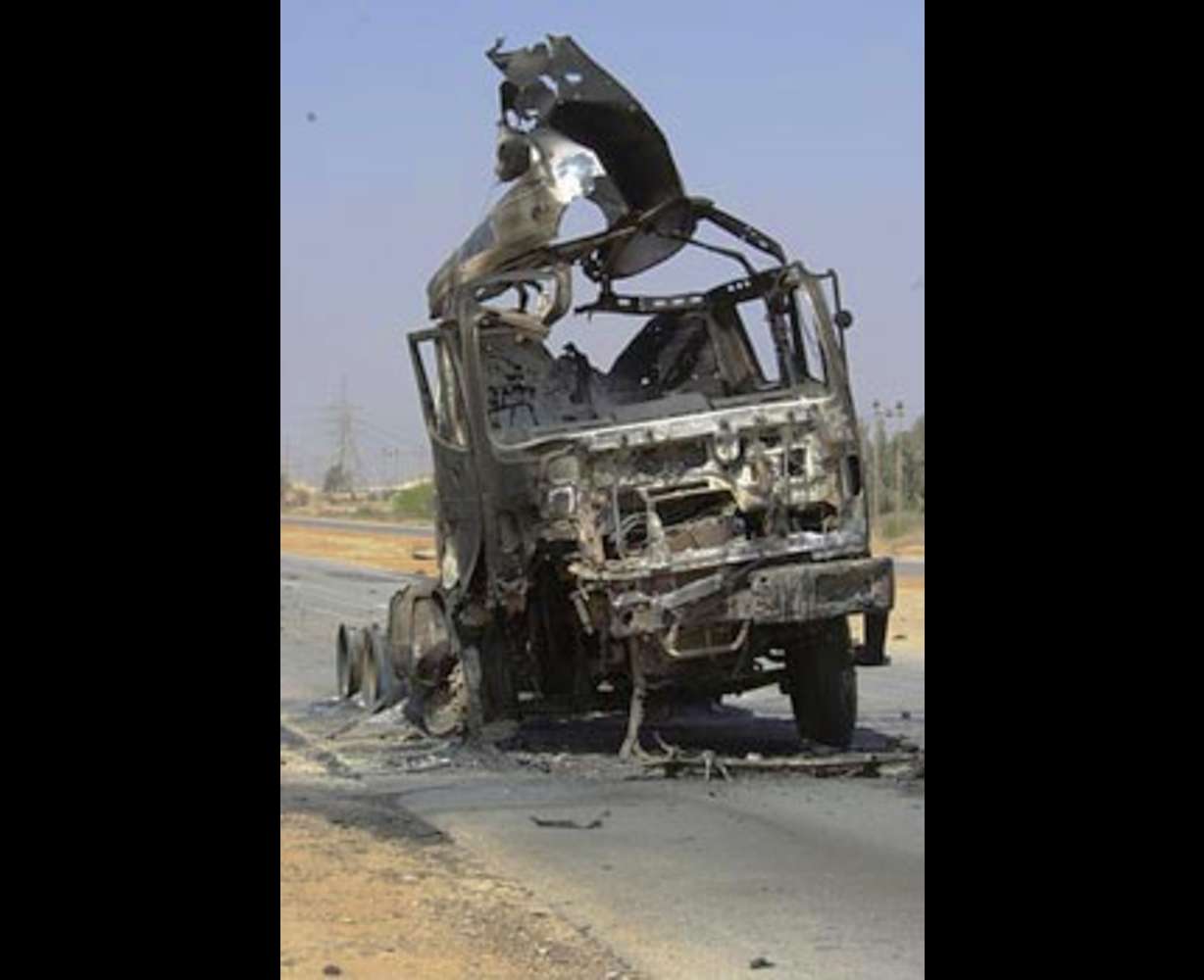 The American and British bombing was constant -- large explosions reverberated around Baghdad -- punctuated by a series of small ground engagements south of the capital.
A Marine official said heavy bombing was carried out around Kut, a city southeast of Baghdad, adding that ground forces have secured an air base further to the south, at Qalat Sukkar, that could be used as a staging ground.
Further to the southwest, Marines claimed to have killed at least 75 Iraqi soldiers and taken three or four dozens prisoners in fighting near Diwaniyah. According to reports from the field, troops on a reconnaissance mission found fortified Iraqi positions along a line leading several miles to the city.
"They were shooting from buildings, from dugout positions, from holes, from everywhere," Cpl. Patrick Irish said of the Iraqis.
Marines took no chances with prisoners, bulldozing a pit, then surrounding it with barbed wire. Before a POW was put inside, he was blindfolded and searched, one Marine pinning down his feet, another his arms, and a third pointing an M16 rifle at his head.
There was fresh bombing in the area of Karbala, southwest of Baghdad, where the Medina Division of the Republican Guard -- possibly augmented by other, repositioned units of Saddam's best trained and best equipped troops -- was defending the approach to the capital against U.S. infantry.
"It's nice to look up and know that everything up there is friendly," 1st Lt. Eric Hooper said as planes flew overheard.
"What you're seeing today on the battlefield in Iraq is a continuation of prepping the battlefield for a major encounter with the Republican Guard," said Navy Capt. Frank Thorp.
The Saudi foreign minister, Prince Saud, suggested that Saddam make the sacrifice of stepping down if it would end the war.
"Since he's asking all Iraqis to sacrifice their lives for their country, then the least that can be expected is that he would do the same and sacrifice for his country," the prince said.
But Iraqi Vice President Taha Yassin Ramadan said that wasn't going to happen. "Go to hell," he said at a news conference in Baghdad. Addressing his comments to Saud, he said, "You are too much of a nothing to say a word addressed to the leader of Iraq."
The whereabouts of the leader of Iraq remained a mystery, and the subject of much speculation among U.S. intelligence officials.
Saddam has been shown in a series of videotaped appearances on Iraqi television during the war, but has made no known public appearances since the night of March 19, when American missiles hit a complex in Baghdad where he and his two sons were believed to have been sleeping.
The Iraqi ruler tried to rally his country in absentia during the day, calling for a jihad, or holy war, against the U.S.-led invasion.
"Those who are martyred will be rewarded in heaven," he said in a statement read on television by Information Minister Mohammed Saeed al-Sahhaf. "Seize the opportunity, my brothers."
Iraqi officials claim that thousands of would-be suicide attackers have flooded into their country in recent days, and a bomber killed four U.S. soldiers at a military checkpoint over the weekend.
But one British commander said two would-be suicide attackers had turned themselves over to his troops in southern Iraq a day earlier. "They didn't want to be suicide bombers any more," said British Col. Steve Cox, the commander of the unit overseeing Umm Qasr. "We are accommodating them."
Other American and British officers said there were several examples of Iraqis offering assistance to forces in their areas.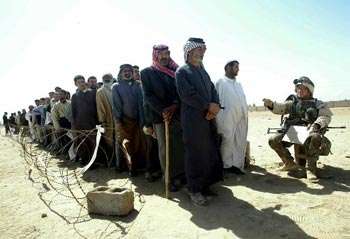 In four towns -- Umm Qasr, Zubayr, Rumeila and Safwan -- British troops felt so secure that they swapped their combat helmets for less protective berets, and adopted a less aggressive posture in wielding their weapons, British officials said.
In Nasiriyah, where American forces have met stiff resistance, Brig. Gen. Vincent Brooks said civilians were helping U.S. special forces stage raids and find troops loyal to Saddam.
Marines were aided by 100 tribal fighters who helped battle Iraqi forces and remove explosives from a bridge north of the city, and their help also resulted in the capture of POWs, he said.
Brooks also said that after Army Rangers destroyed a commando headquarters a few days ago in the desert in western Iraq, civilians helped Army troops locate buildings where ammunition was stockpiled.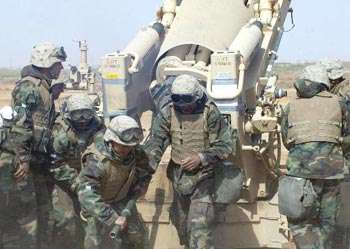 In all, there are roughly 300,000 American and British troops in the Persian Gulf region, and more on the way. The first 5,000 members of the 4th Infantry Division, a fraction of the 30,000 on the way, have arrived in Kuwait, officials said, along with some of their equipment. "We could be on the battlefield in a matter of weeks," said Brig. Gen. Stephen Speakes.
(Copyright 2003 by The Associated Press. All Rights Reserved.)
×
Most recent News stories