Estimated read time: 6-7 minutes
This archived news story is available only for your personal, non-commercial use. Information in the story may be outdated or superseded by additional information. Reading or replaying the story in its archived form does not constitute a republication of the story.
HINDIYAH, Iraq (AP) -- Trading fire with Iraqis hidden behind brick walls and hedges, U.S. Army forces spearheading the drive on Baghdad battled their way into this town 50 miles from the capital Monday and captured dozens of members of Saddam Hussein's vaunted Republican Guard.
Iraqi troops at several locations tried to stop the column of tanks and Bradley fighting vehicles as they raced for a strategic bridge over the Euphrates, which leads to Baghdad.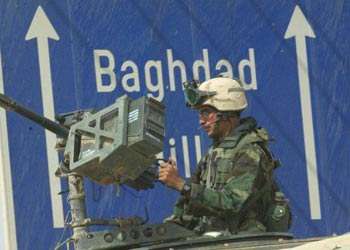 Farther south, two U.S. soldiers were killed as the Army engaged in intense fighting around the Shiite Muslim holy city of Najaf, said Capt. Kenric Bourne, battle captain with the 101st Airborne division.
Two brigades were trying to isolate the city and clear out irregular fighters, who were dressed like civilians and firing weapons mounted on civilian vehicles, Bourne said. According to initial reports, about 100 Iraqi fighters were either wounded or killed in the fighting outside Najaf.
Before the attack began in Hindiyah, soldiers there said they saw pickup trucks with children interspersed among Saddam's Fedayeen fighters, according to field reports.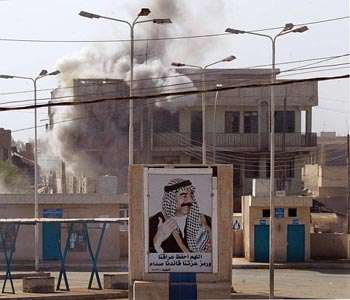 At least 35 Iraqi troops were reported killed in the fighting in Hindiyah, situated between the sacred city of Karbala and the ruins of ancient Babylon. The prisoners told the Americans they belonged to the guard's Nebuchadnezzar Brigade, based in Saddam's home area of Tikrit, and they had the guard's triangular insignia.
One U.S. soldier was wounded in the leg.
An armored unit of the 3rd Infantry Division rolled into the town of 80,000 at dawn and was met by small arms fire and rocket-propelled grenades from Iraqis hiding behind hedges and brick walls.
On the southeast side of a 200-yard concrete and steel bridge across the dark-green Euphrates, the Americans took up positions in abandoned bunkers and behind sandbags and traded fire with Iraqis.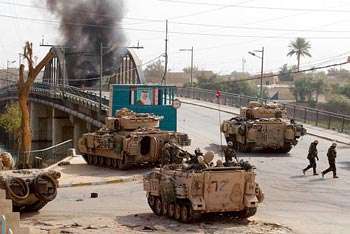 As the Americans began crossing the bridge, Iraqi troops tried to block it with civilian cars. A dark blue car attempted to race across the bridge toward U.S. forces but was hit with heavy machine-gun fire, which stopped it in the middle of the span.
Iraqi forces in civilian clothes with blue or red keffiyehs wrapped around their heads and faces scrambled between buildings, trying to sneak up on U.S. troops. Americans in tanks and Bradley fighting vehicles fired back with heavy machine guns and 25mm cannon.
Leading to the bridge was a broad boulevard with wide sidewalks dotted with cafes. Portraits of Saddam had been erected along the street every 100 yards.
"This must have been important to him (Saddam) to send down one of his Republican Guard brigades," said U.S. brigade commander Col. David Perkins.
In another part of the town, a tank company attacked a bunker, killing 20 Iraqi troops. A dozen others were captured elsewhere in Hindiyah, according to reports from the field.
At the Hindiyah police station, U.S. soldiers used shotguns to open a locked door and stormed the building. Intelligence officers rifled through the desks. Troops found maps marked with fighting positions and organizational charts.
Three Iraqi men were in the jail cells. They told U.S. soldiers they had not eaten for three days. A company commander gave them field rations, and the soldiers looked for the keys to the cells.
At the Baath Party office, tens of thousands of rounds of small arms ammunition were found stockpiled, along with hundreds of mortars and dozens of heavy machine guns. Behind the building, in a palm tree plantation, were at least 20 mortar tubes set up with boxes of ammunition next to them, camouflaged with palm fronds.
Inside the party leader's office was a wall map designating the locations of four Republican Guard companies defending the town, and two large arrows showing the expected routes of U.S. troops and how the Iraqis would defend against them.
Two motorcycles with sidecars that appeared to be adapted with machine gun mounts were parked in front of the Baath Party headquarters.
A few dozen civilians emerged, waving white flags.
At one point, U.S. soldiers spotted an elderly woman in a black chador lying wounded in the middle of the bridge. Using his Bradley fighting vehicle for cover, company commander Capt. Chris Carter of Watkinsville, Ga., ran to center of the bridge, saw that she needed urgent help and called for an armored ambulance to take her to an aid station.
He used his M-16 rifle to provide cover while the medics put her on a stretcher. Carter then returned to the U.S. side of the bridge.
The 3rd Infantry is at the forefront of the advance on Baghdad, where a battle looms with the Republican Guard, Iraq's best-trained, best-equipped troops.
But it was at Najaf -- a city of 300,000, 100 miles south of Baghdad -- that U.S. military leaders were faced with a difficult decision.
It was unclear whether the U.S. strategy was to take Najaf or to cordon off the city. There are too many Iraqi fighters to bypass them or leave them unattended; they are a danger to supply lines on the way to Baghdad.
The 101st Airborne Division surrounded Najaf for a possible house-to-house battle to root out Saddam's fighters -- but leery of damaging some of the faith's most sacred shrines.
In Najaf, the prophet Muhammad's son-in-law Ali is buried at an elaborate shrine, its gold dome and twin minarets gleaming for miles. It is surrounded by low buildings and narrow streets, a nightmare of an urban battleground.
Other Muslim holy figures are buried there and at the vast Wadi es-Salaam cemetery -- one of the world's largest -- that forms a semicircle around the city. U.S. officers said some Iraqi fighters were hiding there.
A battle that destroyed these holy places could inflame Shiites in Iraq and elsewhere, most notably Iran.
The United States has been hoping that Shiites, who represent 60 percent of Iraq's population, will rise up against Saddam and his largely Sunni leadership.
Capt. Micah Pharris, an attorney in the 101st Airborne's judge advocate general's office, said some locations in Najaf are on the military's "no target" list -- to be fired at only in self-defense.
The Army held out hope that the battle could be avoided. Using loudspeakers mounted on Humvees, U.S. soldiers planned to beseech the townspeople of Najaf to turn over Saddam's loyalists.
Republican Guard positions between Karbala and Baghdad continued to be bombarded by the allies.
North of Baghdad, meanwhile, U.S.-backed Kurdish troops took control of territory left by withdrawing Iraqi forces. The Kurds advanced almost 10 miles, slowed by hundreds of mines.
In the south, a British air assault brigade attacked two companies of Iraqi infantry north of the Rumeila region overnight and destroyed 17 T-55 tanks and five artillery pieces, a British military spokesman said.
Also, British commandos Sunday attacked Iraqi forces outside the besieged city of Basra in what is being called Operation James, after James Bond. British military spokesman Group Capt. Al Lockwood said the British destroyed a large number of tanks and took some 30 Iraqis prisoner.
He said casualties were heavy on the Iraqi side, while one British soldier was killed.
(Copyright 2003 by The Associated Press. All Rights Reserved.)
×
Most recent News stories