Estimated read time: 3-4 minutes
This archived news story is available only for your personal, non-commercial use. Information in the story may be outdated or superseded by additional information. Reading or replaying the story in its archived form does not constitute a republication of the story.
CENTRAL IRAQ (AP) -- A monster sandstorm trapped coalition troops Wednesday in a howling, burnt-sienna world of smacking winds and blistering sand, which penetrated goggles, biochemical suits, boots and even underwear.
Nervous and miserable, soldiers mistook desert shrubbery for Iraqi vehicles. Approaching tank at 3 o'clock, sir, a soldier tells his superior, crouched in a grounded helicopter unit in the Iraqi desert.
"Are you sure it's not a bush?" the pilot replies. A pause, and then the shamefaced reply: "It's a bush, sir."
The worst sandstorm in decades, with winds whipping at 50 mph and upward, began Tuesday and stalled thousands of soldiers headed toward Baghdad, some close enough to strike the capital -- if only they could see it.
With visibility nonexistent, units from the U.S Army's 101st Airborne Division were "one tank of fuel from Baghdad," said Commander Col. Michael Linnington, leader of the 3rd Brigade.
"The 101st is grounded, and we're not doing what we do best -- which is air assault operations and attacks," Linnington said Wednesday.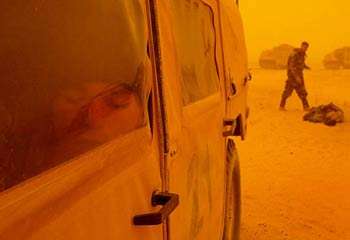 So his soldiers, like thousands of other allied troops -- waited for the weather to clear, something forecasters predicted for late Wednesday.
And they tried not to dwell on the stinging grains filling their ears, their noses, and crusting their eyes, despite their fitted, desert goggles. Wearing chemical suits of thick charcoal stretching from neck to toes, in daytime temperatures nearing 100 degrees, soldiers could only ignore the sand in their food, their mouths, and dream of things from normal life, like lingering over Krispy Kreme doughnuts and hot coffee, with no one shooting at you and sand that stays where it belongs.
Outside Karbala, 50 miles south of Baghdad, men from the 7th Infantry Regiment spent Wednesday inside their Bradley fighting vehicles, using toothbrushes and shaving brushes to dislodge thick coats of greasy sand and tying ropes around their waists when they dared venture outside.
All the while, the wind howled.
"I'm not sure how much sand this equipment can take," said Staff Sergeant Bryce Iberson, of Sarasota, Fla., cleaning his weapons inside the Bradley.
The storm also interrupted bombing missions Wednesday from at least one U.S. aircraft carrier.
U.S. Navy officials said visibility in the Persian Gulf was reduced to less than 100 yards aboard the USS Kitty Hawk, where sorties were interrupted Wednesday.
A helicopter resupply unit with the 1st Marine Expeditionary Force was forced to wait out the storm in an undisclosed location in central Iraq. Pilots and gunners spent the night inside their C-46 helicopter, plastering the ponchos against its windows.
Even so, they awoke Tuesday to find every crack and crevice brimming with sand, and clouds of it billowing inside the chopper.
Crew members, who asked not to be identified, said they were had grown wary of seemingly friendly crowds, its members waving and holding white flags as helicopters flew overhead.
"They'll do everything -- wave at you, show their white shirts," said a major who gave only his first name, Stephen. "As soon as you fly over them, they start shooting at us."
The fierce regional storm deposited sand from Egypt onto Iraq's deserts. Allied convoys that didn't stop to wait it out found it took 27 hours to make a trip that should have taken 12 hours at the most.
The relentless barrage of wind and debris temporarily changed form Tuesday evening when sudden rain turned airborne sand into liquid mud that stuck like corn syrup to soldiers and gear. The raining mud turned the desert the color of ruby grapefruit flesh, prompting some troops to declare the Iraqi desert had become Mars.
(Copyright 2003 by The Associated Press. All Rights Reserved.)
×
Most recent News stories