Estimated read time: 5-6 minutes
This archived news story is available only for your personal, non-commercial use. Information in the story may be outdated or superseded by additional information. Reading or replaying the story in its archived form does not constitute a republication of the story.
BAGHDAD, Iraq (AP) -- Two cruise missiles struck a residential area in Baghdad on Wednesday, killing 14 people, Iraqi defense officials said -- the worst single reported instance of civilian deaths since the U.S. bombing campaign began a week ago.
Thirty others were reported wounded in the attack, which took place around midday in the heavily populated northern Baghdad neighborhood of Al-Shaab. The area consists of homes and about 30 shops, mostly inexpensive restaurants and auto repair shops.
U.S. Central Command said in a statement that U.S. aircraft used "precision-guided weapons" to target Iraqi missiles and launchers "placed within a civilian residential area," and that "most of the missiles were positioned less than 300 feet from homes."
"A full assessment of the operation is ongoing," the statement said. "In some cases, such damage is unavoidable when the (Iraqi) regime places military weapons near civilian areas."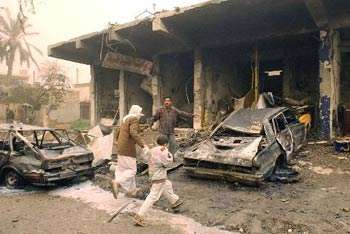 During a Pentagon briefing, Maj. Gen. Stanley McChrystal said U.S. forces did not specifically aim at Al-Shaab, "nor were any bombs and missiles fired" there. But he could not say whether the missiles that did land there were Iraqi weapons, or U.S. missiles that missed their targets.
Associated Press Television News video showed a large crater in the street, a smoldering building, demolished cars, and bodies wrapped in plastic sheeting in the back of a pickup truck.
The streets were flooded after water pipes ruptured. Street lights toppled over, trees were uprooted and some cars were overturned. At least half the damaged cars were completely gutted by fire, with only charred metal skeletons left.
Other cars had their wheels blown off by the force of the explosion, while flying shrapnel damaged some nearby apartments.
Flames could be seen rising above the burning shops, mixing with the smoke from fires lit around the city to try to obscure the targets of fighter jets. Men with buckets doused the wreckage of burning automobiles, while women in black chadors grabbed the hands of children and ran from the scene.
Hundreds of people milled around on the street in front of the gutted market. Some of them shook their fists in anger.
"This is barbarian!" shouted Adnan Saleh Barseem. "It's proof that their aggression is collapsing."
Crowds consisting of residents of some of the damaged apartments began to chant: "Oh, Saddam, we sacrifice our souls and blood to you." Some hung out their windows, flashing a V for victory sign in support.
Lt. Col. Hamad Abdullah, head of civil defense in the area, said 14 people were killed and 30 injured. Seventeen cars were destroyed, he added.
U.S. Central Command said it was checking into the report. A spokesman noted that coalition forces take "extraordinary" measures to protect civilians.
U.N. Secretary-General Kofi Annan, reacting to reports of the civilian deaths in Baghdad, said he was "getting increasingly concerned by humanitarian casualties in this conflict."
"I would want to remind all belligerents that they should respect international humanitarian law and take all necessary steps to protect civilians," Annan told reporters at U.N. headquarters.
On Monday, Iraq's information minister reported that 194 civilians had been injured so far in the bombing of Baghdad.
Meanwhile, a series of explosions could be heard Wednesday afternoon across the Iraqi capital, becoming more frequent and louder. Rain began to fall in Baghdad, combining with smoke and sand in the air to give the city a dark, apocalyptic look and coat everything in gray mud.
Cars drove with their headlights on and street lights were switched on.
Overnight, with the final assault on Baghdad drawing closer, the allies tried to cripple the regime's communications with bombs and missiles, knocking Iraq's satellite TV signal off the air for several hours Wednesday.
U.S. forces pounded targets in the Iraqi capital with a barrage of at least 40 Tomahawk cruise missiles launched from warships in the Persian Gulf and the Red Sea, the Navy said. The air strikes also included bombing runs by warplanes.
The attacks targeted not only Iraqi television but also government communications and satellite links at several sites in the capital, U.S. military officials said. Smoke was seen next to the information ministry and the Iraqi TV building.
"These targets are key regime command-and-control assets," said Jim Wilkinson, a spokesman for U.S. Central Command.
Iraqi Satellite TV, which broadcasts 24 hours a day outside Iraq, went off the air around 4:30 a.m. after the attack on the TV building. It went back on the air about eight hours later.
Iraq's domestic state-run television service, which does not broadcast around the clock and was not on the air at the time, resumed broadcasting Wednesday morning as scheduled.
However, there was no trace of Al-Shabab television, the station owned by Saddam Hussein's son Odai. That station is normally transmitted from the state television building.
Meanwhile, a howling sandstorm that had cast a yellow haze over Baghdad eased Wednesday morning as U.S.-led troops moved within striking distance of the capital, setting up a seemingly inevitable fight for control of the city of 5 million people.
"We are one tank of fuel from Baghdad," said Col. Michael Linnington, commander of the 3rd Brigade of the 101st Airborne Division.
Baghdad residents promised they would not give up the city without a fight.
"We are determined to defend our capital after what we have seen of our brothers' resistance in the south," Baghdad truck driver Ahmed Falah said. "The whole world is with us now, even the weather, because the sandstorm has brought benefits to us. They are the storms of God."
The city has also been shrouded with smoke from fuel fires set by Baghdad authorities to obscure military targets.
Television, like state radio, constantly played patriotic songs and messages of support from Iraqis for Saddam.
(Copyright 2003 by The Associated Press. All Rights Reserved.)
×
Most recent News stories