Estimated read time: 5-6 minutes
This archived news story is available only for your personal, non-commercial use. Information in the story may be outdated or superseded by additional information. Reading or replaying the story in its archived form does not constitute a republication of the story.
BAGHDAD, Iraq (AP) - Hundreds of police and security agents searched for a possibly downed coalition pilot Sunday, shooting into the reeds and shallow water alongside Baghdad's Tigris River. They set fire to brush in some spots, and small boats patrolled the river's edge.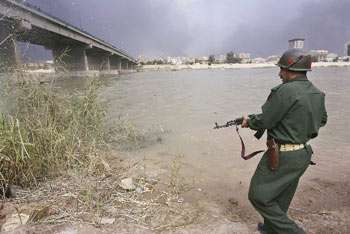 As the night went on, explosions and anti-aircraft fire could be heard in Baghdad. The Al-Jazeera satellite television channel said one large explosion _ caused by a missile fired from a low-flying aircraft _ was within the presidential compound, the "Old Palace" hit in earlier attacks.
The U.S. Central Command in Qatar and the Pentagon said there were no reports of coalition aircraft being shot down or a missing pilot.
But Lebanese TV Al-Manar, owned by the Islamic militant group Hezbollah, reported a British pilot was captured in Baghdad and that the search along the Tigris was for his co-pilot.
An earlier report, by the Qatari-based Al-Jazeera, also said a Western pilot had been captured in Baghdad and another was being sought. Iraq's al-Shabab television reported the capture of an allied pilot but appeared to be relying on al-Jazeera reporting and not its own.
Security men armed with Kalashikov assault rifles swarmed to the Tigris after witnesses reported seeing parachutes fall alongside its west bank soon after air raid sirens had sounded in Baghdad.
Crowds and television crews gathered quickly at the scene.
The excitement caused bumper-to-bumper traffic streets leading to the river and on bridges. Hundreds of people parked their cars and got out to watch the search, and some tried to join in. Police quickly blocked roads leading to the area.
Some Iraqis brought their children and others arrived waving huge Iraqi flags from their car windows.
During the search, repeated explosions could be heard at a distance. In the sky were vapor trails and dark clouds from fuel the Iraqis were burning to conceal targets in the capital.
Not far from the scene, life was proceeded normally in the commercial al-Karada area in central Baghdad. Many food and butcher stores were open, as were barber shops, cafes and restaurants selling shawerma sandwiches.
Meanwhile, Iraqi Vice President Taha Yassin Ramadan claimed an unspecified number of Americans had been captured and would be shown on television.
Coalition officials initially denied the claim, but later Defense Secretary Donald H. Rumsfeld said some U.S. soldiers might be missing. He noted that under the Geneva Conventions governing prisoners of war, "It's illegal to do things to POWs that are humiliating to those prisoners."
Ramadan, guarded by at least a half-dozen heavily armed soldiers at his news conference, also denied speculation that Saddam Hussein had been wounded by coalition attacks. The official Iraqi News Agency said Saddam met with top advisers Sunday.
Earlier in the day, Iraqi officials said 77 civilians had been killed and 503 wounded by coalition air strikes across the country.
Information Minister Mohammed Said al-Sahhaf said the civilians were killed Saturday in Basra, where Allied forces captured the airport and a key bridge. Of the wounded, 366 were in Basra and 106 in Baghdad, he said.
Meanwhile, air raid sirens went off as clouds of thick smoke hung over Baghdad and explosions from the latest of daily aerial bombardments by U.S.-led forces boomed in the distance. At least some smoke came from oil fires that residents said were set to shroud targets in the city.
German public television ARD said a cruise missile hit a residential area in the city Sunday morning, destroying five houses and injuring at least two people.
Iraqi state television said airstrikes also hit the city of Tikrit, Saddam's hometown. Al-Arabiya, an Arab satellite television news channel, reported that four people were killed in those attacks.
As U.S.-led troops raced through the desert more than halfway to Baghdad, and American commanders said Saddam's regime was losing control, Iraqi officials insisted their situation was brighter.
Al-Sahhaf praised what he described as heroic resistance Sunday by Iraqis in the southern port town of Umm Qasr, where allied troops engaged in street-to-street fighting with guerrillas.
Telecasts of the Umm Qasr fighting were seen by Iraqi officials in Baghdad, as well as around the world.
"Iraqi fighters in Umm Qasr are giving the hordes of American and British mercenaries the taste of definite death," Al-Sahhaf said. "Those mercenaries and hired guns are seeing death in front of them, the resistance of Iraqis in a modest and small port. We have drawn them into a quagmire and they will never get out of it."
An Iraqi military spokesman, Lt. Gen. Hazem Al-Rawi, said Iraqi forces had shot down five allied warplanes and two helicopters since the war began. There has been no confirmation of such incidents by allied officials.
In Washington, Gen. Richard Myers, chairman of the Joint Chiefs of Staff, said the Iraqis "clearly ... are not a beaten force."
"And for those who think this is going to go on for some time, are right," he said Sunday on ABC's "This Week." "The hardest part is yet to come. We expected the reaction we've gotten so far. The future will be a little bit tougher."
Myers also said that any surrender negotiations with Iraqis were going on at a "lower level" and involved individual units _ not top Iraqi officials.
"They have chosen another path," he said. "It's obviously going to be a very disastrous path for the Iraqi regime, and everybody would like to see this war end. And it's up to them."
(Copyright 2003 The Associated Press. All rights reserved.)
×
Most recent News stories