Estimated read time: 4-5 minutes
This archived news story is available only for your personal, non-commercial use. Information in the story may be outdated or superseded by additional information. Reading or replaying the story in its archived form does not constitute a republication of the story.
SOUTHERN IRAQ (AP) -- U.S. and British troops have captured many key facilities in Iraq's southern oil fields, saving them from possible sabotage and ensuring their use for the country's postwar reconstruction, senior military officers said Friday.
American units advancing west of the southern city of Basra secured the Rumeila field, whose daily output of 1.3 billion barrels makes it Iraq's most productive. Coalition forces also discovered that only seven oil wells were on fire in southern Iraq -- far fewer than many officials had feared, although smoke could be seen in photos taken by satellites.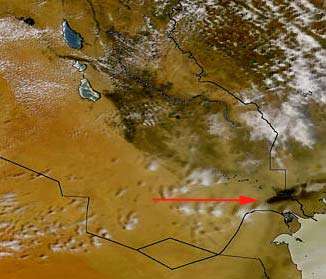 "All the key components of the southern oil fields are now safe," Adm. Michael Boyce, chief of the British defense staff, told reporters in London. "We have specialist civilian contractors on their way who will be in the area very shortly, in a day or two, to deal with the oil well fires."
In Washington, Defense Secretary Donald Rumsfeld told reporters that "only about 10 wells that we know of, out of possibly 1,000 in that area," had been damaged.
He said several were on fire or gushing oil, but firefighters and repair crews would be sent soon.
Air Force Gen. Richard Myers, chairman of the Joint Chiefs of Staff, added that allied troops had seized the port city of Umm Qasr in the al-Faw peninsula along with the main oil conduits along the al-Faw waterways. They also were sweeping through the southern Iraqi oil fields.
"These fields, if we're successful, should be secured sometime later today, and they will be a great resource for the Iraqi people as they build a free society," Myers said.
Allied forces moved quickly after thrusting into southern Iraq from neighboring Kuwait late Thursday. In a daring amphibious and airborne assault, U.S. and British troops captured the tip of the strategic al-Faw peninsula, a gathering point for the pipelines that carry crude from southern Iraq to the export terminals of Mina al-Bakr and Khor Al-Amaya in the Persian Gulf.
British Defense Secretary Geoff Hoon told the House of Commons that most of the al-Faw oil facilities were intact.
"If coalition forces have secured the al-Faw peninsula and if the terminals are undamaged, then that's a great achievement. In fact that's more important than preventing the oil wells from being blown," said Leo Drollas, chief economist of the Center for Global Energy Studies in London.
Iraq has the world's second-biggest proven crude reserves and typically pumps about 2.5 million barrels a day, or 3 percent of global supplies. More than half its output comes from Rumeila and other fields near Basra.
The capture of much of the oil infrastructure in southern Iraq -- especially complex facilities for shipping, storing and loading crude -- helped ease concerns in a volatile oil market. Importers and traders had feared that Iraqi President Saddam Hussein might destroy many of the country's oil wells to deny their use by a U.S.-backed successor government.
"We're absolutely determined not to allow Saddam to do yet more damage to the lives of his people through some sort of scorched-earth policy," Boyce said.
May contracts of North Sea Brent, Europe's benchmark price for crude, fell by $1.15 a barrel to $24.35 in London. Contracts of U.S. light, sweet crude for May delivery were $1.12 lower at $27.00, in New York. U.S. crude prices have dropped sharply since Feb. 27, when they reached a 12-year peak of $39.99.
Within a few hours of crossing into Iraq, the U.S. 15th Marine Expeditionary Unit, under British command, encountered 200 or more Iraqi troops seeking to surrender. One group of Iraqi soldiers alongside a road waved a white flag and raised their hands, trying to flag down a group of journalists so they could surrender.
In the southern town of Safwan, just across the Kuwait border, some Iraqi civilians eagerly greeted the American 1st Marine Division.
Witnesses near the city of Kirkuk in northern Iraq reported hearing explosions and anti-aircraft fire late Friday. Kirkuk is the center of the oil industry in northern Iraq. The Kirkuk oil field produces about 700,000 barrels a day, most of which is exported via a pipeline to the Mediterranean port of Ceyhan, Turkey.
Earlier Friday, the British Defense Ministry said as many as 30 oil wells were burning in southern Iraq. It revised that number downward to seven after coalition troops realized that much of the smoke came from trenches filled with burning oil and not from well heads. Iraqis had ignited the oil in an effort to disorient their attackers, Boyce said.
Analysts played down the significance of the oil well fires.
"That oil wasn't going to get exported anyway," Drollas said, noting that fighting has effectively halted shipments from Iraq's Persian Gulf terminals. "Whether it burns or stays in the ground makes no difference to the oil market."
The total of seven oil wells lost to sabotage represents an insignificant loss, as Iraq has a total of 1,685 producing wells. The nightmare scenario of wholesale destruction of the Iraqi oil fields was becoming more remote, analysts said.
"You lose 50 oil wells? Big deal," said Peter Gignoux, head of the oil desk at Salomon Smith Barney in London. "If the whole pipeline system and the loading facilities in the south are intact, then Iraq is half self-sufficient already."
×
Most recent News stories