Estimated read time: 6-7 minutes
This archived news story is available only for your personal, non-commercial use. Information in the story may be outdated or superseded by additional information. Reading or replaying the story in its archived form does not constitute a republication of the story.
(AP) American and British forces advanced Friday through southern Iraq, some racing unimpeded across the desert, others meeting hostile fire. Hundreds of Iraqi soldiers surrendered and U.S. troops captured a key port along the border with Kuwait.
U.S. and British officials, meanwhile, said Iraq's command structure appeared to have disintegrated.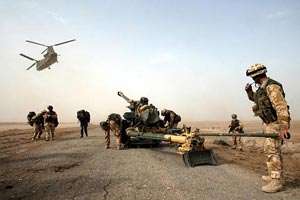 The allies reported their first combat casualty, a U.S. Marine with the 1st Expeditionary Force killed in southern Iraq. According to a comrade, the Marine -- whose name was withheld -- was shot in the stomach while his company was sweeping around a burning oil pumping station.
Twelve more Marines -- eight British and four American -- died when their helicopter crashed and burned in Kuwait. Officials said the crash was not caused by hostile fire.
Waving Iraqi civilians greeted members of the 1st Marine Division as they entered the town of Safwan. Using winch chains, some of the troops hauled down giant portraits of Saddam overlooking a street.
"We're very happy... Saddam Hussein is a butcher," said a man in the back of a pickup truck, identifying himself only as Abdullah. A woman fell at the feet of the Americans and embraced them.
U.S. tanks rolled through the town with messages painted on their turrets. "Got oil?" read one.
Cpl. Matt Nale, 31, of Seattle, Wash., stuck his head out the top of an armored personnel carrier and looked around in wonder. "I never thought I'd see this place," Nale said.
In western Iraq, U.S. forces seized two airfields, a pivotal first step toward opening up another front in the war. And in southern Iraq, U.S. Marines had captured the strategic port of Umm Qasr but were still battling pockets of Iraqi resistance.
The Iraqis were overmatched by U.S. firepower, battling back with only small arms, pistols, machine guns and rocket-propelled grenades, said a U.S. military official, speaking on condition of anonymity.
"I kind of felt sorry for them," the official said. "A lot of them looked hungry."
Umm Qasr, located along the Kuwait border, would give U.S. and British forces access to a port for military and humanitarian supplies and hasten the end of Iraqi resistance in the south.
The U.S. military appeared to be speeding up its timetable in the race to Baghdad. Associated Press reporters with both combat and support units said they were moving faster than the schedule given to them by U.S. military commanders during confidential briefings before ground operations began.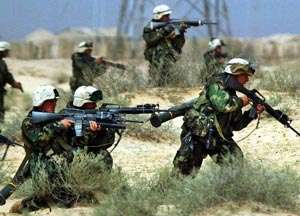 Meanwhile, units of the U.S. Army's 3rd Infantry Division were speeding northward through the desert west of the Euphrates River, avoiding densely populated areas in the fertile region to the east.
That strategy enables the American force to charge quickly to Baghdad without getting bogged down in populated areas where they would run the risk of civilian casualties.
Elsewhere in the region, anti-U.S. sentiment turned into violence in Yemen, where two people were fatally shot and dozens more injured as police clashed with 30,000 demonstrators trying to storm the U.S. Embassy. "Death to America!" the angry crowd chanted.
French President Jacques Chirac, who adamantly opposed the war on Iraq, said Friday his country would not support a new United Nations resolution allowing the United States and Britain to administer postwar Iraq.
"That would justify the war after the event," Chirac said.
Hoping the Iraqi regime might capitulate, U.S. military commanders held back-channel negotiations with Iraqi commanders and refrained from all-out bombardment. Instead, U.S. missiles and bombs struck specific targets -- including the main presidential palace in Baghdad and strongholds of the elite Special Republican Guard.
Iraqi Information Minister Mohammed Sa'eed al-Sahhaf said one of Saddam Hussein's homes was hit in the bombing, though no one was hurt.
U.S. officials said they had no definitive word on whether the Iraqi leader was caught in the attack, but indicated that medical workers were summoned to a compound in Baghdad after it was hit. The officials said Iraqi forces subsequently seemed cut off from their leadership.
The official Iraqi News Agency said 37 people were injured in the latest strikes on Baghdad, and Iraqi military said four soldiers were killed. There were no figures given on Iraqi losses in ground combat.
On the home front, thousands of American anti-war activists protested, blocking streets, boycotting classes and chaining themselves together. More than 1,500 people were arrested, mostly at a raucous demonstration in San Francisco.
In the war zone, U.S. and British forces moved on a broad front, with infantry racing across the desert in thousands of tanks and trucks, plumes of dust in their wake, and Marines edging cautiously toward strategic oil towns and military outposts, calling in air support to take out snipers. In some cases, units were preceded by special forces teams.
"There are signs of continuing Iraqi desertions and disagreement and division in all levels of the regime," said British Prime Minister Tony Blair.
Capt. Al Lockwood, spokesman for British forces, said the U.S.-led attack could reach Baghdad swiftly.
"If I was a betting man, and I'm not, I would say hopefully within the next three or four days," he said.
In western England, American B-52 bombers took off from a British air base. Officials refused to disclose their mission; they would be capable of reaching Iraq in about six hours.
U.S. Marines seized a portion of the main road leading from Kuwait to Basra, suppressing resistance from Iraqi mortars and arms. Officers said the seizure could help speed the takeover of Basra, southern Iraq's largest city.
Overall, resistance to the allies was limited. Within a few hours of crossing into southern Iraq, the 15th Marine Expeditionary Unit encountered 200 or more Iraqi troops seeking to surrender.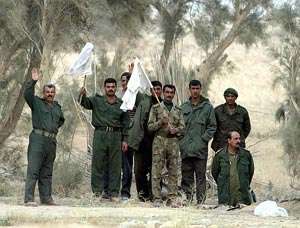 One group of 40 Iraqis marched down a two-lane road toward the Americans and gave up. They were told to lie face down on the ground, then were searched by Marines.
Members of one Marine platoon, while capturing scores of Iraqi soldiers, tossed hand grenades into bunkers and mud huts to clear them out.
Even a Marine unit handling traffic control took in than 40 surrendering Iraqis. The Iraqis rode in an open troop vehicle, their hands in the air, for about a mile before they reached the Marines.
Soldiers from the Army's 3rd Infantry Division also crossed into Iraq and met several Iraqi armored personnel carriers, destroying at least three, troops reported by radio. British troops moved on the strategic al-Faw peninsula -- Iraq's access point to the Persian Gulf and the site of major oil facilities.
Iraqi troops set fire to 30 of the hundreds of oil wells in the region, British Defense Secretary Geoff Hoon said. Iraq has 1,685 oil wells and exported 2 million barrels daily before the war.
In Washington, the Senate unanimously approved a resolution in support of U.S. forces. The House approved a similar measure early Friday on a 392-11 vote after sometimes angry debate. Some Democrats said the Republican House leadership was forcing them to offer "unequivocal support" of President Bush.
Large anti-war protests also took place in many cities abroad. Demonstrators marched in Manila, Philippines; Beijing; Rome; Berlin; Stockholm, Sweden; and the West Bank. More than 100,000 protesters rallied in Athens.
(Copyright 2003 by The Associated Press. All Rights Reserved.)
×
Most recent News stories