Estimated read time: 5-6 minutes
This archived news story is available only for your personal, non-commercial use. Information in the story may be outdated or superseded by additional information. Reading or replaying the story in its archived form does not constitute a republication of the story.
WASHINGTON (AP) -- The Pentagon assessed the damage Thursday from its initial strikes against targets in Iraq, as President Bush conferred with his national security adviser on a conflict that he said "could be longer and more difficult than some expect."
Bush said the hostilities that began Wednesday night with a narrow focus on "selected targets of military importance" will become a "broad and concerted campaign."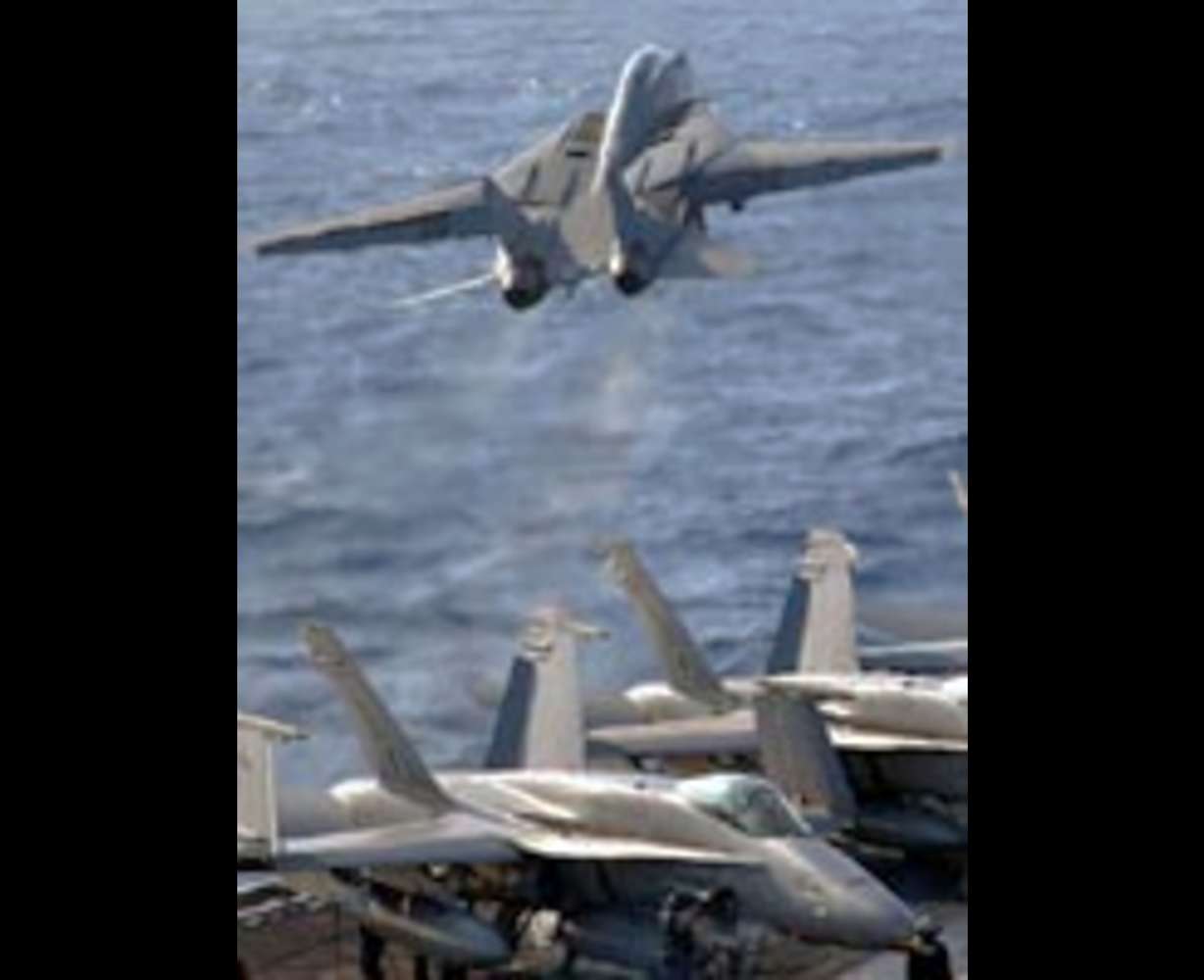 A helicopter carrying U.S. special forces crashed inside southern Iraq hours before the missile strikes Wednesday night, a senior defense official said. There were no casualties and the troops on board were all taken out safely, said the official, who spoke on condition of anonymity. The official said the military was taking steps to destroy the helicopter rather than let it fall into Iraqi hands.
The incident makes clear the Pentagon was using a well-worn war tactic of dropping special commando forces behind enemy lines in advance of the opening of the rest of the campaign.
Officials declined to say exactly where the crash occured. But a widely-discussed part of the war plan has been to send special forces into the country to secure oil wells, suspected chemical weapons sites and other strategic locations -- as well as search out Iraqi leadership.
The defense official also said a small plane headed from Iraq toward a Marine expeditionary force position in Kuwait but crashed short of its mark. The Marines donned gas masks because of fears that the plane could have been carrying chemical weapons, the official said. No agents were detected.
After a brief night of sleep, the president talked to National Security Adviser Condoleezza Rice at 6 a.m. EST Thursday to learn of overnight events, said a senior administration official. Bush began work in the Oval Office at 6:50 a.m.
The White House made no immediate response to Iraqi leader Saddam Hussein, who appeared on state-run television Thursday after the U.S. air strike to accuse the United States of a "shameful crime."
U.S. officials did not know whether the speaker was indeed Saddam nor whether the broadcast was taped after the U.S. strikes or in advance of them, the administration source said.
Two other U.S. officials, also speaking on condition of anonymity, said Thursday that the strikes were a small prelude to a massive assault that was to begin as early as Thursday. With 300,000 U.S. troops still encircling Iraq, the president said the mission to disarm Saddam had just begun.
"I assure you, this will not be a campaign of half measures and we will accept no outcome but victory," the president said in brief, nationally televised remarks from the Oval Office.
His address Wednesday evening made official in Washington what was already apparent. As Bush's press secretary gave a half-hour's notice for the president's appearance, anti-aircraft fire, explosions and air raid sirens were reported in Baghdad as
Thursday's dawn broke over the city.
"The dangers to our country and the world will be overcome," Bush said.
Defense Secretary Donald Rumsfeld was due in the Oval Office early Thursday to give Bush a briefing on the campaign aimed at toppling Iraqi dictator Saddam Hussein and securing any weapons of mass destruction he has.
The White House was expected to send a special spending bill to Congress soon, asking lawmakers to provide money to pay for the military action and the post-Saddam reconstruction of Iraq. The White House has said the request would be made to lawmakers shortly after the start of hostilities.
Bush was likely to remain at the White House under extraordinary security in the opening phases of the war. Pedestrians without official business are being kept further away from the executive mansion than usual.
The president's only publicly announced plans for Thursday called for an early evening photo session with the president of Cameroon.
The war's opening salvos were aimed directly at Iraq's leaders, including Saddam, U.S. officials said, providing no details of how the intelligence was developed that made them believe they knew where he was.
Commanders relied on more than 40 cruise missiles launched from Navy ships in the Persian Gulf and the Red Sea and 2,000-pound precision-guided bombs dropped by Air Force stealth fighter jets, military officials said.
Still to come was the main air offensive against Iraq, said the officials, speaking on condition of anonymity.
There was no indication whether the initial attack was successful, but about two hours after the strikes, Saddam appeared on television to offer fresh condemnation of the American president.
"We promise you that Iraq, its leadership and its people will stand up to the evil invaders, and we will take them to such limits that they will lose their patience in achieving their plans," Saddam said.
In his four-minute speech to the nation, Bush said his goal is "to disarm Iraq, to free its people and to defend the world from grave danger."
He pledged that U.S.-led troops would spare innocents from harm wherever possible and "will be coming home as soon as their work is done."
But he also warned of trickery and atrocities to come from Saddam. "Saddam Hussein has placed Iraqi troops and equipment in civilian areas, attempting to use innocent men, women and children as shields for his own military," he said.
And Bush asked for American patience if the days turn into weeks or longer.
"A campaign on the harsh terrain of a nation as large as California could be longer and more difficult than some predict," Bush said.
He had given the go-ahead to attack just after 6:30 p.m. A senior White House official, speaking on condition of anonymity, said that before the fresh intelligence emerged, military advisers originally did not intend to begin the assault Wednesday.
(Copyright 2003 by The Associated Press. All Rights Reserved.)
×
Most recent News stories
More stories you may be interested in