Estimated read time: 1-2 minutes
This archived news story is available only for your personal, non-commercial use. Information in the story may be outdated or superseded by additional information. Reading or replaying the story in its archived form does not constitute a republication of the story.
WASHINGTON (AP) -- Anti-war protesters used both noisy chants and quiet prayers Wednesday as the United States moved closer to invading Iraq. More than two dozen people were arrested after climbing a chain link barrier onto Pennsylvania Avenue in front of the White House.
Protests also took place in New York, Boston, Detroit and other cities.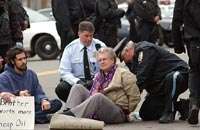 Around 200 demonstrators gathered in Lafayette Park, across from the White House, and urged President Bush to delay war plans.
"This is the last plea to avoid war," said John Passacantando, executive director of the environmental group Greenpeace, which contributed more than a dozen members to the demonstration.
About 50 yards away, about 100 people formed a circle and prayed for peace. A Japanese gong sounded during a moment of silent meditation. Many of the worshippers, members of Pax Christi, a Catholic peace group, held color photos of Iraqi women and children.
Following the prayer vigil, 25 protesters walked over to the temporary metal fence separating the park from Pennsylvania Avenue and climbed over it into the street. They were met by U.S. Park Police, who prevented several others from climbing the barrier. The demonstrators sat in the street, formed a circle and sang, waiting to be arrested.
"We are so against this war, and all the innocent people it is going to kill," said Danna Pope, 22, of Hickory, N.C., who saw her fiance, Andrew Batcher, also 22, of Silver Spring, Md., arrested. The two are students at Antioch College in Ohio.
(Copyright 2003 by The Associated Press. All Rights Reserved.)
×
Most recent News stories