Estimated read time: 3-4 minutes
This archived news story is available only for your personal, non-commercial use. Information in the story may be outdated or superseded by additional information. Reading or replaying the story in its archived form does not constitute a republication of the story.
WASHINGTON (AP) -- Missing children will have a greater chance of being spotted by an alerted public under a new federal law intended to aid the rapid spread of information over radio, TV and electronic highway signs.
The mother of the slain Amber Hagerman watched tearfully Wednesday as the legislation named after her daughter was signed into law by President Bush.
"It is important to expand the Amber Alert systems so police and sheriff departments gain thousands or even millions of allies in the search for missing children," Bush said at a signing ceremony in the White House Rose Garden.
"Every person who would think of abducting a child can know that a wide net will be cast," he said. "They may be found by a police cruiser or by the car right next to them on a highway. These criminals can know that any driver they pass could be the one that spots them and brings them to justice."
Already operating in 41 states, Amber Alert networks quickly distribute information about kidnapped children and their abductors.
The legislation signed Wednesday also includes stiffer federal penalties for crimes against children and gives prosecutors new tools to fight child pornography.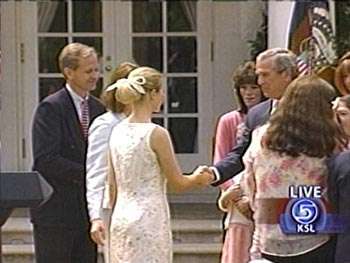 Among those on hand for the signing ceremoney was Elizabeth Smart, a 15-year-old from Salt Lake City making her first public appearance since being found in March, nine months after she was kidnapped at knifepoint from her bedroom. Smart smiled shyly, but said nothing.
Her parents, Ed and Louis Smart, fought hard for the legislation, which provides matching grants to states and communities for equipment and training to expand alert systems across America.
"It's bittersweet," said Donna Norris, who wore a button with the face of her daughter Amber, who was abducted in Arlington, Texas, and later was found murdered. "It's a chance to save other children's lives and I'm proud of it."
After the ceremony, Ms. Norris hugged Elizabeth Smart, who stood between her parents, her blond hair pulled back with a white bow. Two people have been charged in her kidnapping.
At the urging of Republicans in Congress, the new law strengthens federal criminal penalties for child pornographers, sexual abusers and kidnappers.
Democrats argued that restricting federal judges' ability to reduce sentences for such crimes against children should have been more thoroughly debated, but the bill passed with broad bipartisan support: 400-25 in the House and 98-0 in the Senate.
Other provisions would prohibit the solicitation of anything represented to be child pornography, make it easier to prosecute sex tour operators and people who travel overseas for sex with minors, allow federal judges to order supervision of released sex offenders for the rest of their lives, make it illegal to attempt to take or keep a child outside the United States to avoid custody battles, and require convicted child pornographers to register in the National Sex Offender Registry.
It also allows for background checks for people who work with children and makes "virtual" child pornography -- a practice pedophiles used on the Internet -- illegal.
The package also includes provisions to discourage drug use in clubs -- a measure that businesses worry could land them in legal trouble.
(Copyright 2003 by The Associated Press. All Rights Reserved.)
×
Most recent News stories