Estimated read time: Less than a minute
This archived news story is available only for your personal, non-commercial use. Information in the story may be outdated or superseded by additional information. Reading or replaying the story in its archived form does not constitute a republication of the story.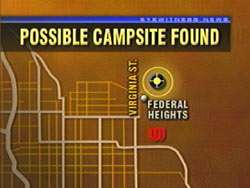 (Salt Lake City: Dry Creek Canyon -- AP) -- Authorities say Elizabeth Smart camped with her alleged captors just three miles from home in Dry Creek Canyon for two months last summer.
People now wonder how she could have gone undetected despite a major volunteer search effort in the area.
Paula Drury, who helped in the search, says she can't believe they could have missed Smart, Brian Mitchell and Wanda Barzee during the search.
Police say they used information from Elizabeth Smart after she was found this week to locate a campsite allegedly used by the group after Smart's abduction.
No other details about her life in the hills are being released by authorities.
Bob Waltutt, executive director of the Laura Recovery Center Foundation, came to Salt Lake City last June to organize the search effort.
Waltutt says the searchers did the best they could do, given the difficult terrain of the canyon.
×
Most recent News stories