Estimated read time: 4-5 minutes
This archived news story is available only for your personal, non-commercial use. Information in the story may be outdated or superseded by additional information. Reading or replaying the story in its archived form does not constitute a republication of the story.
SALT LAKE CITY (AP) -- He called it "The Book of Emmanuel David Isaiah," and he gave it to everyone he knew. It was 27 pages of densely packed text, filled with the religious ramblings of a disturbed man.
A full transcipt of the manifesto is available from the Deseret News.
The tract's author, Brian David Mitchell, was arrested Wednesday, accused of snatching Elizabeth Smart from her home nine months ago at the point of a knife.
A day after his arrest, a portrait of Mitchell began to emerge -- a portrait of contradictions, with Mitchell described variously as soft-spoken and kindhearted, controlling and violent.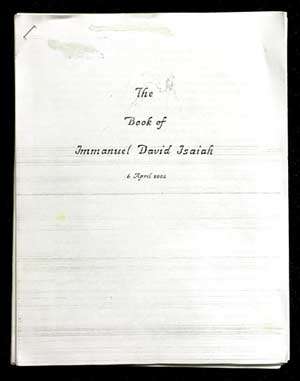 The common theme is one of a gradual slide in Mitchell's grasp of reality.
Mitchell, 49, who eventually roamed the streets as an itinerant preacher, grew up in Salt Lake City, the third child in a family of six. He graduated from Skyline High School, where he was a middling student with few friends, according to his father, Shirl Mitchell.
He lost himself in hobbies, building contraptions in the backyard and shooting off model rockets. A Mormon, he went to church, but wasn't active.
His teenage years were troubled, Shirl Mitchell said, adding, "He was maladjusted."
Shirl Mitchell said his son became heavily involved in alcohol and drugs. He married early, a woman named Karen, when he was 19 and she was 16. It lasted a few years. They had two kids, before splitting.
Soon after, in 1980, he met a woman named Debbie. They both attended a lecture by a religious scholar at a ward house of The Church of Jesus Christ of Latter-day Saints. By that time, Mitchell had grown extremely religious, quoting Scriptures easily from memory and serving in the church.
In later years as his beliefs became more extreme, the church excommunicated Mitchell. Salt Lake Police Chief Rick Dinse said Thursday that Mitchell considered himself a polygamist, but "I do not want to attach his relationship with Elizabeth in that fashion."
Debbie was attracted by his soft-spoken nature and big eyes. They married eight months later, and he supported them with a job as a custodian. But their relationship, which produced two children, was tumultuous.
He wouldn't let her wear anything with bright colors, so her wardrobe was brown and black. More seriously, he beat her, she said.
A few years later, they divorced, and Mitchell promptly took up with Wanda Barzee, who was arrested alongside him Wednesday.
For a while, three of Barzee's teenage children from a previous marriage lived with them. Louree Gaylor, one of those children, said her stepfather's excessive touching made her uncomfortable. But it never went further than that, she said.
The couple moved to Idaho, borrowing money to buy a trailer. But they couldn't keep up with the payments.
Upon their return, Mitchell worked a series of jobs, as a messenger, running errands, and as a designer at a jewelry company. He was known as a responsible employee, those close to him said.
By this point, however, the "revelations" had already begun. In the late 1990s, the couple met C. Samuel West, a self-described natural healer of sorts.
Mitchell, who had changed his name by this point to Emmanuel, hung around the office, answered phones and talked with patients. He was very interested in the science, West said.
Mitchell and Barzee disappeared for a few months in 1998. When they returned, they'd taken to dressing in white robes -- what West called "Israelite clothes."
The couple had sold all their belongings and taken to the streets. They told relatives they'd gotten visions that told them they needed to preach to the homeless.
They stayed with West a few more months, building a mini-covered wagon on his back porch to push around town. It had a table and a bed. They later stocked it with blankets and canned goods.
West finally kicked them out because Mitchell was growing hostile, repeatedly insulting the Mormon church and pushing his own set of religious teachings.
Soon, the couple had become a familiar sight panhandling in downtown Salt Lake City. Ed Snoddy, a homeless outreach worker, met them three years ago.
"I knew him as 'God Be With Us,"' Snoddy said. "His wife was known as 'God Adorn Us."'
Mitchell's preaching style verged on incoherent, said Pamela Atkinson, another worker. "He really does believe he's God," she added.
But Atkinson said she never heard Mitchell raise his voice or threaten anyone. Basically, he seemed harmless, she said.
Snoddy and Atkinson pushed for Emmanuel to seek help for his mental problems, but he refused.
About seven months before Elizabeth, now 15, vanished, her mother ran into Mitchell panhandling in downtown Salt Lake City. She hired him to work on the roof of the family's house, a stint that lasted five hours.
Just before Elizabeth's disappearance, Mitchell and Barzee were staying with Mitchell's mother, Irene. She booted them because they were taking advantage of her and Mitchell was becoming abusive, his father said. She eventually secured a restraining order against him.
The couple then dropped out of view, except for occasional sightings. Police said they were camping out in the foothills behind the Smart home.
When they resurfaced, a third person was with them, also dressed in white and wearing a veil.
It was Elizabeth Smart.
(Copyright 2003 by The Associated Press. All Rights Reserved.)
×
Most recent News stories