Estimated read time: 2-3 minutes
This archived news story is available only for your personal, non-commercial use. Information in the story may be outdated or superseded by additional information. Reading or replaying the story in its archived form does not constitute a republication of the story.
SALT LAKE CITY (AP) -- Elizabeth Smart's neighborhood was jammed with cars and well-wishers on Wednesday evening, lining the street with balloons and blue ribbons to celebrate the missing teen's return.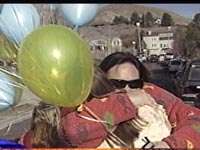 "How can I even talk? This is such a miracle," said neighbor Lynne Godfrey. "When I heard it, I thought it was a prank. I had given up hope -- I mean, where would she have been? Who would have taken care of her for a year?"
Police found Smart, the 15-year-old girl who vanished from her bedroom last June, alive Wednesday in a Salt Lake City suburb of Sandy. She was with a homeless drifter who was taken into custody.
Elizabeth's disappearance sent a chill through the affluent neighborhood overlooking Salt Lake City.
Friends and neighbors spent Wednesday celebrating, filling dozens of helium balloons and tying ribbons to trees and lamp posts. Some people carried signs with messages such as, "Welcome Back Elizabeth."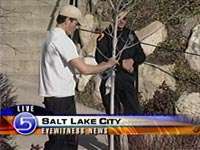 "I'm just reflecting on this happy ending," said Gregg Macey, the father of a schoolmate of Elizabeth's. "I don't even care about the details. They will come out. The end result is she's alive and safe."
The outpouring of support gathered momentum as the day continued, with members of the Smart family's Mormon church converging on the local ward to hug, wish congratulations and express relief. Many were drawn there to share the joyful moment with others who spent the previous nine months praying, searching the deserts nearby and looking for clues to her disappearance.
"This whole neighborhood was been riddled with fear and terror and anticipation," said Bruce Poulsen, who lives in the neighborhood. "Lots of families were fearful and now they are relieved."
When David Hamblin, the local Bishop, got off a one hour flight from Denver to Salt Lake City Wednesday afternoon he had 18 messages on his cell phone. "People were just crying into the phone," he said. "I'm so excited, just elated after all the hope, worry and doubt."
He planned to lead dozens in a prayer of thanks.
"We've waited an awful long time. We're so grateful to have her back."
(Copyright 2003 by The Associated Press. All Rights Reserved.)
×
Most recent News stories