Estimated read time: 6-7 minutes
This archived news story is available only for your personal, non-commercial use. Information in the story may be outdated or superseded by additional information. Reading or replaying the story in its archived form does not constitute a republication of the story.
(AP) PROVO, Utah --Even Utah's high altitude couldn't slow down Boston College's Will Blackmon.
Blackmon caught eight passes for 100 yards, returned a kickoff and a punt and even played some defensive back in Boston College's 20-3 victory over Brigham Young on Saturday.
"I run all day in practice, so I'm used to it," Blackmon said. "The adrenaline was flowing so I felt like I couldn't get tired today."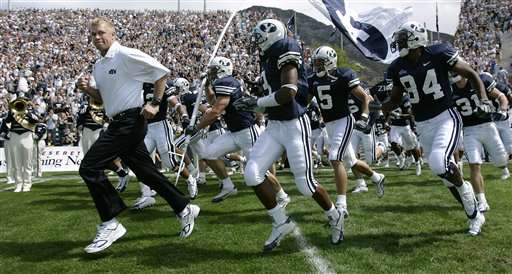 The Eagles spoiled new BYU coach Bronco Mendenhall's debut and became the first team to beat the Cougars in a season opener since Florida State in 2000. BYU lost for the 11th straight time against a ranked opponent.
BYU couldn't stop the Eagles' short passing game, allowing Quinton Porter to complete 27 of 35 passes to 10 different receivers.
"They kept sitting back. Why run a deep route when they're just sitting there? It's just common sense, you know?" Blackmon said.
Porter passed for 232 yards and two touchdowns in his first game in nearly two years after redshirting last season.
Porter sat out last season after injuring his hand late in 2003 and losing his starting job to Paul Peterson. Porter said a few throws sailed on him, but for the most part he was on target to lead the Eagles to 365 yards of offense.
"I was having so much fun today. I wasn't putting as much pressure on myself as I did a couple of years ago," Porter said.
BYU's John Beck completed 41 of 60 passes for 330 yards -- all but 8 of the Cougars' total yards. The Eagles sacked Beck twice and kept him from completing any passes longer than 26 yards.
Mathias Kiwanuka, the Atlantic Coast Conference preseason defensive player of the year, broke up two passes and had five tackles despite being double-teamed throughout the game.
"We just prepared for a lot of things. But we knew they were going to throw the ball regardless of which route that they took," Kiwanuka said.
While BYU seemed to rediscover the short pass in the first game under offensive coordinator Robert Anae, the Cougar defense could never quite figure it out. BC kept BYU off balance in a 12-play, 80-yard drive that put the Eagles up 17-3 on the first play of the fourth quarter on a 4-yard pass from Porter to Chris Miller.
BC converted on three third downs during the drive, including a short pass Blackmon turned into a 25-yard play.
Blackmon, who started at cornerback last season, also returned a punt 24 yards Saturday.
BC's touchdown to start the final quarter seemed to sap the 58,180 fans and the loudest noises coming from the stands the rest of the way were "boos" directed at the officials and at least once toward the Cougars themselves.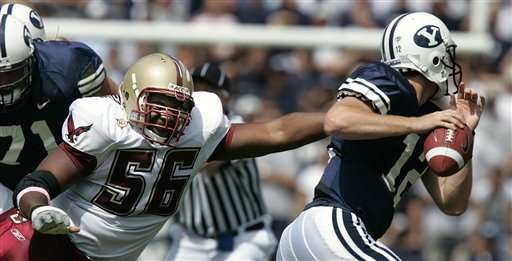 It was a frustrating first game for Mendenhall, the defensive coordinator who was promoted after Gary Crowton resigned following BYU's third straight losing season. The Cougars were called for 10 penalties -- six in the first half -- and dropped several passes that could have easily been completions.
"We have plenty to improve on," Mendenhall said. "We didn't do our part as it relates to execution and that ultimately was it today."
The Cougars also had a chance to down a punt inside the BC 20, but the ball rolled past several players into the end zone for a touchback.
BYU's only score came on Jared McLaughlin's 35-yard field goal early in the third quarter that cut the lead to 10-3.
Boston College took a 7-0 lead on a 14-yard pass over the middle to Miller on third-and-9 late in the first quarter. The Eagles went 45 yards in four plays during the 80-yard drive, gaining 25 when Blackmon caught a sideline pass, stopped and let BYU's Chris Hale run right past before taking off down the BYU sideline.
BYU reached the BC 19 later in the quarter, but two holding penalties set the Cougars back 20 yards and McLaughlin's 48-yard field goal attempt was blocked. BC got the ball back at the BYU 44 and went 45 yards on a pass to Jason Lilly to help set up Ryan Ohliger's 39-yard field goal with 3 seconds in the half.
Ohliger added a 26-yard field goal in the fourth quarter.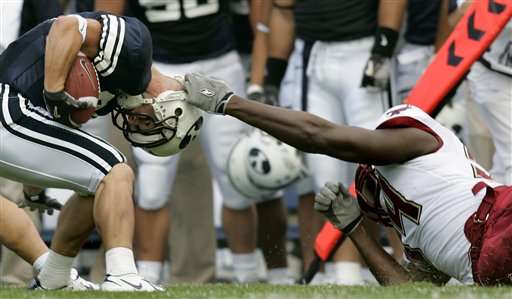 The Cougars had another drive reach the BC 31 in the first half and went for it on fourth-and-1. Beck kept the ball and appeared to get the ball across the 30, but the ball was marked at the 31 and the Eagles got the ball. The crowd booed loudly after the spot and was even louder after a television time out.
(Copyright 2005 by Associated Press).
Box Score (Final) #22 Boston College vs Brigham Young (Sep. 3, 2005 at Cougar Town, UT)
Score by Quarters 1 2 3 4 Score ----------------- -- -- -- -- ----- Boston College...... 7 3 0 10 - 20 Record: (1-0) Brigham Young....... 0 0 3 0 - 3 Record: (0-1)
Scoring Summary: 1st 00:30 BC - Miller, C 14 yd pass from Porter, Q (Ohliger, R kick), 10-80 3:24, BC 7 - BYU 0 2nd 00:03 BC - Ohliger, R 39 yd field goal, 3-35 0:19, BC 10 - BYU 0 3rd 10:16 BYU - MCLAUGHLIN, Jar 35 yd field goal, 4-8 2:00, BC 10 - BYU 3 4th 14:53 BC - Miller, C 4 yd pass from Porter, Q (Ohliger, R kick), 12-80 4:26, BC 17 - BYU 3 04:25 BC - Ohliger, R 26 yd field goal, 10-72 4:24, BC 20 - BYU 3
BC BYU FIRST DOWNS................... 22 22 RUSHES-YARDS (NET)............ 31-133 16-8 PASSING YDS (NET)............. 232 330 Passes Att-Comp-Int........... 35-27-0 60-41-0 TOTAL OFFENSE PLAYS-YARDS..... 66-365 76-338 Fumble Returns-Yards.......... 0-0 0-0 Punt Returns-Yards............ 1-24 3-28 Kickoff Returns-Yards......... 1-16 3-32 Interception Returns-Yards.... 0-0 0-0 Punts (Number-Avg)............ 5-35\.2 6-41\.5 Fumbles-Lost.................. 1-1 1-0 Penalties-Yards............... 6-57 10-85 Possession Time............... 29:01 30:59 Third-Down Conversions........ 6 of 12 4 of 16 Fourth-Down Conversions....... 0 of 0 0 of 2 Red-Zone Scores-Chances....... 3-3 1-3 Sacks By: Number-Yards........ 2-18 2-15
RUSHING: Boston College-Whitworth, L 15-87; Callender, A 9-47; Porter, Q 5-6; TEAM 2-minus 7\. Brigham Young-BROWN, Curtis 8-33; TAHI, Naufahu 1-4; TEAM 1-minus 10; BECK, John 6-minus 19\.
PASSING: Boston College-Porter, Q 27-35-0-232\. Brigham Young-BECK, John 41-60-0-330\.
RECEIVING: Boston College-Blackmon, W 8-100; Lilly, J 4-57; Miller, C 3-28; Challenger, K 3-14; Lester, L 2-13; Palmer, M 2-6; Whitworth, L 2-3; Callender, A 1-9; Gonzalez, T 1-6; Purvis, R 1-minus 4\. Brigham Young-MEIKLE, Nathan 9-45; TAHI, Naufahu 8-46; BROWN, Curtis 6-43; HARLINE, Jonny 4-44; COATS, Dan 4-32; COLLIE, Zac 3-44; REED, Michael 3-35; ALLEN, Matt 2-22; WATKINS, Todd 2-19\.
INTERCEPTIONS: Boston College-None. Brigham Young-None.
FUMBLES: Boston College-Callender, A 1-1\. Brigham Young-TEAM 1-0\.
Stadium: Lavell Edwards Attendance: 58108 Kickoff time: 1:40 pm End of Game: 5:07 pm Total elapsed time: 3:27 Officials: Referee: Tom Zimorski; Umpire: Bert Pearce; Linesman: Tyrone Davis; Line judge: Allen Andrick; Back judge: Hal Preas; Field judge: Dave Meslow; Side judge: Watts Key; Temperature: 77 F Wind: S 10 Weather: Partly cloudy
SACKS (UA-A): Boston College-Glasper, R 1-0; Ottolini, J 1-0\. Brigham Young-BILLS, K.C. 1-0; WHITE, Spencer 1-0\.
TACKLES (UA-A): Boston College-Henderson, R 5-3; Williams, J 5-2; Tribble, D 4-3; Pruitt, T 6-0; Silva, J 4-1; Kiwanuka, M 3-2; Dunbar, J 4-0; Toal, B 4-0; Glasper, R 2-2; Anam, L 2-1; Brown, R 0-3; Washington, A 0-3; Francois, R 1-1; Akins, K 1-1; Raji, B 1-1; Ramella, J 0-2; Willis, K 1-0; Ottolini, J 1-0; Burns, J 1-0; Mueller, B 0-1; Poles, R 0-1; Brace, R 0-1\. Brigham Young-GABRIEL, Dustin 7-4; JENSEN, Cameron 6-3; SOELBERG, Natha 7-1; GOOCH, Quinn 2-4; ROBINSON, Justi 4-1; LUETTGERODT, Ju 1-4; BROWN, Manaia 0-5; BILLS, K.C. 3-1; WHITE, Spencer 2-2; MARQUARDT, Dani 1-3; WALKENHORST, Pa 3-0; FEULA, Vince 0-3; KEHL, Bryan 0-2; MCLAUGHLIN, Der 1-0; HALE, Chris 1-0; TEAM 1-0; LOVELY, Gary 0-1\.
×
Most recent BYU Cougars stories