Estimated read time: 8-9 minutes
This archived news story is available only for your personal, non-commercial use. Information in the story may be outdated or superseded by additional information. Reading or replaying the story in its archived form does not constitute a republication of the story.
See Tuesday's Photo Gallery
See Monday's Photo Gallery

GULFPORT, Miss. (AP) -- Rescuers in boats and helicopters struggled to reach hundreds of wet and bedraggled victims of Hurricane Katrina along the Gulf Coast on Tuesday, while New Orleans slipped deeper into crisis as water began rising in the streets because of a levee break.

The magnitude of the disaster -- and the death toll in particular -- became clearer with every tale of misery. Mississippi's governor said the number of dead in one county alone could be as high as 80.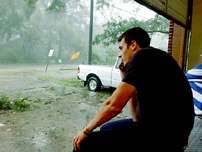 "At first light, the devastation is greater than our worst fears. It's just totally overwhelming," Louisiana Gov. Kathleen Blanco said the morning after Katrina howled ashore with winds of 145 mph and engulfed thousands of homes in one of the most punishing storms on record in the United States.
In New Orleans, water began rising in the streets Tuesday morning, swamping an estimated 80 percent of the city and prompting the evacuation of hotels and hospitals. The water was also rising perilously inside New Orleans' Superdome, and Blanco said the tens of thousands of people now huddled there and other shelters would have to be evacuated as well.
"The situation is untenable," Blanco said at a news conference. "It's just heartbreaking."
Because of two levees that broke Tuesday, the city was rapidly filling with water, the governor said. She also said the power could be out for a long time, and the storm broke a major water main, leaving the city without drinkable water. Also, looting broke out in some neighborhoods.
New Orleans lies mostly below sea level and is protected by a network of pumps, canals and levees. Officials began using helicopters to drop 3,000-pound sandbags onto one of the levees, hoping to close the breach.
All day, rescuers were also seen using helicopters to drop lifelines to victims and pluck them from the roofs of homes cut off by floodwaters. The Coast Guard said it rescued some 1,200 people.
New Orleans Mayor Ray Nagin said hundreds, if not thousands, of people may still be stuck on roofs roofs and in attics, and so rescue boats were bypassing the dead.
"We're not even dealing with dead bodies," Nagin said. "They're just pushing them on the side."
National Guardsmen brought in people from outlying areas to New Orleans' Superdome in the backs of big 2 1/2-ton Army trucks. Louisiana's wildlife enforcement department also brought people in on the backs of their pickups. Some were wet, some were in wheelchairs, some were holding babies and nothing else.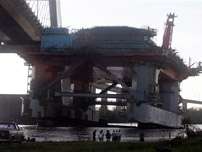 Nevertheless, it was clear the death toll would rise sharply, with one survivor after another telling of friends and loved ones who floated off or disappeared as the floodwaters rose around them.
"I talked with paramedics that are on the scene and the devastation is so great that they won't quit counting (bodies) for a while," said Mark Williams, operations supervisor for an ambulance service along the Mississippi coast.
Along the coast, tree trunks, downed power lines and trees, and chunks of broken concrete in the streets prevented rescuers from reaching victims. Swirling water in many areas contained hidden dangers. Crews worked to clear highways. Along one Mississippi highway, motorists themselves used chainsaws to remove trees blocking the road.
Tens of thousands of people will need shelter for weeks if not months, said Mike Brown, director of the Federal Emergency Management Agency. And once the floodwaters go down, "it's going to be incredibly dangerous" because of structural damage to homes, diseases from animal carcasses and chemicals in homes, he said.
An estimated 40,000 people were in American Red Cross shelters along the Gulf Coast.
Officials warned people against trying to return to their homes, saying that would only interfere with the rescue and recovery efforts.
Looting broke out in Biloxi and in New Orleans, in some cases in full view of police and National Guardsmen. On New Orleans' Canal Street, the main thoroughfare in the central business district, looters sloshed through hip-deep water and ripped open the steel gates on the front of several clothing and jewelry stores.
More than 1,600 Mississippi National Guardsmen were activated to help with the recovery, and the Alabama Guard sent 800 of its soldiers to Mississippi as well.
In New Orleans, a city of 480,000 that was mostly evacuated over the weekend as Katrina closed in, those who stayed behind faced another, delayed threat: rising water. Failed pumps and levees apparently sent water from Lake Pontchartrain coursing through the streets.
The rising water forced one New Orleans hospital to move patients to the Superdome, where some 10,000 people had taken shelter, and prompted the staff of New Orleans' Times-Picayune newspaper to abandon its offices, authorities said. Hotels were evacuated as well as the water kept rising.
Downtown streets that were relatively clear in the hours after the storm were filled with 1 to 1 1/2 feet of water Tuesday morning. Water was knee-deep around the Superdome. Canal Street was literally a canal. Water lapped at the edge of the French Quarter. Clumps of red ants floated in the gasoline-fouled waters downtown.
"It's a very slow rise, and it will remain so until we plug that breach. I think we can get it stabilized in a few hours," said Terry Ebbert, New Orleans' homeland security chief.
Gov. Haley Barbour of Mississippi said there were unconfirmed reports of up to 80 deaths in Harrison County -- which includes devastated Gulfport and Biloxi -- and the number was likely to rise. An untold number of people were also feared dead in Louisiana. At least five other deaths across the Gulf Coast were blamed on Katrina.
"We know that there is a lot of the coast that we have not been able to get to," Barbour said on NBC's "Today Show." "I hate to say it, but it looks like it is a very bad disaster in terms of human life."
As for the death toll in Louisiana, Blanco said only: "We have no counts whatsoever, but we know many lives have been lost."
At the Superdome, someone died after plunging from an upper level of the stadium, Ebbert said. He said the person probably jumped.
The biggest known cluster of deaths was at the Quiet Water Beach apartments in Biloxi, a red-brick beachfront complex of about 100 units. Harrison County, Miss., emergency operations center spokesman Jim Pollard said about 30 people died there.
"This is our tsunami," Mayor A. J. Holloway of Biloxi, Miss., told The Biloxi Sun Herald.
Joy Schovest, 55, was in the apartment complex with her boyfriend, Joe Calvin, when the water began rising. They stayed despite a mandatory evacuation order.
"The water got higher and higher," she said, breaking into tears. "It pushed all the doors open and we swam out. We grabbed a lady and pulled her out the window and then we swam with the current. It was terrifying. You should have seen the cars floating around us. We had to push them away when we were trying to swim."
Teresa Kavanagh, 35, of Biloxi, shook her head is disbelief as she took photographs of the damage in her hometown.
"Total devastation. Apartment complexes are wiped clean. We're going to rebuild, but it's going to take long time. Houses that withstood Camille are nothing but slab now," she said. Hurricane Camille killed 256 people in Louisiana and Mississippi in 1969.
The hurricane knocked out power to millions of people from Louisiana to the Florida Panhandle, and authorities said it could be two months before electricity is restored to everyone.
Oil prices jumped by more than $3 a barrel on Tuesday, climbing above $70 a barrel, amid uncertainty about the extent of the damage to the Gulf region's refineries and drilling platforms.
By midday Tuesday, Katrina was downgraded to a tropical depression, with winds around 35 mph. It was moving northeast through Tennessee at around 21 mph.
Forecasters said that as the storm moves north over the next few days, it could swamp the Tennessee and Ohio valleys with a potentially ruinous 8 inches or more of rain. On Monday, Katrina's remnants spun off tornadoes and other storms in Georgia that smashed dozens of buildings and were blamed for at least one death.
According to preliminary assessments by AIR Worldwide Corp., a risk assessment company, the insurance industry faces as much as $26 billion in claims from Katrina. That would make Katrina more expensive than the previous record-setting storm, Hurricane Andrew, which caused some $21 billion in insured losses in 1992 to property in Florida and along the Gulf Coast.
Mike Spencer of Gulfport made the mistake of trying to ride out the storm in his house. He told NBC that he used his grandson's little surfboard to make his way around the house as the water rose around him.
Finally, he said, "as the house just filled up with water, it forced me into the attic, and then I ended up kicking out the wall and climbing up to a tree because the houses around me were just disappearing."
He said he wrapped himself around a tree branch and waited four or five hours.
Anne Anderson said she lost her family home in Gulfport.
"My family's an old Mississippi family. I had antiques, 150 years old or more, they're all gone. We have just basically a slab," she told NBC. She added: "Behind us we have a beautiful sunrise and sunset, and that is going to be what I'm going to miss the most, sitting on the porch watching those."
Associated Press reporters Mary Foster, Allen G. Breed, Brett Martel, Adam Nossiter and Jay Reeves contributed to this report.
On the Net: National Hurricane Center: http://www.nhc.noaa.gov
(Copyright 2005 by The Associated Press. All Rights Reserved.)
×
Related links
Most recent News stories