PROVO — If the BYU men's basketball team needed a bounce-back game Thursday night in the Marriott Center, the Cougars got a balanced game to go along with it.
Yoeli Childs had 20 points, 10 rebounds and five assists to lead four Cougars in double figures as BYU snapped a two-game losing skid with an 80-58 home win in a late-night tipoff against Santa Clara on ESPNU.
Elijah Bryant supplied 14 points, eight rebounds and six assists for the Cougars (19-7, 8-5 WCC), including an alley-oop to Childs for a dunk with 3:49 remaining that put the hosts ahead 74-51.
TJ Haws had 14 points and six assists, and Dalton Nixon chipped in 12 points and five rebounds for a BYU squad whose bench outscored the Broncos 24-12 after going scoreless in Saturday's loss at No. 14 Gonzaga.
"I thought that there was a really good feel with our team tonight," BYU coach Dave Rose said. "For a game where we played as well as we have all year long at their place, for us to be able to come into this game and keep our focus on the challenge was good."
The Cougars shot 66 percent from the field in the second half, pulling away from a 10-point halftime lead while holding the Broncos to 39 percent shooting.
Kai Healy led Santa Clara (8-17, 5-8 WCC) with 12 points, and former Wasatch Academy standout Josip Vankric supplied 11 points and four rebounds for the Broncos.
KJ Feagin, the No. 4 scorer in the West Coast Conference at 17.5 points per game, was held to 11 points on 5-of-15 shooting — primarily by BYU point guard Jahshire Hardnett.
"I take defense personal. I guess I lock-in, too," said Hardnett, who also had four points and three assists on just three shots. "I don't want anybody to outshine me or do his average on me. I just take it personally."
BYU hit three of its first four shots, but then went cold from the field as Santa Clara used a 12-0 run to take a 16-11 lead with 12:05 left in the half on Henry Caruso's 3-pointer.
Then the Cougars found a groove, largely through passing. BYU assisted on 22-of-34 made shots, led by six assists each from Bryant and Haws.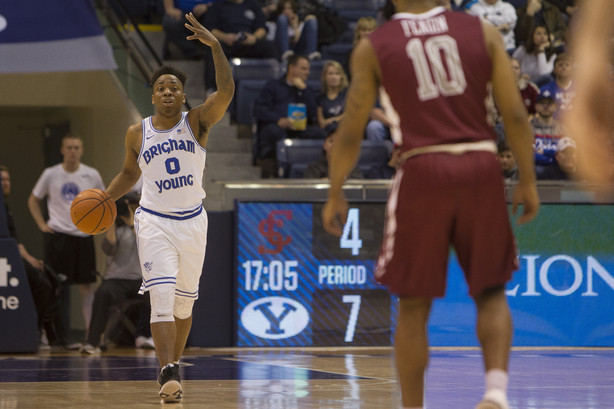 "That had something to do with how they defended us last time," Nixon said. "We got to a lot of open spots and broke down the defense."
The Cougars clawed back with back-to-back jumpers from Childs and reserve Dalton Nixon, and took a 19-16 advantage with four-straight buckets in the paint. Nixon capped a 13-3 run with a runner with 7:59 on the clock for a 24-19 lead, and the Cougars surged to a 41-31 halftime lead.
BYU shot 53 percent from the field in the first half, when Haws had 10 points and four assists to lead all scorers.
Nixon scored a career-high seven first-half points with three rebounds and two assists in eight minutes off the bench. Zac Seljaas and Payton Dastrup each finished with five points in non-starter minutes.
"It felt really good, for me personally, to get back into a rhythm coming back from an injury," said Nixon, whose 15 minutes played were the most since the third game of the season. "Guys like Payton and Zac stepped up, too. All of the guys on the bench gave it their all today, and it was a really good feel overall."
Vrankic scored four of the Broncos' first seven points of the half to trim the margin to 45-38 four minutes after the break.
Bryant hit his first 3-pointer of the game to stop a run of four-straight empty possessions for the Cougars. The junior from Gwinnett, Georgia, hit a second triple to extend the lead to 56-45 with 12:33 remaining, and the Broncos' run was sufficiently stifled.
Haws' transition bucket with 11:26 left extended the Cougars' lead to 60-45, and BYU never trailed again.
Photos
0 Pending Comments
Sorry, we are not accepting new comments on this story, but if you have more to contribute please email
newstip@ksl.com
Showing of 18 comments
Sorry, we are not accepting new comments on this story, but if you have more to contribute please email
newstip@ksl.com