PROVO — The BYU men's basketball team needs a bounce-back week as bad as just about any team in the country right now.
And so does Elijah Bryant.
The Cougars have lost three of their last four games, including a 68-60 defeat at No. 14 Gonzaga in which leading scorer Bryant was held to just four points on 1-of-11 shooting.
The below-average output in the Kennel came after Bryant took a knock against Loyola Marymount. The junior from Gwinnett, Georgia, slammed his head against the hardwood in Los Angeles and was removed from the game for a significant amount of time.
Bryant returned to the game, but BYU lost 76-69 — paving the way for the Cougars' first back-to-back loss trip of the season.
Bryant should be good to play Thursday at 9 p.m. MST against Santa Clara (ESPNU, KSL Newsradio) — he's "a little sore," said coach Dave Rose, but has practiced in full for three days — and is looking forward to returning against the Broncos.
"I don't know if I had a concussion, but I am feeling a lot better," said Bryant, who averages 17.9 points in 33 minutes per game. "I saw a doctor and he was able to do some things that helped me feel a lot better. I'm feeling good."
Bryant is the second-highest scorer in the West Coast Conference, trailing only player-of-the-year front-runner Jock Landale of Saint Mary's. More often than not, the Cougars (18-7, 7-5 WCC) play like their team captain.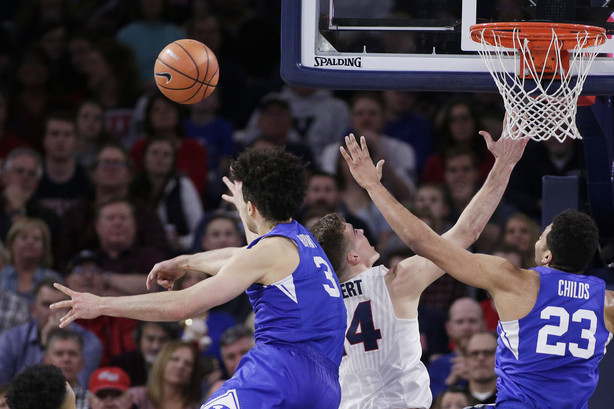 That success comes from an above-average preparation, Rose added — and also comes with teams singling him out to take him out of the game.
"He's really diligent with his preparation," Rose said. "He's in the training room, stays after, comes in early; he eats well. I just think those are extra things that guys can do to help themselves, and he's really good at it. Some guys are in late and out early, but he spends as much time on his body as on his game."
BYU's need for a bounce-back game comes at a good time in league play, with Santa Clara (8-16, 5-7 WCC) and San Francisco (2 p.m. MST Saturday) coming to the Marriott Center.
To get those wins, though, they will need a better contribution from their bench. The Cougars didn't score a single point outside of the starting five against the Zags, finishing a combined 0-for-3 in 24 total minutes of play.
"I've been here for a little while, and I've seen a lot of different positions and lineups, so I know that at any given time your name can be called and you need to contribute," said junior forward Luke Worthington, who started for just the second time in eight games and finished with 16 points and three rebounds. "When that happened against Gonzaga, I was able to go because my mind was in the right place."
BYU shot 61 percent from the field in an 84-50 road win over the Broncos, including a scorching 79 percent in the first half with four players scoring in double figures and Worthington supplying eight points and three assists off the bench.
They'll hope that streak continues Thursday night.
"We beat that team, but this is a new team we are playing the second time around," Bryant said. "We can take positives from it, but if we just shoot confidently, we'll get ourselves a win."
The next game is the beginning of the rest of the season for BYU, a final six-game sprint before the start of the WCC Tournament in Las Vegas.
"As long as we can stay locked in on one game at a time, we'll put ourselves in a really good position at the end of the year," Worthington said.
0 Pending Comments
Sorry, we are not accepting new comments on this story, but if you have more to contribute please email
newstip@ksl.com
Showing of 4 comments
Sorry, we are not accepting new comments on this story, but if you have more to contribute please email
newstip@ksl.com