PROVO — Plenty has been made of the No. 13 seed earned by the seventh-ranked BYU women's volleyball team for the 2017 NCAA Tournament.
When head coach Heather Olmstead looks at that line, she only sees opportunity for the Cougars.
"We couldn't be more excited to be a 13 seed, but more importantly to be at home," Olmstead told reporters this week after practice. "I don't know if it mattered what seed we were, but we're home."
The Cougars (28-2) will get at least one more game in the Smith Fieldhouse when they host Patriot League champion American at 7 p.m. MST Friday night in Provo.
The winner will face the winner of Friday's match between No. 24 Oregon (17-11) and Atlantic Sun champion Kennesaw State (21-4) in Saturday's second round.
Friday will be the fourth meeting all-time between BYU and American (26-7), but the first since 2008. The Cougars holding a 3-0 advantage over the Eagles.
American went 15-1 in the Patriot League to clinch its 15th championship in 17 years in the league, including an 18-match winning streak to finish the regular season.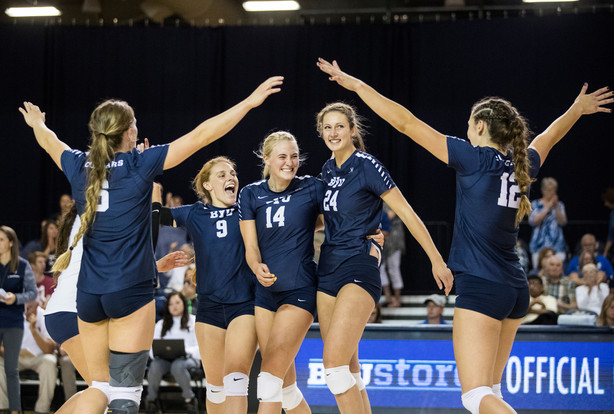 "Barry does a great job at American, and they win that conference a lot, going to the tournament year after year," Olmstead said of American coach Barry Goldberg, who has been in the game for 29 years. "His teams are prepared for the tournament."
The Cougars, who went 12-1 in the West Coast Conference, are plenty acquainted with the NCAA Tournament as well. BYU is making its sixth-straight appearance in the postseason, including a run that ended with a national runner-up finish in 2014.
The names and faces change, but the program keeps chugging. This year, the big names included all-WCC first-team selections Cosy Burnett, Roni Jones-Perry and Mary Lake, who was also named WCC defender of the year.
Former Bountiful High star Kennedy Redding was also tabbed WCC freshman of the year, and Lyndie Haddock and McKenna Miller are among the other honorees on a BYU team that has earned its fair share over the years.
"We've got our culture established of how we want to train and act on and off the court," said Olmstead, who came to BYU in 2011 as an assistant to her brother Shawn, now the men's volleyball coach. "Our seniors and juniors do a good job of making everyone understand our culture."
Next year's group is no different; the Cougars will add another top recruiting class that is highlighted by Pleasant Grove middle blocker Heather Gneiting, 2017 Deseret News Ms. Volleyball award winner.
"We recruit kids who want to be great, and they understand that in recruiting so that when we get here, they are ready to get there and be great," Olmstead said.
Related Story
Related Stories
0 Pending Comments
Sorry, we are not accepting new comments on this story, but if you have more to contribute please email
newstip@ksl.com
Showing of 20 comments
Sorry, we are not accepting new comments on this story, but if you have more to contribute please email
newstip@ksl.com