OREM — The last time the Utah Valley University men's basketball team took the floor against in-state and crosstown rival BYU, it put on a shooting clinic in a 114-101 win over the Cougars.
In the 2016 contest, the Wolverines hit 18 3-pointers and scored the most points ever by an opponent in the Marriott Center.
Now the two teams will take the floor opposite each other on Wednesday night in a sold out UCCU Center in Orem.
UVU currently sits at 4-2 on the season, having won four straight contests after losing at then-No. 5 Kentucky and top-ranked Duke on back-to-back nights to begin the season.
The Wolverines' most recent win came at defending Big Sky Conference champion North Dakota on Saturday afternoon. UVU outscored the Fighting Hawks, 16-8, in the overtime period to pick up the big road win.
Now, the Wolverines are focused on what some in the UVU camp are referring to as the "biggest" game of the year.
"it's the most exciting game of the year," senior forward Kenneth Ogbe said. "I was kind of dragged into that rivalry when I was at Utah and now, here at UVU, I think we are starting something special and so we're all just really excited."
Ogbe is second on the team in scoring at 13.3 points per game and has scored in double digits in every game this season.
All five starters for the Wolverines are averaging in double figures, led by Oklahoma transfer Akolda Manyang at 17 points per game. BYU transfer Jake Toolson is averging 12.2 points while Conner Toolson and Brandon Randolph are averaging 11.2 and 10.2 points, respectively.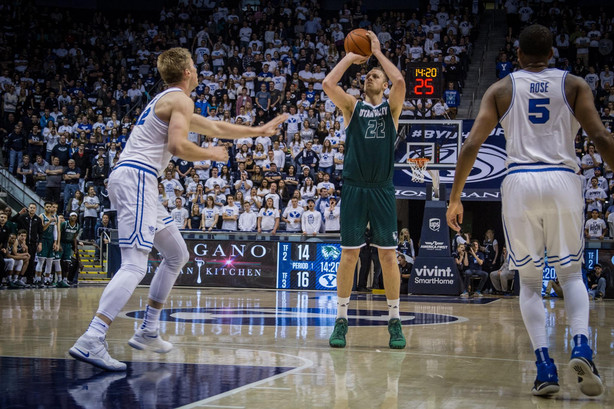 'We're really excited," UVU head coach Mark Pope said. "Anytime we get a chance to play against that great team up there, it's exciting for us. We're looking forward to it."
Trying to step out of the shadow of BYU and the "little brother" status, UVU took a huge step in 2016 with the shocking win over the Cougars.
Now, UVU is looking to even the all-time series against the Cougars and make the statement that 2016 wasn't a fluke.
"A lot of people said it was a fluke," senior forward Isaac Neilson said. "And it was BYU's worst loss. I'm sick of hearing everyone saying our team was a fluke last year. We worked really hard and had good players. We outplayed them and beat them. This year, we know that they're going to be coming even harder than last year at us, especially on our home court."
Neilson, a former BYU transfer, is currently averaging 8.3 points and 5.8 rebounds per game. The preseason All-WAC selection scored a team-high 26 points and pulled down nine rebounds in the 2016 win that saw UVU score 60 second-half points.
"We're just going to have to be ready," Neilson said. "We're going to play 10 times harder than last year. I believe that our team can do that."
UVU has wins over Idaho State, UC Davis, Eastern Oregon (NAIA) and North Dakota. BYU sits at 4-2 with wins over Mississippi Valley State, Princeton, Niagara and UMass.
Pope and the Wolverines will get the chance for bragging rights in Utah County on Wednesday night. Tipoff is scheduled for 7 p.m. and can be seen on BYUtv and ESPN3.
---
Kyle McDonald is sports fan who loves the Chicago Cubs. Follow him on Twitter at @kylesportsbias
0 Pending Comments
Sorry, we are not accepting new comments on this story, but if you have more to contribute please email
newstip@ksl.com
Showing of 4 comments
Sorry, we are not accepting new comments on this story, but if you have more to contribute please email
newstip@ksl.com