OGDEN — If there is anything running back Ty Netto can't do, Milford High coach Thane Marshall would like to see it.
What he does do, Netto put on full display Friday at Weber State University.
Netto ran for 122 yards, scored three touchdowns, even completed a key 28-yard pass on third down to lead Milford 38-20 win over Kanab in a Class 1A state semifinal Friday at Stewart Stadium.
"He is not only our physical leader, but he's our emergency leader. Everybody looks up to Ty," Marshall said. "He just goes out and does the little stuff. You look at the stat sheet at the end of the day, and he had the 100-yard rushing game, he had an interception that was called back, and when Bryson's (Barnes) helmet comes off, he completes a third-and-18.
"When he banged up his knee, I didn't want to take him out, but I need him for next week. We go downhill without him. 1A football is different than others; if we're lucky, we've got one guy that we can plug into four or five spots."
Netto also had six tackles at defensive back for the Tigers (10-1), who advanced to their first state championship since the turn of the century with a school-record 10 wins. Milford will try to capture its first 1A championship since 1993 next Saturday in Cedar City against Duchesne, the defending state champions that defeated Parowan 27-14 in the other semifinal.
"This is a big step for us," said Netto, who also caught a 67-yard touchdown pass. "We haven't done it for a while.
"We got a lot better since the last time (Kanab) played us. We got up big early, and it just feels good."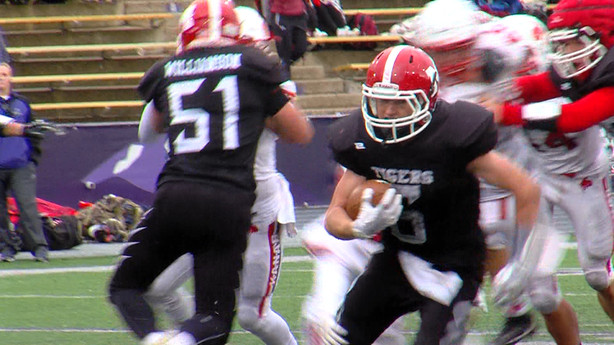 Sophomore quarterback Bryson Barnes completed 14-of-20 passes for 238 yards and three touchdowns, including five passes for 97 yards and two scores to Stetson Wright.
"These kids have been working for this for four years, working their tails off," Marshall said. "We set a goal at the first of the season to get a home playoff game, win the division, and get to the state championship and win it.
"We're on task so far."
Wright, who also had seven tackles and an interception on defense, gave the Tigers an early lead, hauling in a 60-yard touchdown from quarterback Bryson Barnes for a 6-0 lead with 6:46 left in the first quarter.
Kanab (5-7) countered with Sam Orton's 38-yard touchdown pass to Parker Collins to take a 7-6 lead with 1:54 left in the first quarter.
That would be the last time the Cowboys had a lead, as Milford rattled off a 26-0 scoring spurt to pull away for its first state championship bid in the 21st century.
The Tigers cashed in on a second-quarter fumble, and Netto romped in from 10 yards to give Milford a 12-7 lead.
"I give it all to my big guys," said Netto, a converted quarterback. "The front line, that's where it starts. I wouldn't have done it without them."
Netto doubled up his scoring moments later, pulling down a deep throw from Barnes and skirting the sideline for a 57-yard touchdown to put Milford p 19-7 with 6:01 left in the half.
He didn't just score, either. Netto also defended a touchdown pass on fourth-and-two from the 7-yard line on Kanab's next possession, and recorded five of his eight tackles on defense in the first half.
"I stay on the field most of the time," said Netto, who had an emergency appendectomy a year ago before the Tigers' semifinal loss in 2016. "I come out for cramps quite a bit, though; I can't get rid of them."
Barnes stretched the lead with an 8-yard scoring plunge with 6:13 left in the third quarter, and the Tigers took a 26-7 lead after their first drive of the second half.
Cole Wilson's 24-yard catch to the 15-yard line set up Netto's third touchdown, a 10-yard run that put Milford up 32-7 with 1:10 remaining in the third quarter as the Tigers salted away the victory in front of a huge section of traveling supporters who made the northbound journey on I-15.
"You go around town, and everyone is talking about the Friday night game," Netto said. "It's really good; this feels amazing."
That same town will be celebrating through next week's state championship at Southern Utah University.
"Milford travels very well," Marshall said. "Ever since last year's semifinal, the talk of the town has been to get back here and get one step further than last year."
Photos
0 Pending Comments
Sorry, we are not accepting new comments on this story, but if you have more to contribute please email
newstip@ksl.com
Showing of 0 comments