SALT LAKE CITY — The Jazz completed their preseason undefeated Tuesday night, beating the Lakers 105-99 to go to 5-0. Their next game is a week from Wednesday, on Oct. 18 at Vivint Arena. After the back to back, the Jazz didn't practice Wednesday, but there are still things going on in Jazzland.
Super Rudy Block
All day long the Jazz promoted the reveal of something big on the @utahjazz Twitter account, including tweets like these that got national attention.
What were all of the clues for? Well, the release of Super Rudy Block, an 8-bit game where you try to make Rudy Gobert block consecutive shots in the quest for a high score.
It's fun and difficult. I can get past Crossover Carl, but no further.
New Jazz community court
The Jazz have been going around the state in recent years renovating community basketball courts in local parks and recreation centers. Wednesday, the team announced they're ready to open their 16th court at Farmington Park in Farmington, Utah.
The ribbon-cutting ceremony will be at 3:30 p.m., followed by a Junior Jazz activity with Jazz and Stars two-way player Nate Wolters. Farmington Mayor Jim Talbot will also be there, along with Miss Farmington 2017, the Jazz Bear and Jazz Dancers.
The Ingleses donate shirts
Joe and Renae Ingles donated #JPStrong T-shirts to all of the kids in 5-year-old J.P. Gibson's elementary classes today:
Remember, after signing his $52 million contract, Ingles said that he wanted to give back to underprivileged families in Utah. This, it appears, is just a start.
Alec Burks' rough night
Alec Burks had been playing well through the first four games of the preseason, but that trend definitely slowed in game five against the Lakers. Burks scored only three points, adding two rebounds and one assist, in 22 minutes.
Every player misses shots sometimes, but I was frustrated by the kind of shots Burks took. Take a look at his shot chart: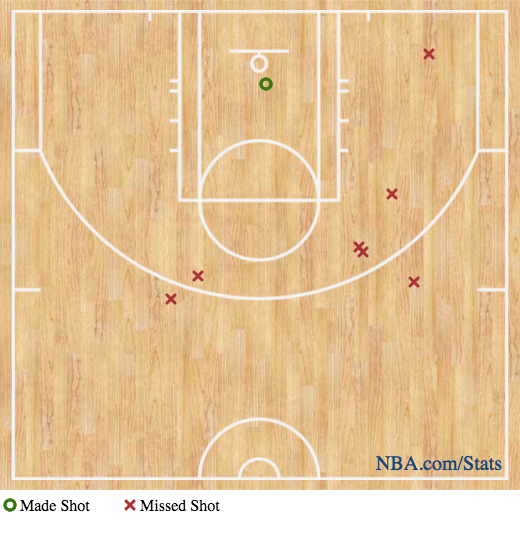 See all of those long twos? Those are pretty bad efficiency looks. Here's an example:
Burks gets the kickout baseline, but then drives back where the traffic is. Instead of passing to open teammates, pulls up for contested 2 pic.twitter.com/hRzXInUQEU

— Andy Larsen (@andyblarsen) October 11, 2017
Here, Ekpe Udoh goes to work in the post and draws a crowd of three to four players after a bad Lakers gamble. Udoh, rightly, kicks it out to Burks.
But Burks never really thinks about shooting the relatively open corner three. Instead, he fakes driving middle then drives baseline right back into the crowd that Udoh was passing out of. He sees the crowd at the rim and pulls up for an awkward contested baseline jumper that misses. Thabo Sefolosha and Ricky Rubio are ready for the pass the whole time.
Burks did just take and miss some more defensible looks. One of his long-twos was probably a three that would have been overturned on replay had it gone in. A lot of time the Lakers defense was dying on the screen, giving Burks the space to pull up for a shot.
The problem is that even if the defense is giving Burks the space, sometimes he needs to not take the shot, especially early in the shot clock. No matter what kind of several-dribble-pull-up it is, it's just not as efficient a look as if Burks uses that space to probe the defense and find layups or catch-and-shoot threes for his teammates. Just a little more patience is needed.
0 Pending Comments
Sorry, we are not accepting new comments on this story, but if you have more to contribute please email
newstip@ksl.com
Showing of 0 comments