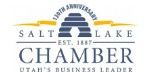 This story is sponsored by Salt Lake Chamber. The Chamber stands as the voice of business, supports its members' success and champions community prosperity.
From your in-law's kitchen oven to a leased mechanic's garage, great ideas often start from humble beginnings. Learn more about how several of Utah's most successful businesses got their start.
Qualtrics
This billion-dollar, thriving online research company was built by then-college student Ryan Smith and his cancer-stricken father in their Provo, Utah basement in the early 2000s. Fortunately, not only did Ryan's father beat cancer, but the business boomed and Qualtrics was born. By 2004, the little-business-that-could had 20 employees, all working out of the Smith family basement, parking on the street and driving the neighbors crazy. Their persistence paid off, and today Qualtrics has more than 1,200 employees in 13 countries serving thousands of the world's most powerful brands. Plus, they've made up for the years in the basement with their swanky Provo office, complete with an ice cream parlor and day care center for employees' children.
Kaddas Enterprises
After years of heating plastic in their kitchen oven to pull over all kinds of models, Carol and John Kaddas got a contract with Boeing to make airplane lavatory filters. "That took the company from a part-time hobby to a full-time business," said Natalie Kaddas, Carol and John's daughter-in-law and CEO of Kaddas Enterprises. In the early 1990s, after watching a documentary on the threat of electrocution to bald eagles by power structures, the Kaddas family set off to make something out of plastic to prevent electrocution, both protecting animals and the assets of utility companies. The "BirdguarD" was born, taking the company from "good little humble company to putting us on a bigger platform," said Kaddas. Today, they ship the product to 12 countries and were awarded the 2017 Small Business of the Year Award by the Salt Lake Chamber.
Merit Medical
Fred P. Lampropoulos remembers the time he and his family slept in their car when they moved to Salt Lake City. Years later, in 1987, Lampropoulos and Kent W. Stanger of Bountiful founded Merit Medical, a medical device company that now employs 4,600 people worldwide. It started small by selling control syringes and inflation devices, and within a few years gained 50 percent of the world market for products designed to treat cardiovascular disease. As of 2016, the company now has more than 3,500 products and 600 patents — serving hospitals worldwide and recording millions in sales each year. Lampropoulos attributes their success to the entrepreneurial spirit the company was founded on, and a focus on creating products designed to meet the needs of healthcare professionals.
Uinta Brewery
Founded in a leased mechanic's garage in the early 1990s, Uinta Brewery has grown to become one the top 50 largest craft breweries in the United States. Founder Will Hamill, an avid skier and home-brewer, said it took a few months after they started brewing for people to stop dropping off their cars at the old garage. The company eventually grew out of the old mechanic's garage and now boasts more than 80 employees, and an impressive brewhouse. To date, Uinta Brewing has produced more than 50,000 barrels of beer. It also wears the badge of the first Utah business to go 100 percent wind-powered.
Huntsman Corporation
Now one of the world's largest chemical companies, the Huntsman Corporation was founded as a small packaging business by Jon Huntsman in Fullerton, California in 1970. At that time it went by the name of Huntsman Container Corporation. Four years later, the company made history when it created the "clamshell" container for the McDonald's Big Mac. The company was later credited with inventing the first plastic plates, bowls and other fast-food containers. Now named Huntsman Corporation, the company was moved to Salt Lake City in 1982 and eventually moved its headquarters to The Woodlands, Texas. With billions in annual revenue and thousands of employees, the multinational corporation's success cannot be understated.
Pluralsight
Pluralsight founder Aaron Skonnard and his partners had a big goal — they wanted to change the world through online professional training. They got their start in 2004 sharing their software developer knowledge through classroom training by sending trainers to clients, but they knew there was a better way. In 2008, they tapped into the online learning industry at just the right time — it's now valued at more than $100 billion. Today, Pluralsight offers more than 5,000 courses covering development, IT Ops, creative, design and engineering topics.
W.W. Clyde & Co.
W.W. Clyde founded a construction company in Springville, Utah, in 1926. Today, W.W. Clyde & Co. is the largest locally owned heavy civil contractor in the Intermountain Region, building highways, bridges, dams, airports, mines, environmental reclamation, golf courses and more. They boast 300+ employees and a commitment to the same quality and innovation that got them started more than 90 years ago.
Gastronomy, Inc.
Enjoyed a steak at the New Yorker or delicious seafood at Market Street Grill? You've had a taste of Gastronomy, Inc, a Utah company that owns and operates nine clubs and restaurants in Salt Lake City. Founded in 1978, the company's founders not only helped shape the Salt Lake City dining scene, but also the look and feel of downtown Salt Lake City with investments in historic preservation projects.
Franklin Covey
Before the advent of Google or Outlook calendars, your mom, grandpa or boss probably had a Franklin Covey planner. But this well-known Utah company doesn't just make planners; it continues to be a world leader in training and consulting — teaching the ubiquitous "7 Habits" to everyone from Fortune 100 companies to elementary school students. The company started small in 1981 as Franklin Institute, Inc. in Hyrum W. Smith's basement. Inspired by Benjamin Franklin's self-improvement philosophy, the Brigham Young University graduate, and his partners, gave seminars to improve efficiency and productivity across the country to anyone who would listen. They developed the planner in 1984, and eventually went public in 1992.
Looking to get your business out of the basement and into the big leagues? Connect with top business leaders, learn about trends and best practices and collaborate with other business leaders to shape Utah's business landscape at the Salt Lake Chamber, Utah's largest business association and business leader. Learn more by visiting slchamber.com.
0 Pending Comments
Sorry, we are not accepting new comments on this story, but if you have more to contribute please email
newstip@ksl.com
Showing of 13 comments
Sorry, we are not accepting new comments on this story, but if you have more to contribute please email
newstip@ksl.com