SANDY — After more than two years away from the game, former New York Red Bulls coach Mike Petke is getting back into Major League Soccer.
The Red Bulls' loss is Real Salt Lake's gain.
Joined by owner Dell Loy Hansen, general manager Craig Waibel and vice president of soccer administration Rob Zarkos, Petke was introduced as RSL's fourth head coach in club history during a press conference Wednesday afternoon at Rio Tinto Stadium.
For Petke, who was most recently the coach of RSL's lower-division Real Monarchs SLC side, the chance to coach at Real Salt Lake was a no-brainer. It didn't matter that he grew up in New York, moved to New Jersey at the behest of his wife, or that his only time spent outside of the East Coast was a brief stint with the Colorado Rapids; Salt Lake was the right fit for him right now.
"To me, it's about the opportunity, no matter where it is," Petke said. "Whether it's China, Puerto Rico, Alaska, it doesn't matter; it has to be the right fit. (RSL) was the right fit. On top of that, to look at these beautiful mountains and this area, it's very different from where I am from but it's a welcome difference."
Petke replaced former coach Jeff Cassar, who was fired a week ago just three games into the 2017 season and after a 10-match winless streak.
To round out his coaching staff, Petke will retain all of the club's current assistants, beginning with goalkeeper coach Daryl Shore — the interim manager who earns credit for RSL's 0-0 draw at New York last Saturday. Tyrone Marshall, Freddy Juarez and the rest of the technical staff will also remain for the foreseeable future, and Petke won't officially take over Shore's role until after the club plays at expansion side Minnesota United FC on Saturday.
Petke will travel with the team, but admitted he won't sit on the bench and will remain strictly as support as Shore puts together a plan to earn a win against winless Minnesota.
"I think Daryl and his staff have done a phenomenal job," Petke said of the interim manager. "It would be foolish of me to step in tomorrow and start coaching this team when the blueprint has been laid out in how they want to play.
"The last thing I want to be is a disruption."
The 41-year-old soccer coach who was fired after two successful seasons in charge at New York took the reigns of the RSL first team in just his fourth month living in the Beehive State. Petke led Real Monarchs SLC in just one regular-season match, a 2-1 win at Portland Timbers 2 in the second-division United Soccer League opener.
RSL general manager Craig Waibel stressed that at no time did the club and Petke discuss a chance to move over to RSL when he interviewed in a New York-area restaurant prior to accepting the Monarchs job. In fact, such a conversation would've made their initial attempts at contact a non-starter, Waibel said.
Wednesday's announcement of Petke as the next RSL head coach came after a whirlwind tour of candidates applied for the job in the nine days sine Cassar was fired. Waibel said the club seriously considered six candidates, sitting with each one for as long as four hours at a time, to ensure they made the right decision.
In the end, the right decision was down the hall at Rio Tinto Stadium.
"The five interviews we did in person were all knockouts," Waibel said. "Certainly one of the pros with Mike was the he is here and family with the organization and the players. That's something that was taken into consideration, absolutely."
A native of Long Island, New York, Petke played college soccer at South Connecticut State before he was drafted in the first round of the 1998 MLS SuperDraft by what was then the New York/New Jersey MetroStars. Following a career with New York, D.C. and Colorado, Petke joined the Red Bulls' front office and was an assistant coach in 2011-12 prior to being named the man in charge.
"Mike got a shock in a humbling event in his life. But he was stronger and he was better," RSL owner Dell Loy Hansen said.
"The adversity he has traveled to get back to where he is has made him a humble and amazing man."
Petke was 30-19-19 and helped lead New York to its first major trophy — the 2013 MLS Supporters Shield, but was unceremoniously fired by New York. A fan-favorite in New Jersey, Petke's firing created a schism between loyal supporters and then-sporting director Ali Curtis that never completely healed and led to the latter's departure earlier this year.
"When things went down in New York the way they did, it was a very unsettling feeling. It took me a little while to figure things out in my life," Petke said after taking the Monarchs job.
"Along the way, I had a number of opportunities. The way I work, though, is I won't just jump on something for a job or money or status. It needs to be the right fit, to make me feel comfortable, and to be the right fit for my family."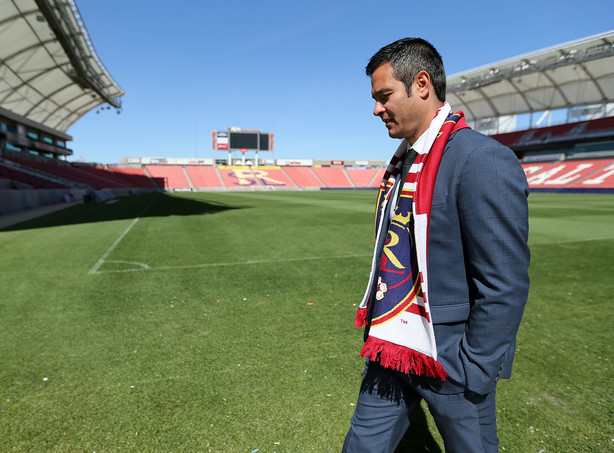 Petke worked as a broadcaster for ONE World Sports in New York and Sirius XM satellite radio, as well as director of coaching for the New Jersey state youth soccer association.
"When you make moves, you end up resetting boundaries and goals, and Mike was one of quite a few people we sat down with. But in the interview, it became quite clear that he is very organized, very passionate, and his experience speaks for itself," Waibel said. "It's the smallest things, sometimes, that separate candidates. The advantages of having Mike and hiring Mike are quite a few. Our list of beliefs in him go on and on. We like everything about this hire, and we believe his vision fits with what we are trying to do as an organization."
He was even linked to other coaching jobs, both in MLS and beyond. But nothing fit the bill like Real Monarchs, and Petke came to Salt Lake City to lead the reserve-laden side Dec. 22, 2016 after former coach Freddy Juarez ascended to the first-team staff.
Now he'll take over that same RSL first team.
"When I was approached by Craig Waibel and Mr. Hansen, we sat down for a couple of hours in New York, and everything just seemed to check off what I was looking for. That's the whole reason I am out there," Petke said.
"If it was Alaska, Japan or New York, as long as the opportunity is the right one, I would go there. So here I am in Sandy, Utah."
Photos
Related Stories
0 Pending Comments
Sorry, we are not accepting new comments on this story, but if you have more to contribute please email
newstip@ksl.com
Showing of 15 comments
Sorry, we are not accepting new comments on this story, but if you have more to contribute please email
newstip@ksl.com