Estimated read time: 2-3 minutes
This archived news story is available only for your personal, non-commercial use. Information in the story may be outdated or superseded by additional information. Reading or replaying the story in its archived form does not constitute a republication of the story.
Roxanne Stein, NBC News Back pain can be crippling and sometimes the way to treat it can result in a painful recovery. Now, there is a low risk treatment option available to some patients that can relieve the debilitating pain of sciatica and other back and leg pain.
Walking without pain is a treat these days for Ken Hanns.
Ken Hanns, had spinal stenosis: "Standing up like we are now, I'd have pain in my leg."
Ken, who is 60, had spinal stenosis.
Dr. Stewart Eidelson, Orthopedic Surgeon: "Spinal stenosis is a condition of the spine that comes with natural aging. Think of it as little windows in the spine where the nerves come out like branches of a tree. The nerve feels strangled or compressed and you get symptoms of sciatica on your legs."
Dr. Stewart Eidelson of Boca Raton now can relieve the debilitating pain That spinal stenosis causes in a minimally invasive procedure using this Small titanium device-called the X-Stop.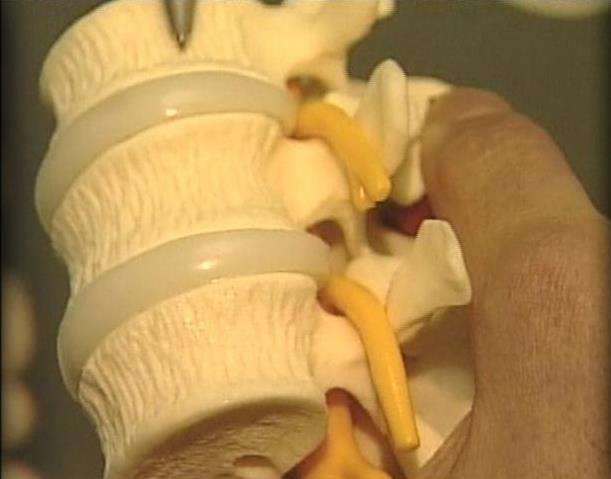 Dr. Stewart Eidelson: "It's inserted very easily through a small incision. It spreads the spine in a way the nerves are released. We slowly expand it and now the window is twice the size it was, so the nerve has no compression and sciata will go away."
The X-stop is inserted in a 45 minute procedure that is often done with Just local anesthesia. Ken went home from the hospital the next day and Was pain free in less than a week.
Ken Hanns: "Five days later post-op, I was walking around like nothing happened."
Now, Ken is getting ready to get back to his passion.
Ken Hanns: "Hitting golf balls. Everything!"
The X-stop was FDA approved last year. It can be removed if it doesn't work and a more elaborate procedure is needed. It is covered by most insurance companies.
×
Related links
Most recent News stories