Estimated read time: Less than a minute
This archived news story is available only for your personal, non-commercial use. Information in the story may be outdated or superseded by additional information. Reading or replaying the story in its archived form does not constitute a republication of the story.
A United Airlines pilot was pulled from the cockpit of a flight from London to Chicago minutes before it was set to take off because he was drunk. The airline's policy for alcohol consumption in the 8 hours before a pilot flies is very strict, and United says it has zero tolerance for violations. Linda Albin reported this morning from London on KSL. Click here to hear her interview with Grant and Amanda.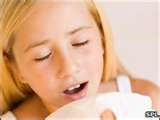 A precious 12-year-old girl can't stop sneezing. She sneezes up to 16 times per minute. She isn't the first to suffer from incessant sneezing, but the doctors can't figure out what's causing it - or how to stop it. The only time the girl gets any relief is when she's sleeping. She was even kicked out of school because her sneezing is disruptive to the class. Click here to hear the story from ABC's Yunji de Nies.
×
Most recent News stories