Estimated read time: 5-6 minutes
Low back pain is a big problem in the U.S.
A Georgetown Health Policy Institute study found that nearly 65 million Americans report recent episodes of back pain. Some 16 million adults (8%) experience persistent or chronic back pain and are limited in everyday activities.
The study also notes that back pain is the sixth costliest condition in the country with direct and indirect costs topping $12 billion annually. Many of the indirect costs of the condition are related to missed days of work and disability payments.
If you're among the 8% of American adults who suffer from persistent or chronic back pain, it's time to get your life back. Here's some information that may lead to long-awaited relief.
The most common cause of chronic muscle and skeletal pain
Dr. James Parker, a Utah native and former Olympic athlete turned chiropractic physician and consultant for USA Track and Field, says he believes the true cause for most chronic muscle and skeletal pain, like back pain, is muscle inhibition, also known as MI.
MI isn't always consciously felt but usually results from past overload and/or traumas that lead to compensation in other parts of the body. These compensations cause "overuse" type syndromes and subsequent pain and disability. Back pain is one of the best illustrations of MI. Many powerful muscles directly and indirectly stabilize and move the spine. When one muscle goes errant or inhibited, the others have to take up the slack. Some movements may at that point be perceived as weak or slightly painful.
Over time, overload leads to other muscles "tripping the electrical system," which causes MI in those areas. Left for months and years, complete inhibition of musculature makes simple and common movements aggravating because the "shock absorbers" of the body — the muscles — don't take on the load they are supposed to.
What happens then? Well, the ligaments, discs, joints, and nerves experience more unnatural load which leads to — you guessed it — pain and inflammation. So, in a way, inflammation is a cause of pain but Dr. Parker advocates that the real root cause is faulty muscle function or MI.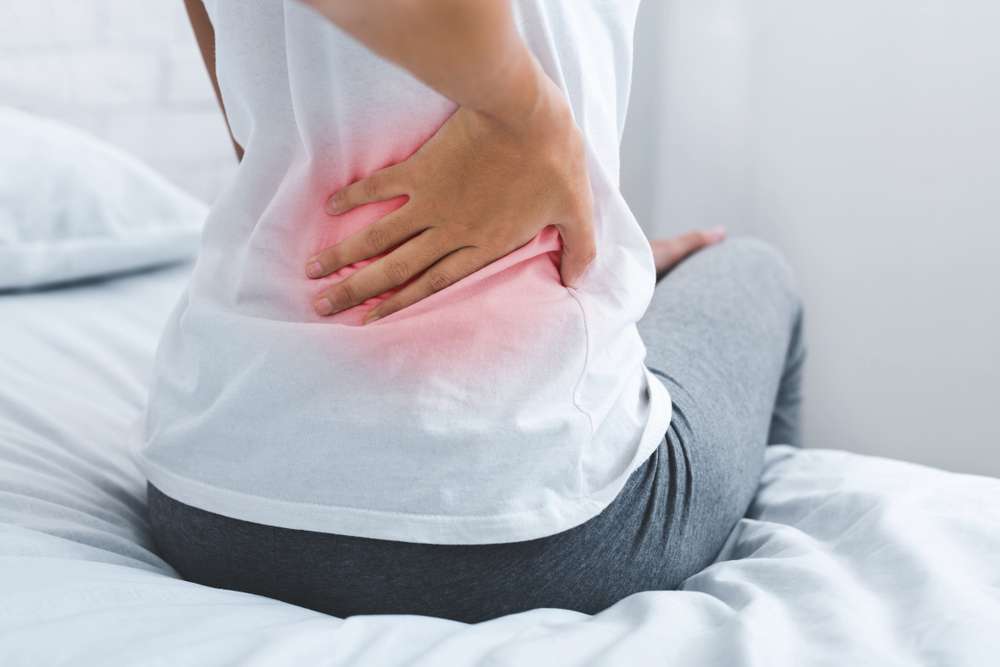 The problem with standard care and over-the-counter medications
Because it interferes with everyday life, most people seek help from their medical doctor for their low back pain. Standard care and treatment of low back pain in the U.S. is nonsteroidal anti-inflammatory drugs (NSAID) such as ibuprofen and rest. Some doctors will suggest physical therapy and movement — and if that's what your doctor does, you probably have a good one.
The problem is medication. Over-the-counter medications can cause long-term damage to cleansing organs such as kidneys and liver, especially when taken over long periods of time.
In an article for the American Family Physician Journal, Dr. Zach Rosen writes, "An estimated 16,500 NSAID-related deaths occur annually among patients with osteoarthritis or rheumatoid arthritis. Medical costs of complications associated with NSAID use exceed $4 billion annually."
This doesn't account for all the non-fatal complications of NSAID use.
Yes, NSAIDs are available and can be purchased over the counter. But that temporary relief comes with a long-term price when you're trying to treat a chronic or recurring issue. According to a study published in the Physical Therapy and Rehabilitation Journal, one-third of patients experience recurrent episodes of low back pain. And if you have more than two previous episodes of low back pain, your odds of recurrence within one year are tripled.
Treat the problem, not the symptom
You've probably been told that inflammation is the reason behind your pain. While inflammation in the body can certainly cause pain, it's not the root cause. Ibuprofen, Aleve and other NSAIDs work to reduce inflammation and thus address the symptom of pain. But treating a symptom is not the same as healing. For proper healing to occur, you have to treat the root cause.
There are arguments about the true root cause of back pain, but some common culprits include discs, joints, ligaments, muscles and nerves. There are many other causes, but this list provides a good starting point that every responsible physician should consider.
Say goodbye to stubborn back pain
When you have recurring back pain that doesn't respond to traditional physical therapy, rest or even surgery, MI may be the reason. Finding a provider who treats MI is key to eliminating that pain once and for all.
The physicians at Parker Muscle and Sports Clinic (PMC) skillfully diagnose, assess and treat muscle inhibition, joint dysfunction and muscle strength. After solving MI, you'll undergo targeted rehabilitation to strengthen specific muscles related to the spine and other joints. You'll feel immediate results and continue to see improved strength, function and symptoms with each visit.
If necessary, other therapies such as myofascial/massage work, electrical stimulation and dry needling or acupuncture are available. In cases of stubborn back pain which presents muscle tears and other pathologies of the spine, PMC may refer you to their regenerative medicine doctor on staff.
Don't live with stubborn lower back pain any longer. Get long-lasting, safe, effective care! If you are sick of hurting and want to get better, see the doctors at Parker Muscle Clinic. Their goal is to have you leave healthier and happier so you can lead a more fulfilling life.
New patients can get 50% off their initial exam and treatment by mentioning this article. Don't let lower back pain or any other injury keep you down for long—make your appointment with Parker Muscle Clinic and keep your dreams alive!
×