As parents, we want children to have the best education possible and we do everything we can to increase their chances of success in life.
If money, time, and personal circumstances were no object, we would all likely choose high-priced private schools and pay for individualized tutoring as well. For most of us, however, those aren't options.
Thankfully, Utah Online School feels the same way about your child's education as you do and does provide individualized options. UOS emphasizes individual student success by tailoring learning to student needs with the help of certified teachers, adult mentors, and counselors.
And here's the best part: It's completely free.
If it sounds too good to be true, consider the Winward family. Jay and Krista Winward enrolled their children in UOS for more than seven years.
Here's how Utah Online School has helped prepare their children for long-term success.
Cameron (Senior)
Cameron, a senior, earned early high school credit beginning in 8th grade. Throughout high school, he had a flexible schedule with a mix of Utah Online courses and classes at his high school. The mix provided time to work on extracurricular activities and concurrent enrollment. Thanks to Utah Online School, Cameron will graduate with all general education requirements completed for his associate's degree. With the credits he earned early, his senior year is less rigid and he has been able to enjoy his final year of high school and reach his personal and academic goals.
Because of the flexible scheduling, Cameron competed at national competitions for piano and vocal performances. Additionally, he also earned high school credit for his private music lessons.
Cameron enrolled in college concurrent enrollment courses through Utah Online and has a great connection with his UOS teachers. He credits his CE English teacher, Mrs. Richins, for preparing him to write competitive college and scholarship applications.
Cameron also connected with his Financial Literacy teacher: "I am grateful for Mrs. Dayley, who takes additional time to know me, my goals and activities." UOS teachers emphasize the student and their needs.
Mr. Whetman, Cameron's CE math teacher is available for private tutoring and support in this challenging course.
Michael (9th grade)
After taking courses for early high school credit, ninth-grader Michael started his high school career having completed five high school credits.
Michael plays the piano and plans to seek a piano scholarship in college. Thankfully, he'll be able to list his early high school credit for piano on his transcript, which will bolster his application.
Michael's schedule allows him to take piano lessons in the morning rather than attend a first period class at the school. He also plays on the school basketball and golf teams. His flexible schedule allows him to practice and catch up on any sleep he misses because of early morning practices or late night games. And when the sports seasons are over, he likes to say that his "afternoons are always open for golf or fishing!"
Michael will continue to complete a significant portion of his high school requirements through Utah Online School.
Savannah (7th grade)
Seventh-grader Savannah began taking early high school credit last year and has already completed all of her PE requirements, as well as art, CTE and other electives. Savannah takes courses year-round but especially likes summer semester with UOS. "I loved taking Foods and Nutrition during the summer and learning to cook delicious food with my mom".
She dances about 10 hours a week and uses this physical activity as credit for her UOS PE courses.
Because Savannah dances late, she has a reduced school schedule and goes to school at 10 a.m. each day. Being able to wake up even an hour later has helped Savannah be healthier and have time to prepare for the school day. Her mother stated: "She is a totally different person when she gets enough sleep. So much happier!"
Savannah's mom is also thrilled with her daughter's phenomenal experience learning Chinese through Utah Online School's dual language immersion program."I have loved being more involved and hearing her speak and interact with her Chinese teacher through live classes and recordings," she said.
Gracie (5th Grade)
Fifth-grader Gracie took Utah Online School courses this summer and plans to take dual language immersion Chinese courses next school year.
"As a parent, I love how my children are learning critical life skills to self-regulate and take charge of their education. They are learning to communicate with teachers that are not directly in their classroom and advocate for themselves," said Krista Winward.
And the benefits extend beyond the classroom, she says:
"I love being more involved in my children's learning! It opens up conversations and family experiences that may not happen otherwise. It also allows my kids the chance to work together and support one another."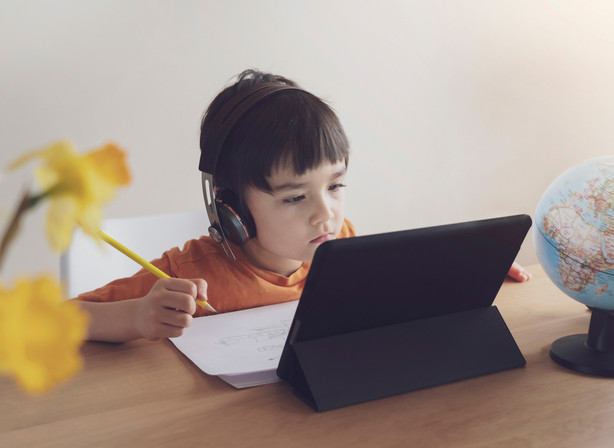 Transforming traditional education methods for individual growth
At Utah Online School, the focus is on individual students. Course offerings include traditional subjects, such as reading, art, history and math, as well as less traditional courses like computer science, programming, coding, world languages (20-plus), music (guitar, ukulele, piano and more), wildlife and marine biology, honors courses, driver's education and ACT prep.
If your student is already involved in a club sport, they can earn physical education credit for that, too.
Other benefits of attending Utah Online School include:
Full or part-time enrollment.
Summer enrollment options.
Flexible schedules.
Concurrent enrollment (students can attend their local school while taking classes at UOS).
Mindfulness and Resiliency support.
Language classes (including Chinese dual immersion options for sixth to 10th-grade students).
New courses added each year.
With a course completion rate exceeding 90% and a graduation rate of 99%, Utah Online School has a proven track record for helping tens of thousands of students.
Utah Online School is free, and enrollment is open to all students throughout the state of Utah. To learn more about this tried and true educational model, and how it can benefit your child, visit utahonline.org.
How will Utah Online be a part of your family's story? Enroll today!
×