A few years ago, according to Business Wire, there were just over 10 million RV owners in the U.S. and an estimated 17.2 million who wanted to be part of that group.
In the last year, RV sales have skyrocketed, and supply has strained to keep up with demand, according to CNBC. With traditional forms of entertainment shut down, many Utahns have taken to one of the best things Utah offers: the outdoors. Boating, biking, hiking, camping throughout Utah's landscapes are again a hot pastime.
Because of high demand, many Utahns are finding Outdoorsy, an online RV rental service, as a great way to help pay for their newly purchased RVs. It also allows people to have the RV experience without having to own one.
Outdoorsy estimates that most RVs sit 350 days out of the year, on average. Instead of letting an expensive RV sit in the driveway for months, you could rent it out and make thousands of dollars a year doing it.
What is Outdoorsy?
Founded in 2015, Outdoorsy is the most comprehensive platform for outdoor travelers to rent RVs in the nation. Their selection of RVs spans vintage Airstreams, toy haulers, fifth wheelers, Class A, B, and C RVs, as well as a variety of trailers and motorhomes.
Essentially, if you're wanting to rent an RV, Outdoorsy offers it.
Safe, easy, fully insured, and with a robust rental market here in Utah, Outdoorsy is perfect for those wanting to make some extra cash.
How does it work?
Listing your RV on Outdoorsy is simple, and easy.
First, you create your RV rental listing. Photos, a description, and the location of the RV are required, as are the dates that your RV is available.
Second, you accept booking appointments.
Third, you meet with the traveler, give them an overview of the RV and any relevant traveling tips, and send them on their way.
Fourth, the RV is returned, and you get paid within 24-48 hours. Easy as that!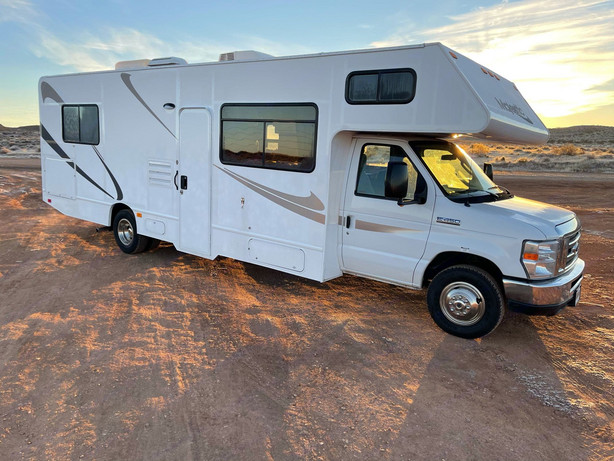 How much money can I expect to make?
With more than 5,000 reviews with an average rating of 4.87 stars out of five and more than 240,000 trips taken, Outdoorsy is sure to make your RV a hit with renters.
Outdoorsy estimates that you could make as much as $50,000 per year—opening up the possibility of paying your RV off within a couple of years.
The great thing about Outdoorsy is that you can choose how much or how little you want your RV to be available for rent—it's completely at will.
The benefits of listing your RV with Outdoorsy
If you have an RV and want to pay off your RV, listing on Outdoorsy is a no-brainer.
Should you need further incentive to list your rig on Outdoorsy, here are just a few of the benefits as outlined by Outdoorsy:
You set your rates and control your RV rental schedule.
Earned money can help pay off your rig or fund your next adventure.
You will be joining a passionate community that offers advice for new owners.
Every rental is covered with up to $1 million liability insurance and free roadside assistance.
You are paid within 24 to 48 hours of the trip departure.
All renters are required to go through a rigorous driver verification process to ensure that your rig is in good hands.
If you have an RV, don't delay. List your RV on Outdoorsy and start making some money today.
×
More stories you may be interested in