SALT LAKE CITY — Here are 10 stories you may have missed over the weekend. As always, click on the headline to read the full story.
1. 14-year-old ATV driver dies after accident in Hurricane
A 14-year-old died from his injuries Saturday after an ATV accident on Friday evening, authorities said.
Utah State Parks Lt. Regan Wilson confirmed on Sunday the boy's death and stated that he was from St. George, Utah. The juvenile's identity has not yet been publicly released, though Wilson said that Utah State Parks will share a press release including his name in the coming days.
2. Motorcyclist killed after being struck by crashing car in Orem
A motorcyclist was killed after being struck by a car that had just crashed with another car in Orem on Saturday.
Two cars crashed at the intersection of 400 North and State Street in Orem on Saturday around 2 p.m., said Orem Police Lt. Nick Thomas on Sunday. One of the cars then struck a motorcycle as a result of the crash, Thomas said.
3. Utah restaurant owner receives backlash over vaccine requirement
The owner of a restaurant and bar said Friday he had been receiving strong backlash after announcing he was reopening for dine-in customers soon with the requirement that they be fully vaccinated.
4. Cyberattack on US pipeline is linked to criminal gang
The cyberextortion attempt that has forced the shutdown of a vital U.S. pipeline was carried out by a criminal gang known as DarkSide that cultivates a Robin Hood image of stealing from corporations and giving a cut to charity, two people close to the investigation said Sunday.
The shutdown, meanwhile, stretched into its third day, with the Biden administration saying an "all-hands-on-deck" effort is underway to restore operations and avoid disruptions in the fuel supply.
5. Canyons District second grader's rap song on her biracial family wins national honors in PTA Reflections contest
In a matter of 25 seconds, 8-year-old India Boyé can tell you about her biracial family and why she matters in a rap that's won hearts and national recognition.
The rap is part tribute to her parents but also answers the question posed by the 2020-21 National PTA Reflections contest theme, which for 2020-2021 was "I Matter, Because."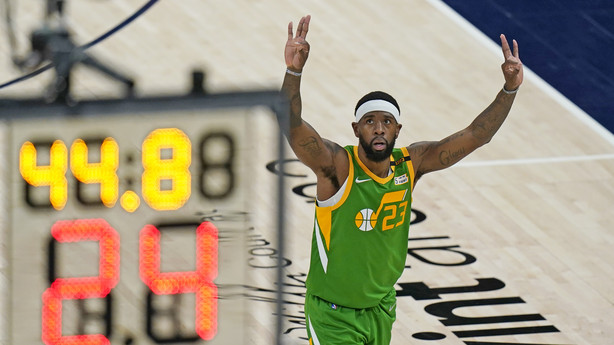 Sports
1. Jazz avoid trap and beat Rockets to reach 50 wins on the season
When it came to talent, there was no comparison between the Jazz and Rockets. The only question was if Utah would have enough intensity to make it an easy night or an unnecessary difficult one.
The answer: somewhere in the middle.
As expected, the Jazz beat the owners of the league's worst record, winning 124-116 to claim their fifth straight victory.
2. Championship Rainbows: No. 2 BYU swept by top-ranked Hawaii in long-awaited NCAA title match
Rado Parapunov laid down a match-high 13 kills and seven digs, and Patrick Gasman and Colton Cowell added seven kills apiece as No. 1 Hawaii swept past second-ranked BYU, 25-21, 25-19, 25-16 on Saturday night in Columbus, Ohio.
3. Wondo'd: MLS legend Chris Wondolowski stuns Real Salt Lake with late brace, 2-1 loss
Rubin scored what should be a frontrunner for MLS goal of the year in the first half, but Wondolowski responded with two in the final 10 minutes to help San Jose snatch all three points with a 2-1 win over RSL in front of a reduced-capacity sellout crowd of 10,448 people Friday night at Rio Tinto Stadium.
4. 1 day into rookie minicamp, Zach Wilson already making an impression on his New York Jets teammates
It's only been a week, but former BYU star and New York Jets quarterback Zach Wilson is already back to work, with the Jets opening rookie minicamp Friday in New Jersey.
5. Ky. Derby winner could be disqualified; track bans Baffert
Medina Spirit's victory in the Kentucky Derby is in serious jeopardy because of a failed postrace drug test, one that led Churchill Downs to suspend Hall of Fame trainer Bob Baffert on Sunday in the latest scandal to plague the sport.
×