Estimated read time: 6-7 minutes
This archived news story is available only for your personal, non-commercial use. Information in the story may be outdated or superseded by additional information. Reading or replaying the story in its archived form does not constitute a republication of the story.
It costs a fortune to eat healthily, right? During this economic downturn, many people are on a budget and trying to eat as inexpensively as possible, so grabbing a bag of chips is your best bet, right?
Not even close, says Julie Metos, Ph.D., RD, associate chair of the University of Utah Department of Nutrition and Integrative Physiology. In fact, eating on the cheap and enjoying a nutritional, well-balanced diet go hand-in-hand, despite perceptions that the opposite is true.
"Some of our most standard advice is to eat more fruits and vegetables, and people often perceive this as really expensive," Metos said. "But I think one thing to think about is that, oftentimes, fruits and vegetables replace snacks and desserts like purchased cookies, chips and processed desserts that are even more expensive. So, if you think about it, per pound or per serving, fruits and vegetables are often more economical."
Choose wisely
But isn't fresh produce spendy? Not necessarily, Metos said. Instead of picking up a small, plastic box of freshly cubed watermelon in January — opt for fruit that's in season and that requires less labor. And don't shy away from frozen and canned fruits and vegetables. The common perception of the decreased nutritional value of these items just isn't true, Metos said.
"Frozen fruits and vegetables are often more healthful than the fresh ones because the vitamins and minerals are preserved in the flash freezing," Metos said. "That's a tip we recommend a lot. And if you're on a strict budget, canned fruit that's canned without sugar can be a really economical choice. And, again, it's canned right from the field, so while they might lose some nutrients, they don't lose all of them like many people believe."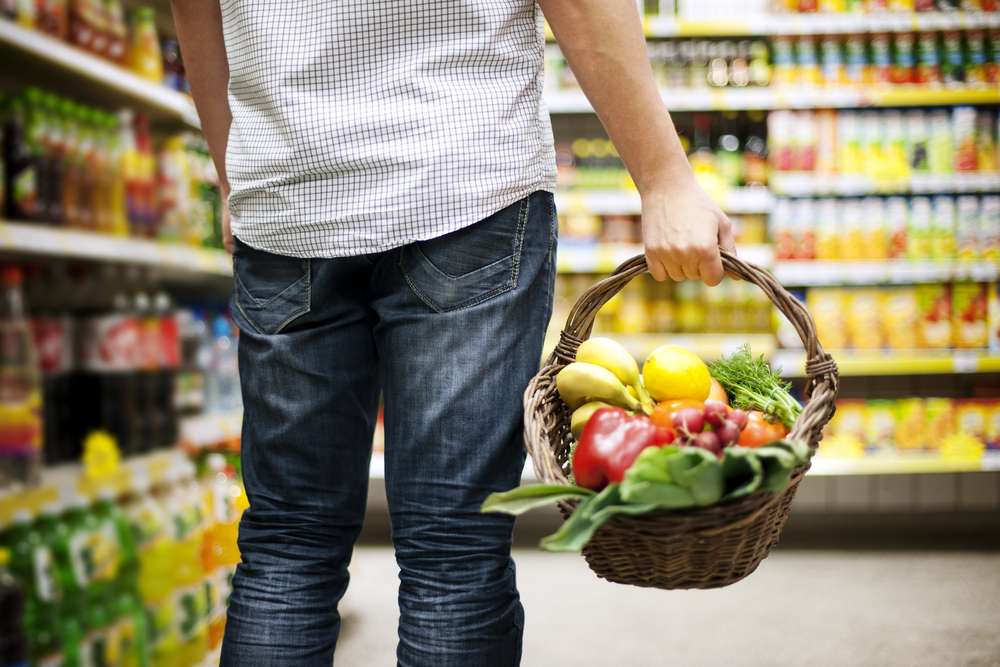 Go for grains
In addition to fruits and vegetables, it's all about whole grains when it comes to eating right for cheap.
"We recommend those because of the fiber content and because they have a few more B vitamins and some minerals," Metos said. "This is a really handy tip for inexpensive shopping because things like oatmeal, brown rice and other grains are super inexpensive, especially if you buy them in bulk or even if you buy them in bags instead of prepackaged in a box with flavorings."
And don't worry about the "fancy" brands with enticing national marketing campaigns.
"The brown rice you get in a plastic bag or in bulk is the same brown rice that's sold in fancy packages at fancy grocery stores. So, with whole grains, you can absolutely double-dip on eating healthfully and inexpensively."
"It all kind of comes from the same place," Metos said. "The brown rice you get in a plastic bag or in bulk is the same brown rice that's sold in fancy packages at fancy grocery stores. So, with whole grains, you can absolutely double-dip on eating healthfully and inexpensively."
When it comes to containers, the same advice holds for products like yogurt. Go for the tub rather than the individual cups. At home, jazz it up with your own fruits and cereal, and it's not only cheaper — it's better for the environment too.
About serving sizes
Another grocery-store tip is to pay more attention to the unit price, which is the price per serving. Not only is this a tool for saving money, it helps you start to think about appropriate serving sizes, Metos said.
"For example, if you're buying ice cream, you can look at the unit price and see that one brand is less expensive per half-cup," Metos said. "Later, instead of everyone having a free-for-all with the ice cream, it can be served up in half-cup servings."
Another serving strategy Metos teaches to clients is to serve food in the kitchen, rather than placing it at the table — especially if it's the unhealthy, expensive stuff. This is a smart way to create boundaries.
So, we've discussed a few key food groups, but what about protein? Isn't it important to consume lots of meat for its protein, and isn't protein costly?
Protein with less meat
Metos is quick to quash protein myths too. Americans traditionally eat big servings of meat with smaller servings of vegetables and grains even as registered dieticians like Metos recommend eating less meat, including chicken, turkey and fish.
"So you just kind of flip them," Metos said. "So, instead of buying a pound of hamburger for your family's meal, buy half and put half of it in, and add more brown rice. Nobody will notice."
In addition, Metos said, it's key to remember that great sources of protein aren't always meat. Beans (think: meals like black or pinto bean burritos) and peanut butter are incredible forms of protein. Fit these in where you can. For example, with popcorn, try topping it with peanut butter rather than regular butter for a fun, protein-rich snack.
Of course, we can't end our conversation with Dr. Metos without touching on the impact of sweetened beverages on your pocketbook and your health. Talk about a drain on the finances — a 20-ounce soft drink costs about $1.70. That adds up to about $650 a year.
"With $1.70, you can buy 8-9 bananas, 15 carrots, a pound of strawberries, four apples — you get the idea," Metos said. "That puts it into perspective for people. Instead of soft drinks, try drinking water with lemon. You don't need sugar-sweetened drinks, and they can really cost you later in terms of your health and dental bills."
Eat at home
Finally, Metos recommends cutting back on eating out. Especially during COVID-19, staying at home is more important than ever, so it basically provides a built-in savings.
"Eating out is going to use all the money you saved from shopping well really quickly," she said. "And the portions are really big. So we always tell people to think about eating out once a week or less."
But, Metos adds, it's also important to avoid being too strict with yourself and your family when it comes to eating right. During each weekly trip to the grocery store, allow family members to pick out one unhealthy snack or treat of their choice, such as a box of cookies. After all, everyone deserves a little treat now and then, and people want to feel like they're making smart choices with their health not just restricting themselves."
And, of course, always wear your mask while you're at the grocery store and out in public.
×