Estimated read time: 3-4 minutes
This archived news story is available only for your personal, non-commercial use. Information in the story may be outdated or superseded by additional information. Reading or replaying the story in its archived form does not constitute a republication of the story.
The stabilization phase of Utah Leads Together bridges Utah's urgent reactive phase of dealing with the coronavirus to the recovery phase. This bridge includes the "orange" or moderate-risk and "yellow" or lower-risk categories on the public health dial for safety. Moving into moderate-risk protocols presents both challenges and opportunities for businesses to re-engage with consumers.
Public health guidance entails smart behavior and encourages remaining vigilant in interactions. There is always the possibility for the loosening of responsibility when easing restrictions; however, now more than ever we need to keep the gains won from our collective sacrifice in the urgent phase.
As businesses reactivate, four guiding principles can help build a sustainable work or office plan:
Ensure you have a healthy and safe work and/ or customer environment.
Prevent virus transfers within your organization or group through safe behaviors.
Encourage full team productivity by welcoming all employees, not high-risk individuals, back to work.
Deliver value to your customers and the market to foster an economic rebound.
These precepts set a foundational direction for specific goals, plans and operations you can put into place for your individual business.
It is recommended that all team members maintain the 6-foot physical distance rule in your office space or business setting. Think of this guidance as "be smart, stay apart." Maintaining physical distance mitigates against the spread of the virus. Wearing personal protective equipment (PPE) such as masks and gloves will also help control virus transfer and build consumer confidence as they witness safe behaviors.
The guidance for group gatherings is less than 20 individuals to limit possible exposure and assist with contact tracing if someone happens to develop COVID-19 symptoms. To round out the general guidelines it is suggested that everyone wear masks while in public especially where physical distancing cannot be maintained. Finally, out of state travel should be limited to essential travel only and hotspots around the country should be avoided. These are common-sense measures to mitigate the spread of the virus and workplace safety.
The state has produced fact sheets and taken targeted action around PPE, posted COVID-19 business compliance information, phased guidelines, tools for screening and testing employees and how to protect high-risk individuals who remain under elevated risk even as we dial down the risk meter.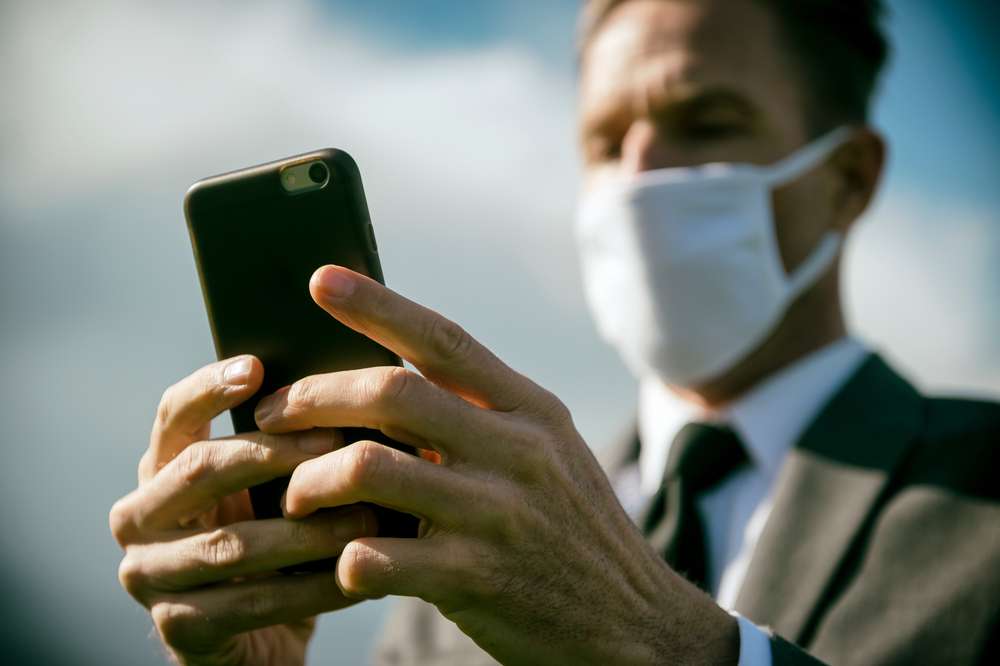 While employers, employees and consumers embrace moderate-risk protocols, it is critical to remember that high-risk individuals remain under "red" or high-risk guidelines. Accordingly, they should continue to limit travel, wear masks and telework where available. Processes and products to help protect high-risk individuals can be located here.
For small businesses requiring an initial start-up supply of PPE for their employees, the state has made available a limited supply free of charge by submitting the request.
To assist consumers in obtaining face coverings, the state launched a "Mask for Every Utahn" initiative, which provides every Utahn the option to request a mask at no-cost, so they can stay safe. As employees return to work it is strongly recommended that they self-screen before leaving home, as well as be screened by employers at the start of their shifts.
Businesses are also encouraged to implement a disinfectant plan to include hand sanitizer and cleaning solutions at workstations and common interaction points. The plan should specify how often areas are cleaned including restrooms, doorknobs, common areas, workstations, phones and other commonly used equipment. One area businesses might not have thought of is crowd control, an employee should be appointed to monitor the number of people on-site and when maximum capacity has been reached. This person will be responsible for controlling the entry of new customers and employees to limit office overcrowding.
Moving forward in economic stabilization the collective effort remains vital so businesses can stay safe to stay open. It is critical to get this phase right so Utah can get back to work and become again the healthiest economy in the country. For more information visit the state's official coronavirus website, coronavirus.utah.gov.
×