This archived news story is available only for your personal, non-commercial use. Information in the story may be outdated or superseded by additional information. Reading or replaying the story in its archived form does not constitute a republication of the story.
SALT LAKE CITY — Wood-burning bans are in effect for multiple counties along the Wasatch Front and people are being urged to take public transit as a pollution-trapping inversion takes hold over the next several days, creating unhealthy conditions for lungs everywhere.
Although a weak storm front is slated to brush by Wednesday, pollution forecasters don't believe it will have the strength to chase all the gunk out of the skies.
Bo Call, who oversees the Utah Division of Air Quality's monitoring section, said the inversion will build until the next series of storms are predicted to hit the Wasatch Front this weekend.
"It's pretty much standard fare," he said. "A storm comes through, we get snow on the ground and we have one of those situations where the inversion sets up."
Air pollution has the potential to double every 24 hours each day of an inversion, and historically, it has at times, Call said.
The good news is that overall emissions are down, and as older cars are junked in favor of newer vehicles with more advanced emission controls, that helps.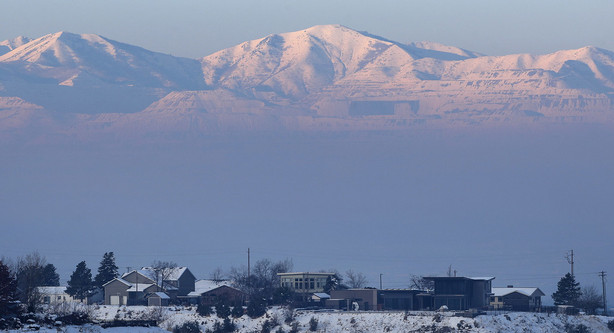 Public awareness of air pollution problems, and more transit options, are also helping to make a dent. New state regulations aimed at cutting emissions will have an impact, but it is all against the backdrop of a booming population, with demand for more homes and more businesses creating more pollution.
Not all inversions behave the same either, Call said.
"They don't all park at the same level. If they did, it would make our job easier."
Call compared it to filling a bath tub with water.
Related:
A lower level inversion will trap the pollutants more quickly and overflow until a storm comes in, pulls the plug and provides relief.
If an inversion is parked higher, Call said it takes longer for that larger mass of air to get polluted.
"If we can slow down the rate we are filling the tub, it won't overflow.," he said.
The U.S. Environmental Protection Agency set the 24-hour standard for PM2.5, or fine particulate matter, at 35 micrograms per meter, with anything above that in violation of clean air standards.
Inversion conditions continue across the W. Front this morning. #AirQuality is most affected in Salt Lake and Davis counties.

Solid fuel burning devices must not be used. Open burning may not occur; including fire pits, fire rings, and campfires. pic.twitter.com/QuWyF8bND5

— Utah DEQ (@UtahDEQ) December 3, 2019
Fine particulate matter is about 3% the diameter of a human hair and is so small it can only be detected with an electron microscope. Exposure to air pollution has been linked to heart disease, stroke, respiratory ailments and cognitive problems.
Monitoring stations in Cache County logged a reading of 46.5 micrograms per meter of PM2.5 as of noon Tuesday and a measurement of 35.1 micrograms per meter was recorded for Weber County. Salt Lake County sat at 39.1. Utah County measured 35.5.
Readings are updated hourly and can be checked at air.utah.gov.
×
Photos
Related Stories