WEST VALLEY CITY — At Kennedy Junior High School, student achievement is on an upward trajectory and students are more engaged in learning.
In 2017, Kennedy was identified for school turnaround, which means it was among the lowest 3% of student achievement statewide as measured by end-of-year tests in math, language arts and science. Utah public schools have three years to exit turnaround status or face other actions deemed appropriate by the Utah State Board of Education.
Since then, the school community has worked hard to exit that status through a combined effort by administrators, teachers, education consultants and the students themselves.
Simply stated, the school's approach is "whatever it takes," says Principal Mary Bosso.
"I'm really very student centered, so it's about kids. It's about kids getting the best that we can give them and really improving their academic success, so whatever that takes," said Bosso.
Experts say school leadership is a key factor to a school's success.
Bosso, who spent 20 years as a Utah educator and principal, returned to the Beehive State after working as a principal at a junior high in Reno which, to start, was struggling.
"I'd been with my other school for eight years and we were on a roll, things were good. We were in a great place," Bosso said.
When she returned to Utah, she intentionally sought another position as a junior high principal at a school where she could put to work what she had learned about turning around a school in Nevada.
She landed at Kennedy, a Granite District school that serves students in seventh and eighth grade. "I wanted another challenge. I needed to challenge myself," she said.
While a principal sets the tone for a school building, turning a school around requires empowering teachers to be part of the school leadership team, Bosso said.
Teachers help set the school's goals, use data to guide instruction and help train other teachers.
"They're a part of everything that happens. A lot of it is collaboration. It's intentional teaching, targeting standards, aligning activities to standards and aligning goals to assessment, and then working with your grade-level partners in developing your lesson plans," she said.
Last year, the school implemented an intervention program for students. "If they're struggling, we can pull them into a smaller setting and give them specific targeted instruction to keep them at grade level," she said.
Turning around a school also means setting higher expectations for students and explaining to them why it matters.
Some students enter junior high with the attitude that the middle years of their school career don't count. Teachers point out classes that can count toward their high school requirements and explain that what students learn in junior high will help them succeed in high school.
"We talk a lot about what you're getting now prepares you for college, and college opens many doors for you. Financially, academically, there are a lot of opportunities. So we've really focused a lot on college and being career ready," she said.
Kennedy Junior High's expectations are repeatedly impressed upon its students so that they buy into the turnaround effort, too, Bosso said.
"We talk about that as the whole school. We talk about that in our advisory period. Teachers talk about that with their kids, that we're increasing our expectations because we're preparing them for college or careers," Bosso said.
Karyn Winder, president of the Granite School District Board of Education, addressed the State School Board on Friday, noting the school's academic achievement is on "overall, a good trajectory, so we're pretty happy about that."
The school's consultant, EdDirection, advised the faculty on strategies to actively involve students in learning. The consultants have spent time in classrooms observing and logging student engagement.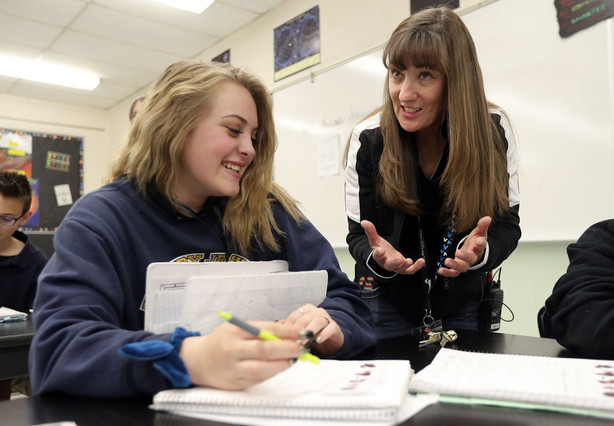 As they watched, the consulting team asked, "Are students staring out the window? Are their heads down. Are they on their phones? Is there nothing for them to do? How actively engaged are they and how much is that teacher allowing some engagement time, guided practice, not just lectures?" Winder said.
Teachers received training on how to better incorporate student engagement in their lessons.
"They're not being preached at, but they're being included," Winder said.
According to a report from the educational consultants who work with educators at Kennedy Junior High, students were engaged in active learning 41% of the time in 2019, compared to 30% in 2018.
While some administrators of the eight schools that made presentations to the State School Board said they struggle to attract experienced teachers, Basso said Kennedy's faculty is a mix of beginning and seasoned educators. Last year, 10 teachers among about 30 elected not to return this fall.
Most of the school's new hires are from outside the district and bring a fresh perspective and lessons learned from their previous schools.
Some educators in turnaround schools say the extra resources provided to struggling schools — such as more teacher assistants or instructional coaching, which sometimes means teacher leaders instructing their peers — are key. Some question the need for outside consultants.
Bosso disagrees.
"I think that it is always helpful to have an objective, outside person to come in and give feedback about the school," she said.
---
The best part of our school is our kids and our teachers. They are strong teachers. They are working hard together for what's best for kids and that's what it takes to turn a school around.
–Kennedy Junior High School Principal Mary Bosso.
---
Consultants help teachers build on their strengths and recommend proven practices to help teachers improve their instruction, learn more about how to use classroom-level data and create more engaging lesson plans.
"I don't know that you can do that on your own," Bosso said.
Not all teachers will thrive in a turnaround school because they are asked to commit to greater demands. But the additional resources give them the opportunity to improve their teaching in a thorough and collaborative process that ultimately helps students succeed.
"If you're not happy, you're going to struggle within your classroom. If you don't like what you do, kids know if you're genuine or if you're struggling," she said.
Turning around a school means Bosso asks more from her teachers than a principal of a typically performing school might, she said, but she believes the effort has resulted in a stronger instructional team and better outcomes for students.
"People ask me, 'What's the best part of your school?' The best part of our school is our kids and our teachers. They are strong teachers. They are working hard together for what's best for kids and that's what it takes to turn a school around. It's commitment, dedication and belief. 'We believe in you kids. You've got this. You can do it,'" Bosso said.
×
Photos